Ride - 2018 October 8-12, 2018
Description of Ride
A small team from Outreach to Haiti will again do a 5-day, 337-mile bike ride, touching five of the six New England states and climbing more than 13,000 feet. The ride starts on October 8, 2018, and its purpose is to raise awareness and funds to support the mission in Haiti.
The specific goal of this year's ride is again to raise money for the rebuilding effort. Hopefully, actual construction will be starting about the time of the ride. We have the majority of the money for the building, but increasing construction costs, as well as greater use of steel beams for more earthquake resistance, has increased the cost of the building, so that additional fund-raising is needed.
This is the fourth annual bike ride. Last years ride took the total miles ridden to just over 1,000. Now we start on the next 1,000! The amount raised in the first three rides is a little over $50,000. Similar success this year will help close the gap on paying for the new building.
For those who have not joined us for prior rides, or just want a refresher, the bike ride has been planned as a "virtual trip" across Haiti. Or, more accurately, a "geographically displaced" trip. The distance chosen for the trip is the distance from Jeremie on the West Coast of Haiti, through the capital city of Port-au-Prince (where OTH is based) to Cap-Haitien on the North Coast, as shown in the picture below.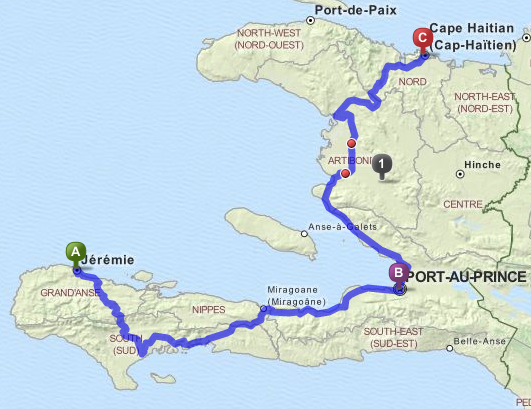 In the interest of time and money, (and for better roads and, hopefully, better weather) the actual ride is in New England.
The ride starts at Freeport, Maine, quickly makes its way down into and through New Hampshire, skirts Boston, goes into northwestern Rhode Island, and ends by winding through the eastern and central parts of Connecticut. On Thursday morning, the riders will visit St Patrick's Cathedral, and we will be greeted by Bishop Cote. The riders will also visit Mercy High School in Middletown, and St Patrick's in Farmington. All of these groups have extended very warm welcomes to the riders in prior years, but the enthusiasm of the Mercy girls is hard to beat!
Here is the course for 2018:
For an interactive link to the course, click here.
You can donate by using the link below, or by sending a check to Outreach to Haiti, 815 Boswell Ave., Norwich, CT 06360. Any questions, call 860-800-3601
During the ride, check back into the website each day to follow our progress!
To see a description of last year's ride, click here