Chita tande, mache wè.
Sit and hear, walk and see.
Only about 60 percent of school-age children in Haiti go to school. Of them, approximately one-fifth attend the country's few government-funded schools. All other students must enroll in private schools, which charge tuitions and require uniforms.
Most parents do not have the means to pay private tuitions, yet they understand the value of education and realize it is likely the best way out of poverty. Many families—who often earn less in a year than the cost of tuition—make tremendous sacrifices to send their children to school; they go without meals, work at whatever jobs they can find, and live in meager conditions to save money. Even with these sacrifices, they might not be able to afford the 13 consecutive years of schooling necessary for a high school diploma in Haiti. Only about 5 percent of the children who start school will finish.
How You Can Make a Difference
Choose to sponsor a student yearly, or make a one-time gift to the program. One-time donations enable us to meet unexpected expenses. All gifts are deeply appreciated!
The costs of sponsoring students are:
$475 US to sponsor a primary school student for one year, or for the annual payment of a five-year pledge. (Payments can be made monthly, quarterly or annually.)
$550 US to sponsor a secondary school student for one year, or for the annual payment of a five-year pledge. (Payments can be made monthly, quarterly or annually.)
$850 US to sponsor a technical school student for one year (for a one- to three-year pledge).
$2000 US to sponsor a university student for one year.
If you cannot sponsor the tuition of a child, you can donate directly to the scholarship program for any amount. We welcome all support!
To print out a scholarship form click here.Click here
At Outreach, we know that sponsoring a child's education is an investment with tremendous value. An education gives each girl and boy the hope and capability to become skilled and independent.
Today, more than 200 children, teenagers and young adults are in the OUTREACH SCHOLARSHIP PROGRAMS. Their admissions to the programs are based on economic need and academic merit.
Each student has a sponsor—a donor who is an individual, a school, a church, a group or organization—whose sponsorship covers the cost of: tuition, books, medical examinations, vaccinations, dental care, and emergency medical aid.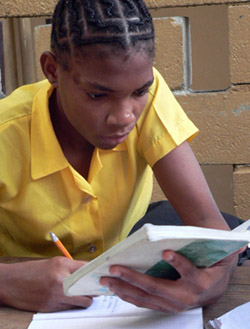 We follow all students carefully to make sure they keep up with their courses. Students must maintain above-average grades to remain scholarship recipients, but exceptions are made in special cases, such as illness and changes in home life. We meet regularly with parents or other care-givers to encourage them to take an active role in supporting their children's studies.
Each sponsor receives a yearly update on his or her student, accompanied by a photograph. Students are encouraged to write to their sponsors.
The program success is highlighted by several outcomes:
94 percent retention rate;
Six out of seven university students were admitted into the program during their primary school years;
Six other students who have graduated from technical schools or universities;
One graduate is a doctor who plans to open a clinic in the slum neighborhood where he was raised;
One university student (who became a scholarship recipient in the sixth grade) is spending his last semester at Virginia Tech.