Sa ki fè pwomès bliye, sa k'ap espere sonje.
Those who make promises forget, those who are hoping remember.
No event better underscores the need and effectiveness of Outreach to Haiti more than the earthquake of January 2010. By today's official estimate, it took the lives of more than 300,000 people and injured and displaced well over a million more. Outreach pressed into action immediately, providing staff and resources needed both to relieve suffering and to help restore some normalcy as soon as possible.
These actions came despite significant losses for Outreach itself. Although no lives among the staff were lost, one Haitian employee suffered a leg amputation. Both mission houses in the capital—one in the Christ Roi district and one in Petion-Ville, which had been purchased in 2005—were destroyed. At Christ Roi, temporary structures were erected to house programs and accommodate staff and visiting medical groups and other volunteers and visitors. Another house in Petion-Ville was soon rented for staff, volunteers and visitors.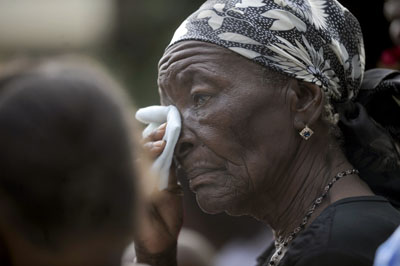 The earthquake of January 12, 2010 was a catastrophic magnitude 7.0, with its epicenter near the town of Léogâne, approximately 16 miles west of Port-au-Prince. An estimated three million people were directly affected by the quake. The Haitian government reported that approximately 316,000 people died, 300,000 were injured, and more than one million made homeless.
The government of Haiti also estimated that 250,000 homes and 30,000 commercial buildings collapsed or were severely damaged.
The earthquake caused major damage in Port-au-Prince, Jacmel and other settlements in the region. Many notable landmark buildings were significantly damaged or destroyed, including the Presidential Palace, the National Assembly building, the Port-au-Prince Cathedral de Notre Dame, and the main jail. Among those killed was Archbishop of Port-au-Prince Joseph Serge Miot. The headquarters of the United Nations Stabilization Mission in Haiti (MINUSTAH), in the capital, collapsed, killing many, including the mission's chief.
Many countries responded to appeals for humanitarian aid, pledging funds and dispatching rescue and medical teams, engineers and support personnel. Communication systems, air, land, and sea transport facilities, hospitals, and electrical networks had been damaged by the earthquake, which hampered rescue and aid efforts.
The damage and the after-effects of the earthquake were extreme and widespread. Outreach's presence in the two locations of Port-au-Prince allowed us to directly reach people in these hard hit districts. We also went to the immediate aid of LE FOYER DES FILLES DE DIEU (Paula Thybulle's orphanage), where 74 girls were left without food or shelter.
Our reach extended farther. The strong relationships built through the decades-old TWINNING program, which partners parishes in the Archdiocese of Port-au- Prince with parishes in the Diocese of Norwich and beyond, enabled us to provide long-term and significant relief to those nine twinned Haitian communities, which are located both in the capital and in rural areas. Earthquake refugees fleeing Port-au-Prince swelled the populations and magnified the needs in those remote locations. Over the course of the year 2010, hundreds of thousands of dollars were provided to the parish priests, who typically are both spiritual leaders and community leaders at large. They, in turn, provided for the basic human needs of their flock.
In urban neighborhoods, in tent cities, in mountainous parishes, aid was provided to heal, feed, clothe, and shelter desperate Haitians. Tents, tarps, cooking stoves, rice, beans, water, and other basic necessities were acquired and distributed.
At the Christ Roi campus, the launching date of a PUBLIC HEALTH INITIATIVE once planned for later in 2010 was pushed forward. Health agents went to visit families in their homes or in their makeshift shelters to identify and address problems related to health care, water supply and sanitation. A WATER PURIFICATION SYSTEM was acquired that can now provide up to 5,000 gallons of clean water daily to the neighborhood.
While schools were closed for the first months of 2010, Outreach opened its FRESH AIR ACADEMY in our Christ Roi courtyard. A safe learning space for children was created under tents and other temporary structures. Local teachers were hired for academic and enrichment sessions six days a week. Also, Outreach provided tuition assistance for children whose families relocated to the provinces and were able to attend schools there. In addition, ONE-TIME FINANCIAL AID was given to 130 families of students in our regular scholarship program so that they could meet some of their extraordinary needs.
Medical staff from the Christ Roi Campus provided TRAUMA CARE AND FIRST-AID IN THE NEIGHBORHOOD. Medication, food and water were recovered from badly damaged buildings. Outreach staff partnered with visiting medical and volunteer groups to work on-site, in the neighborhood, and in tent camps throughout Port-au-Prince and surrounding districts. These groups included ER doctors, psychiatrists, dentists, prosthetic specialists, and art therapists.
In response to post-earthquake conditions, our NUTRITION PROGRAM at the Christ Roi campus (which tends to 75 families with mild- to moderately-malnourished children) and MADAME SAMSON'S FOOD FOR CHILDREN PROGRAM (feeding 75 children in a city slum) and the FOOD PROGRAM ON THE ISLAND OF LA GONAVE FOR CHILDREN continue to provide expanded services when needed.
The work of rebuilding Haiti will go on for years. Outreach has an important role in that difficult and long-term task. We currently are partnered with Catholic Relief Services in BUILDING 500 TWO-ROOM HOMES FOR PEOPLE IN CHRIST ROI. In the process, construction jobs are being created. Other people are being hired to remove rubble and to make usable aggregate for cement.
Even before the earthquake, emergency relief was an important aspect of our work. Over the years, we have responded to extraordinary needs caused by hurricanes, tropical storms and other natural disasters. We also have reached out to individuals, families and groups in other times of despair.