Welcome to Outreach to Haiti
Outreach to Haiti has been working in the Caribbean nation for over 35 years. We offer health care services, student sponsorships and other educational support, parish twinning, support of two orphanages, as well as a neighborhood meal program for children. For travelers to Haiti, we have a guest house, where you can stay short- or long-term. We also arrange immersion visits for traveling groups to learn about Haiti - its people, culture and land.
Watch a video about our programs!
Some special events coming up!
***********************************
16th Annual Hope for Haiti Virtual Fundraiser

Click here for a copy of the invitation
Links to the 2021 Hope for Haiti Fundraiser videos:
Building / Education Program / Clinic / FAK program / Our Thanks
5th Annual Outreach to Haiti Golf Tournament
Outreach to Haiti's 5th annual Golf Tournament was held at Wintonbury Hills in Bloomfield, CT, on September 13, 2020. Even with Covid precautions, a great time was had by all - and, of course, an even better time was had by those who golfed well!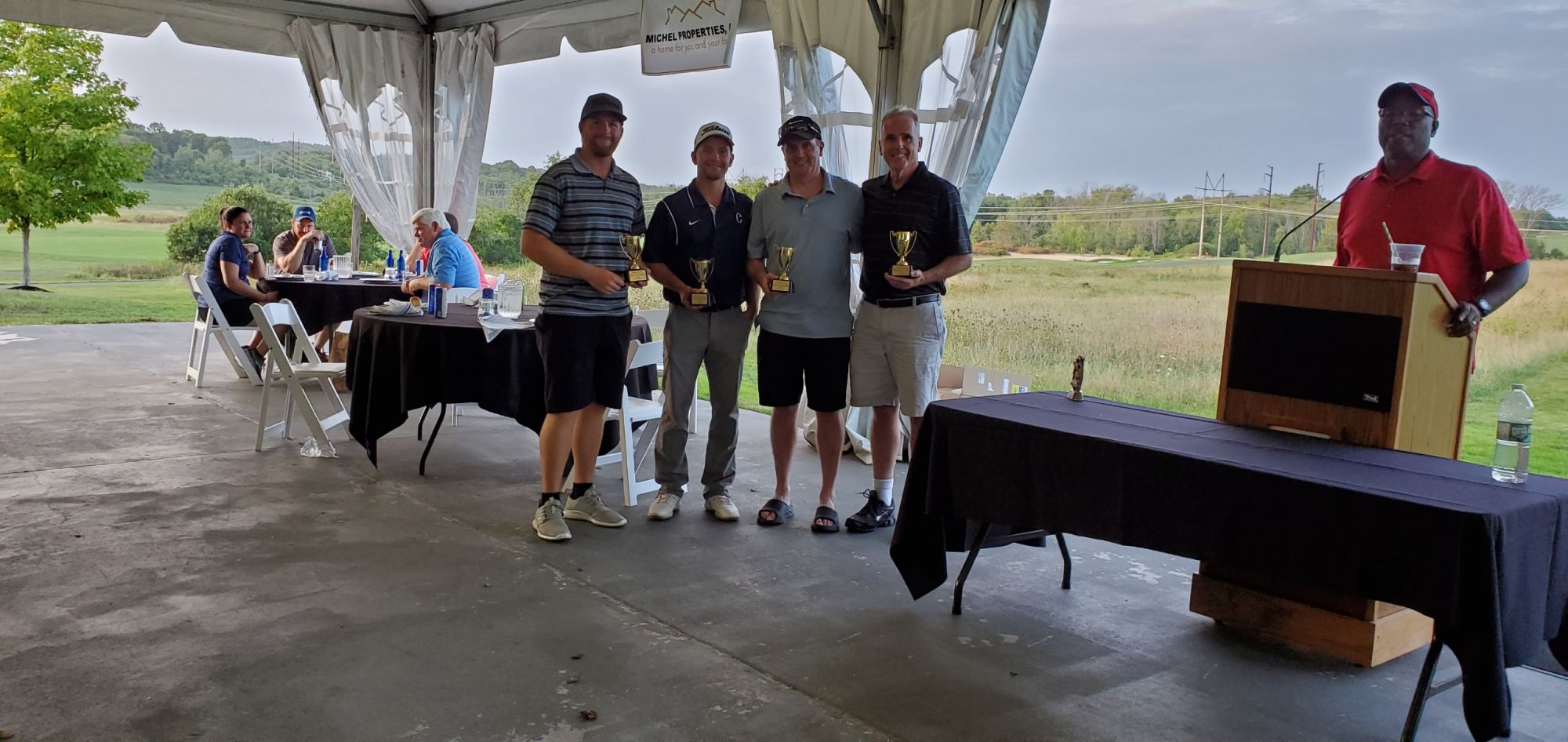 James Michel presenting the First place trophies to the winning foursome: Kyle, Tom, and Ryan Brahm, and Brian Selforce.
Wintonbury Hills is a Pete Dye course, rated the #5 Municipal Course in the US by Golf.com, the #11 Course in New England by Golfweek, and is on the list of the top 10 Pete Dye Golf courses by GolfAdvisors.com. This is where the golf tournament has been held each year, and all have had a wonderful time at it! Keep an eye out for next year's Tournament!
6th Annual Ride for Haiti!
For the last 5 years, the bike ride for Haiti has been the 'Ride to Rebuild'. Proceeds went toward rebuilding the facilities in Haiti that were destroyed in the earthquake. This year, despite the pandemic, we are planning to ride again. The course is flexible, depending on the progress of the virus.
This year, the ride supported our ongoing operations. While there is still money to raise to complete the building, COVID-19 has severely reduced many of our normal funding sources. We desperately want to be able to continue all our services to the people in Haiti, whose need is even greater with the impact of COVID-19 on them. Thus these donations will be used to support those operations.
The ride was September 14th to 18th, 2020. While the ride was a 5-day, 337-mile bike ride, due to COVID-19, it was a series of loops in CT rather than a ride going through 5 of the 6 New England states. This allowed us to ride more safely - including staying in our own homes each night.
You can get a day-by-day report on the 2020 ride by clicking here.
If interested in finding out more, including being contacted to ride next year for one or more days, contact Dan at [email protected]
You have been wonderfully generous in the past. This year, with the pandemic, we need your support more than ever. If you are in a position to do so, please donate!
Donations are still coming in, but we have surpassed $20,000 so far for this year, and are approaching $125,000 total for all six rides! Thank you all!!
***********************************
Upcoming Haitian Craft Sales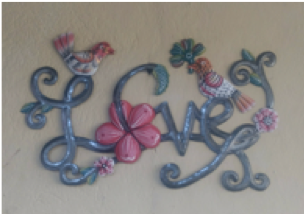 Due to Covid-19 our upcoming Craft Sales have been cancelled. In the meantime our items are available at Mercy-By-The-Sea Retreat Center gift shop in Madison, CT. Call them for hours.
UPDATE: Mercy-by-the-Sea is currently closed for at least a couple of weeks. Again, call to see if they are open.
We Must Keep Our Minds Positive
On Wednesday, July 7, we awoke to the tragic news that the President of Haiti, Jovenal Moise, was assassinated in his home and his wife Martine was seriously injured. By the next day, the police in Haiti had killed four suspects and arrested two others.
While journalists and scholars are noting that Haiti has had more than its fair share of tragedy and violence when it comes to national leaders and the transference of power, it is vital to talk about the beauty of the country and the creativity and initiative of Haitians.
We are blessed to be working in Haiti, which we have been doing for more than thirty-five years. We have a clinic and offices in Christ Roi (Christ the King) neighborhood of Haiti's capital city, Port-au-Prince; and we have more than thirteen parishes and one school in the United States who twin with parishes in and around Port-au-Prince.
Haiti is the poorest and most densely populated country in the Western Hemisphere and it sits on our doorstep. It occupies the western one-third of the Island of Hispaniola with the remaining two-thirds making up the Dominican Republic.
We know first-hand the beauty and vitality of this country and its people. Haitians are resilient and know despite all the obstacles they currently face—political turmoil, increasing violence, spiraling inflation, lack of jobs, and COVID-19—they must and will persevere.
During a recent zoom meeting, one of the Haitian participants noted, "We are under God's protection. We must keep our minds positive and do what we have to do."
As you read the media accounts surrounding the assassination of President Moise, please remember that this is a vibrant country with outstanding people who know they must move forward, but who always have great faith in God and the gift of hope for a better tomorrow.
Please join us in keeping Haiti and its people in your prayers, especially our Haitian staff. If you would like to support our work, please let us know or visit our How to Help page.
Capital Campaign Update
Construction Resumes
Construction on the Norwich Outreach Center in Christ Roi, Haiti, took a break for most of the summer as Covid-19 precautions were in place across Haiti. The impact has not been nearly as great in Haiti, so far, as in the US or most of the rest of the world. Construction resumed in August, with more limited staff on site, face masks, hand washing etc. The number of workers has increased over time, and progress is again very easy to see on a weekly basis.
Below is a picture of the main face of the building. You can see that the outside of the first two floors has been completed. The walls on the third and final floor are going up. As with all construction the outside shell goes up relatively quickly, and the detail of the interior and all the finishing work takes more time.
Phase 1 of the building, which gets the building to the point where we can start to use it, is projected to be late in 2021, assuming no more stoppages for pandemics, political unrest, or natural disaster.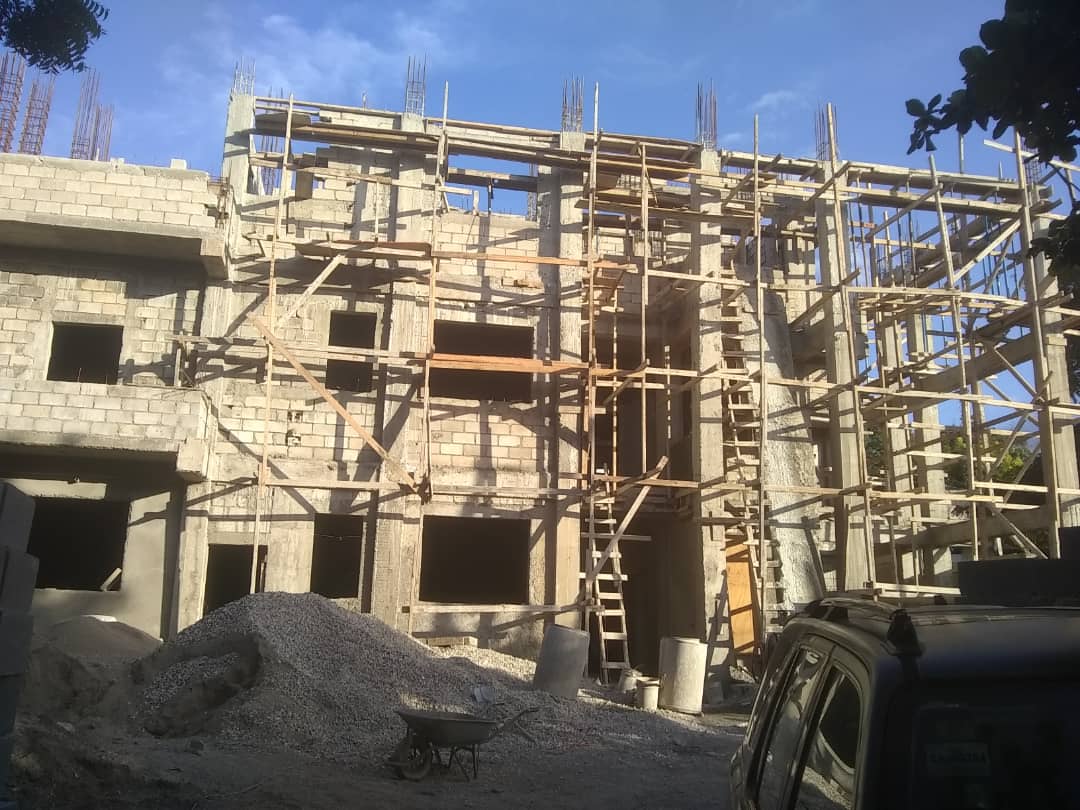 We are very thankful for all the generous donors who have enabled us to get to this point, and excited at the prospect of moving in.
On a linked page, we will keep adding to pictures so you can see the whole progression of the building. Click here for more details.
Diocese of Norwich Outreach to Haiti, Inc.
815 Boswell Ave.
Norwich, CT 06360
Phone: 860.800.3601
Email: [email protected]