Ride - 2018 October 8-12, 2018
Ride Starts at 9:00!
Each day, energy and accidents permitting, I will post a brief description of the day's ride here. I will leave the description of the overall ride at the bottom, and, of course, you can find the donate button at the bottom of the page, or the top right of any page. The ride is expected to start on the cool side tomorrow, around 50 degrees, but little chance of rain. Tom Campbell, Ron Paine and I (Dan O'Sullivan), will start out and be joined by some other riders through the week.
More later!
Monday Oct 8 - Day 1
The ride started on schedule at 9 - or that's when we lined up for pictures. It was a brisk 49 degrees with an intermittent wind.
Dan, Tom and Ron
The ride went almost flawlessly - only a couple of wrong turns, quickly caught. Tom refines the route a little each year. We stopped briefly at a Dunkin' Donuts 4 hours into the ride, and the temperature had ballooned to 52 degrees, with a "feel like" temperature of 49 - right where we started.
Occasional nice fall scenery, but leaves had not changed as much as we thought they would have.
Flag (sunken boat?) and Osprey sculpture in cove above Portland
Shore by Ogunquit
Great scenery going through the middle of Kennebunk
York River - getting close to Kittery!
Arriving at the Kittery Inn!
We never got the brief sun expected, or the somewhat warmer temps, and only got sprinkled on a little, right near the end. Still 52 degrees at the end, but it felt a lot colder after 6 hours of cycling through it, with the rawness of the day and a little drizzle - but all for a great cause! A total of 75.2 miles
Day 2
We started right on schedule, and it was indeed warmer - 63 degrees. Not quite warm enough to do without long sleeves, but very comfortable.
Unfortunately, as we got closer to the coast, we picked up a very strong headwind. We probably went 4 to 5 miles an hour slower with more effort, for significant portions. The route still had nice ocean scenery, but it's harder to enjoy when you are working hard. We shifted lead rider more often, and the wind really encouraged us to minimize following distance.
Sagamore Creek North Hampton Beach
As we approached the Merrimack River, this was the point where we hoped the headwinds would lessen. Alas, it was not to be. The headwinds would continue throughout the ride.
Merrimack River Torrential Flight Scupture - Brian Russell
While the ride headed inland here, the wind persisted, and we got more elevation gain. A very challenging day.
Georgetown Town Hall Congregational Church - Georgetown
The last 12 miles of the ride was a new segment for us. It was a very nice bike trail that Tom found, and led us very close to the hotel. Total distance 76.6 miles.
Tomorrow the ride is from Concord to Putnam, CT. The hilliest so far. We've had cold, wind, tomorrow we get heat, and Thursday, rain. A real potpourri!
Day 3
The day started out on schedule at 9:00. The forecast was on the money - about 67 degrees as we started. Short sleeves were fine. We were joined by Tim MacLachlan. Fresh legs were good; the half marathon he ran last weekend did not seem to affect him.
We headed through morning traffic in the Concord area. Not full rush hour, but enough to make it interesting on a bike. While we didn't see a lot of colorful foilage, we did see some very scenic areas. A great distraction as we were closing in on and passing 200 miles for the trip.
Framingham 8 arch bridge on the Upper Charles Bike Path
Upper Charles Bike Path
The day was heating up as we got to the hillier section on Route 102 in Rhode Island. The next 13 or 14 miles were very hilly, as the temperature pushed 80 degrees. Not terrible, but with the sun out, a little warmer than I asked Tom to order for the ride. Still, it was about 10 degrees cooler than last year. Definitely the best day so far for riding!
Route 44 in RI
While we did not see a lot of fall foliage, we did see this other signpost of Fall.
We pulled into our destination in Putnam, CT around 3. Total mileage for the day of 64.7, bringing the trip total to 216.6 miles.
Tomorrow we ride to St Patrick's Cathedral in Norwich, then to Mercy High School. While the weather may try to dampen things, we are expecting two warm and wonderful welcomes.
Day 4
As has become the custom, we enjoyed the unsurpassed hospitality of Jim and Mary Ann Hubert Wednesday night before starting out Thursday morning. Besides lovely accomodations and a wonderful dinner and breakfast, Mary Ann added a new step to her hospitality. She made us PB&J sandwiches for our lunch on the ride.
PB&J's Jim. Tom, Tim, and Dan
Shortly before the ride started, we asked Alexa for the temperature and humidity - 69 degrees (good news!) and 94% (not so good news). We started out, and it started sprinkling right away. The sky was dark grey to black; it looked like the more pessimistic forecasts were going to be true. But the rain stopped, and we got nothing worse than drizzle on the way to the Cathedral.
The Airline Trail was an adventure. Some areas had washed out from the rain recently, and had been replaced by trap rock. Soft sand in other areas, and standing water in many places. Still better than many of the hills in Colchester, but not as relaxing as normal.
An "extra" waterfall on the Airline Trail A regular waterfall closer to Norwich
We were warmly greeted by Bishop Cote, and some of the students and teachers from St Patrick School. After the greeting, Dan gave a brief talk on Haiti, and answered a bevy of questions from the inquisitive and animated students. This put us a little behind schedule, but was well worth the time spent with them.
Leaving the Cathedral
Our luck with the weather ended shortly after we left the Cathedral. The rain got progressively harder, and we made a course error. At that point, in order to reach Mercy High School be the 2:00 time we were expected, we took a shortcut (we were driven for several miles). This ended up being very fortuitous, as this period included the torrential rain in Portland. In reality, we would have had to pull off if we were biking then because the walls of water being sent up by the cars would have made it unsafe to bike.
As you would expect, the teachers at Mercy opted for the protection of the girls, and let them welcome us by opening the windows and cheering from a warm and dry location. Other students were in a protected alcove outside the main door cheering. A very warm, if wet, welcome!
After spending a little time at Mercy, receiving their hospitality, drying off a little, and getting water for our insides, we proceeded to the last part of the trip, down to Notre Dame Church in Durham. As it was not the torrential rain, we felt safe finishing the planned ride.
Arriving Durham - the end of day 4
Tomorrow starts in Killingworth. We visit St Peter's in Higganum, and St. Patrick's in Farmington, before ending in Farmington.
Friday, October 12 Day 5
Friday we continued our run of interesting weather. We started out on the cool side at 57 degrees. That was fine. Even better was that the rain stopped shortly before we left! Unfortunately, there was a very strong wind. What made it unfortunate was that it was a headwind almost the whole way, stronger than the headwind we faced Tuesday, but the ride was not as long, so overall, it was not as bad. And it was certainly a lot better than it would have been if the rain had continued!!!
Tom, Dan and Tim continued as riders, but on Friday were joined by Pete Rimkus, who had also ridden with us last year.
We headed out from Killingworth down to St Peter's in Higganum. By down, I mean that literally; a long downhill on Route 81 gave us good speed, but also very cold with the temperature and wind. At St Peter's we were met by Leo and Gerry from their Knights of Columbus Council. We had a lively conversation with them, learned a lot about the roads we were going to be riding, and received a nice Donation from the Council. Leo had talked about what the Council was doing at an Assembly (KofC 4th degree) meeting, and they reacted by making a donation themselves. Thanks to the Council, the Assembly, to Leo for spreading the word, and Peter Sonski for setting things up!
From St Peter's, we headed up Candlewood Hill Rd, and over to Durham: classic Connecticut back roads. There were a lot of rolling hills, some very long, some steep. Tom certainly gave us a route with great scenery!
Candlewood Hill Road
We took roundabout way to St Patrick's in Farmington. Several of our Board members, and other long time supporters of Outreach are parishioners there, and the parish itself has been a very generous and dedicated supporter of our mission in Haiti. We can't thank them enough for all of their support!
Farmington River - from bike path St Patrick's
The end was in sight: a short four miles to get to Tom's house, and the end of the ride. The last mile and a half into St Patrick's had been the one time all day we had the wind at our back. We flew along at 20 mph, without working hard. At the time, we knew we would pay, as we had to backtrack most of it to get to Tom's house. Going out, we worked very hard to go along at 8 mph - especially Tom who took the tough lead position. Once we got back to the Farmington River Bike Path, the worst was over, and minutes later, we finished the ride.
Thank you!
Thank the Lord for the weather, and a safe and healthy ride. While not ideal weather, given the time of year, it could have been a lot worse, and a lot more difficult. And no mechanical difficulties - not even a flat tire!!
Thanks to all who followed us, and prayed for us, and supported us in so many ways.
There are so many people to thank for the success of the ride. First, the riders - Tom, Ron, Tim, Jim, Pete and Dan. A great effort, and it was great spending time together - rain, shine, wind, cold, heat (New England!).
Thank you to the donors. Many of you are repeat donors, and there are many new ones. Spreading the word of our mission in Haiti is part of the reason for the ride, and it is great to see new donors, and even better to see repeat donors who learn about the mission, and believe in it. Thank you!
To all the people who gave logistical support - Jan, Dorothy, Jim and Mary Ann Hubert, Dennis and Sue Petruzzi, and John Bouley - thank you!
To Bishop Cote, Mercy High School, and St Patrick's School- thank you for your warm welcomes!
I'm sure there are others I am forgetting right now (Still recovering from the ride??). Thank you to all of you as well!
What all of you have contributed helps move the mission in Haiti forward, and helps to improve the lives of deserving Haitians every day.
Donations are still coming in - it is not too late! As of Monday 10-24, we are just over $15,000 raised. God willing, more still to come.
Description of Ride
A small team from Outreach to Haiti will again do a 5-day, 337-mile bike ride, touching five of the six New England states and climbing more than 13,000 feet. The ride starts on October 8, 2018, and its purpose is to raise awareness and funds to support the mission in Haiti.
The specific goal of this year's ride is again to raise money for the rebuilding effort. Hopefully, actual construction will be starting about the time of the ride. We have the majority of the money for the building, but increasing construction costs, as well as greater use of steel beams for more earthquake resistance, has increased the cost of the building, so that additional fund-raising is needed.
This is the fourth annual bike ride. Last years ride took the total miles ridden to just over 1,000. Now we start on the next 1,000! The amount raised in the first three rides is a little over $50,000. Similar success this year will help close the gap on paying for the new building.
For those who have not joined us for prior rides, or just want a refresher, the bike ride has been planned as a "virtual trip" across Haiti. Or, more accurately, a "geographically displaced" trip. The distance chosen for the trip is the distance from Jeremie on the West Coast of Haiti, through the capital city of Port-au-Prince (where OTH is based) to Cap-Haitien on the North Coast, as shown in the picture below.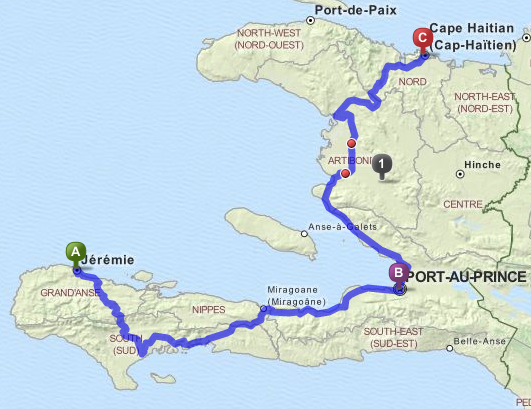 In the interest of time and money, (and for better roads and, hopefully, better weather) the actual ride is in New England.
The ride starts at Freeport, Maine, quickly makes its way down into and through New Hampshire, skirts Boston, goes into northwestern Rhode Island, and ends by winding through the eastern and central parts of Connecticut. On Thursday morning, the riders will visit St Patrick's Cathedral, and we will be greeted by Bishop Cote. The riders will also visit Mercy High School in Middletown, and St Patrick's in Farmington. All of these groups have extended very warm welcomes to the riders in prior years, but the enthusiasm of the Mercy girls is hard to beat!
Here is the course for 2018:
For an interactive link to the course, click here.
You can donate by using the link below, or by sending a check to Outreach to Haiti, 815 Boswell Ave., Norwich, CT 06360. Any questions, call 860-800-3601
During the ride, check back into the website each day to follow our progress!
To see a description of last year's ride, click here