Welcome to Outreach to Haiti
Outreach to Haiti has been working in the Caribbean nation for over 30 years. We offer health care services, student sponsorships and other educational support, parish twinning, support of two orphanages, as well as a neighborhood meal program for children. For travelers to Haiti, we have a guest house, where you can stay short- or long-term. We also arrange immersion visits for traveling groups to learn about Haiti - its people, culture and land.
Watch a video about our programs!
Outreach Board meets in Haiti
The Board of Directors of Outreach to Haiti meets quarterly. About every two years, the meeting is held in Haiti. The latest was from Nov. 30, 2017 through Dec. 3, 2017. Click here to read about what the Board saw and did in Haiti.
Some special events coming up!
***********************************
3rd Annual Outreach to Haiti Golf Tournament
Hamilton Tickets - Orchestra seats - to be auctioned off. Click here for more information
Outreach to Haiti is holding its third annual golf tournament at Wintonbury Hills in Bloomfield, CT, on September 15, 2018. Join the Outreach Board, staff, friends and supporters on a wonderful New England mid-September Day.
Wintonbury Hills is a Pete Dye course, rated the #5 Municipal Course in the US by Golf.com, the #11 Course in New England by Golfweek, and is on the list of the top 10 Pete Dye Golf courses by Golf Advisors.com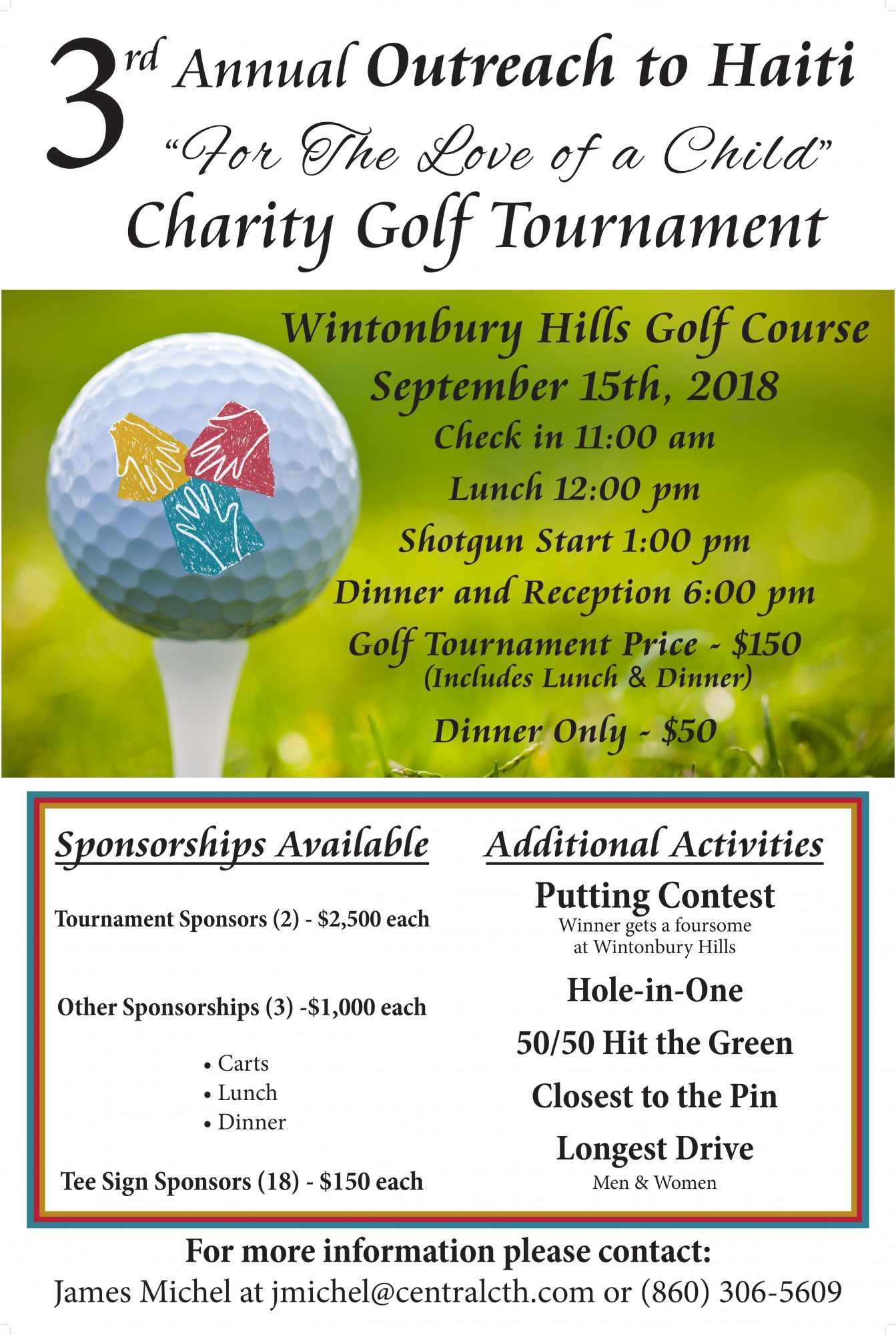 ***********************************
Upcoming Craft Sales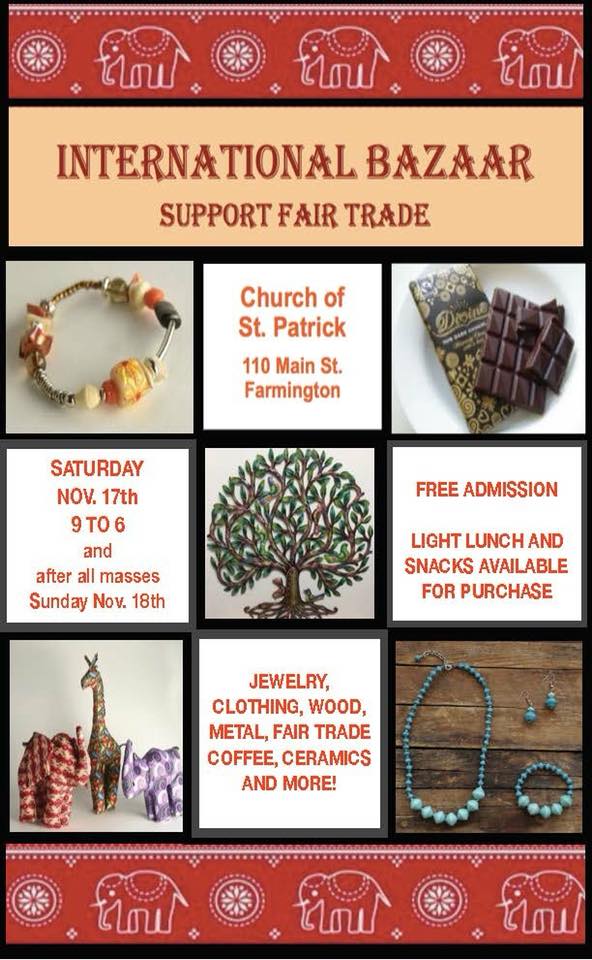 Ride 2018
It's Started - and it's Over - but not too late to donate!
A small team from Outreach to Haiti completed a 5-day, 337-mile bike ride, touching five of the six New England states, on October 12, 2018, to raise awareness and funds to support the mission in Haiti.
You can see a day by day description of the ride by clicking here.
As of 10-24-18, the ride has raised a little over $15,000.
Hurricane Matthew Final Report
Outreach to Haiti received $90,000 from twinned parishes for their Haitian twins. All of this money was immediately sent to the twins. All fees by Outreach were waived.
Outreach also recieved $65,000 from other donors for Hurricane Matthew relief. Again, 100% of this was sent to Haiti. It has helped affected employees, patients at the clinic, and the five parishes twinned through Outreach that were most heavily hit by the Hurricane.
Click here for more information.
Bishop Cote visit
Bishop Michael R Cote visited Haiti from January 30 to February 2. While there, he celebrated mass with staff, neighbors, and program participants, performed a ground-breaking ceremony for the new Norwich Outreach Center, visited two Haitian twins (a parish and an orphanage), met with three bishops, and more!
To see a full account of the trip, with photos, click here.
Capital Campaign Update
Demolition Completed
Demolition of the remainder of the building that was being used for offices started on November 30, 2017, and was completed before Christmas. This removed all of the remnants of the building, and prepared the property for construction Final design details are being worked out, and should be completed in April. Construction should start soon thereafter. Thanks to all who have helped us get to this point! We will soon have a solid building from which to minister to the Haitian people.
The capital campaign has reached $590,000 out of a target of $450,000. However, we found out late last year that the portion of the building that had survived the earthquake, and we planned to continue to use, needed to be replaced as well. We think the amount over the target we raised will cover most of the cost of the new building, but will fall somewhat short, and will no longer allow us to do things like add solar power. We continue to look at grants and additional donations to complete the building, cover replacement of the current, out-of-date and underpowered generator, and add solar power.
Click here for more details.
2017 For the Love of a Child Gala
The gala was held April 29, in Storrs CT. For a summary and pictures of the gala, and a link to Bishop Toussaint's full remarks, click here.
Televised interview with James Michel and Dan O'Sullivan
The Knights of Columbus have a monthly feature on WTNH to spotlight a charity. Board Chair James Michel and Director Dan O'Sullivan were interviewed in their New Haven studio. Video taken on their recent trip to Haiti was featured as well.
Diocese of Norwich Outreach to Haiti, Inc.
815 Boswell Ave.
Norwich, CT 06360
Phone: 860.800.3601
Email: [email protected]