Welcome to Outreach to Haiti!
Outreach to Haiti has been working in the Caribbean nation for over 35 years. We offer health care services, student sponsorships and other educational support, parish twinning, support of an orphanage, as well as a neighborhood nutrition program for children. For travelers to Haiti, we have a guest house, where you can stay short- or long-term. We also arrange immersion visits for traveling groups to learn about Haiti - its people, culture and land.
Watch a video about our programs!
18th Annual Hope for Haiti!

Hawk's Landing Country Club
201 Pattonwood Drive
Southington, CT

6:00 PM Cocktails
6:30 PM Dinner & Program

This special evening which will include music, a wine pull, silent auction and a gift card raffle.
For more information or to register for the event, call Mary Ann at 860-748-9215.
2023 For the Love of a Child Gala!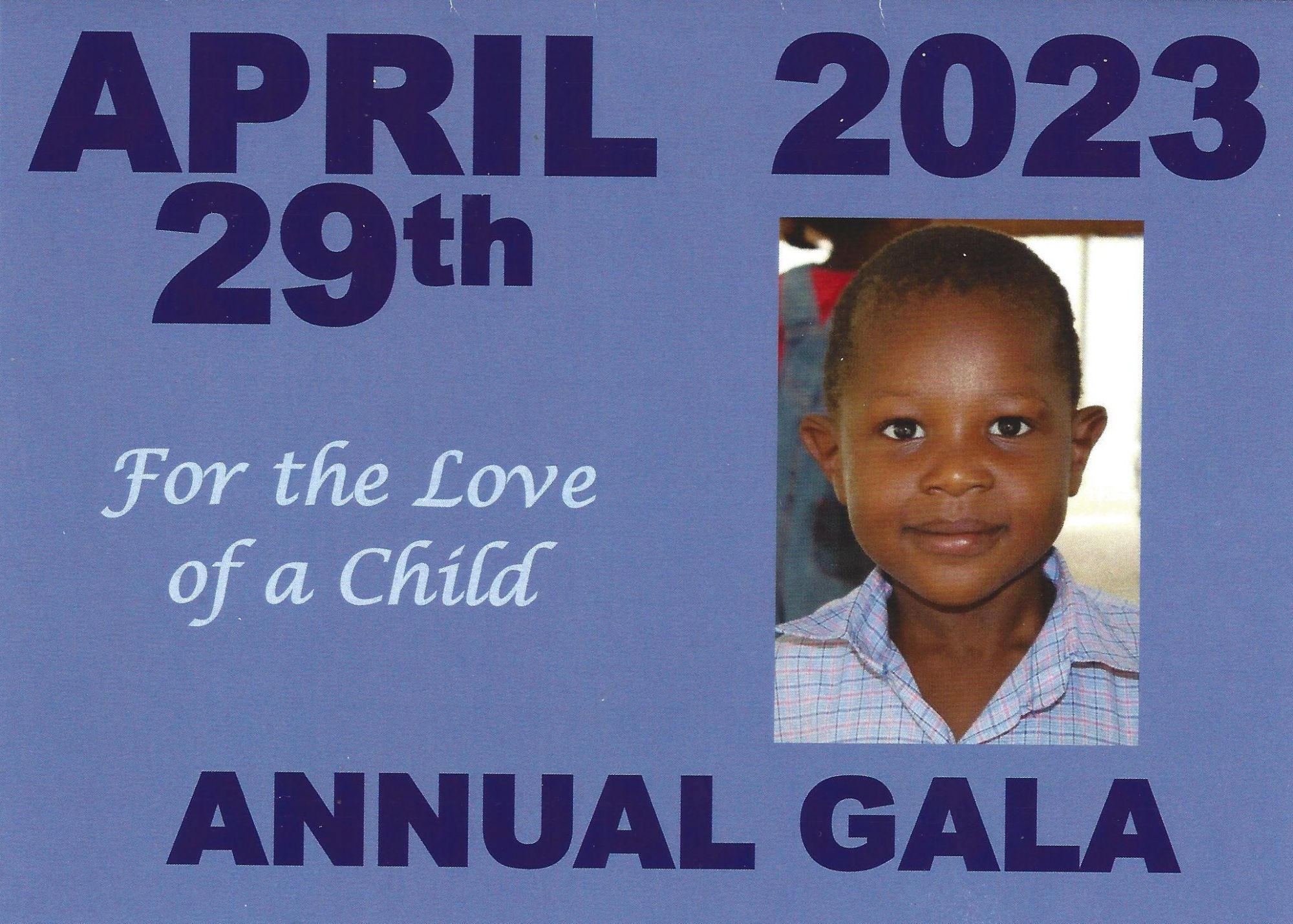 Tickets are now available for our 15th annual gala! For more information on the gala and how to obtain tickets, click here.
8th Annual Ride for Haiti!
Another successful ride!!
Thank you to all the people who have supported the ride: with prayers, with donations, with hospitality along the way, with logistical support, and in many other ways. You are all what makes this possible and successful.
While the ride does not happen without this support, it also does not happen without the riders! A special thank you to Tom Campbell who does most of the planning and is the driving force behind continuing the ride each year. Thank you to the other riders - Steve Cuddy - who has become a regular, and Ron Paine - a regular who is back after a medical redshirt season last year, and his daughter Emily. Last, but certainly not least, our inspiration - Jim Hubert who, with his wife Mary Ann, has been involved with OTH for many years, is a regular on the ride, and this year did his "80 for Haiti", riding 80 miles in the year he turns 80 years old!
A special thank you to Dorothy Paine, who provided tremendous logistical support all week.
All of this effort, has resulted in donations, so far this year of over $34,000, bringing the total raised by the ride over the 8 years to almost $190,000!!
Thanks to all who have supported the ride, and provided all this help to our sisters and brothers in Haiti!
You can see the day-by-day report on the 2022 ride by clicking here. Tom also gives a fuller description of all who have helped make this happen on this page.
After reading this, you are probably thinking to yourself that you would love to join at least part of the ride next year. It is not too early to find out more! You can contact Tom Campbell at [email protected], or Dan O'Sullivan at [email protected]
As you would guess, it is not too late to donate by clicking here.
Thank you all again! See you on the ride next year!
Fr. Matt and St. Mary's welcome James Michel
Outreach to Haiti board member James Michel traveled to Newmarket, New Hampshire to talk about Outreach to Haiti and seek their support. He received a warm welcome from Fr Matt Mason and the St Mary's parish, and used a personal anecdote to demonstrate the faith of the Haitian people before telling them about the work of Outreach. Our thanks to St Mary's for sharing his talk online! Hear his talk by clicking here
Matching Grant Successful!
An anonymous donor pledged up to $2,000 to match donations from individual donors for the sole purpose of purchasing equipment for our new clinic. The challenge was a tremendous success! The matching grant ended up raising $8,400! Thank you to all who donated and allowed for the purchase of much needed equipment for the clinic!
Buy Haitian Crafts!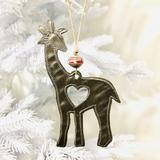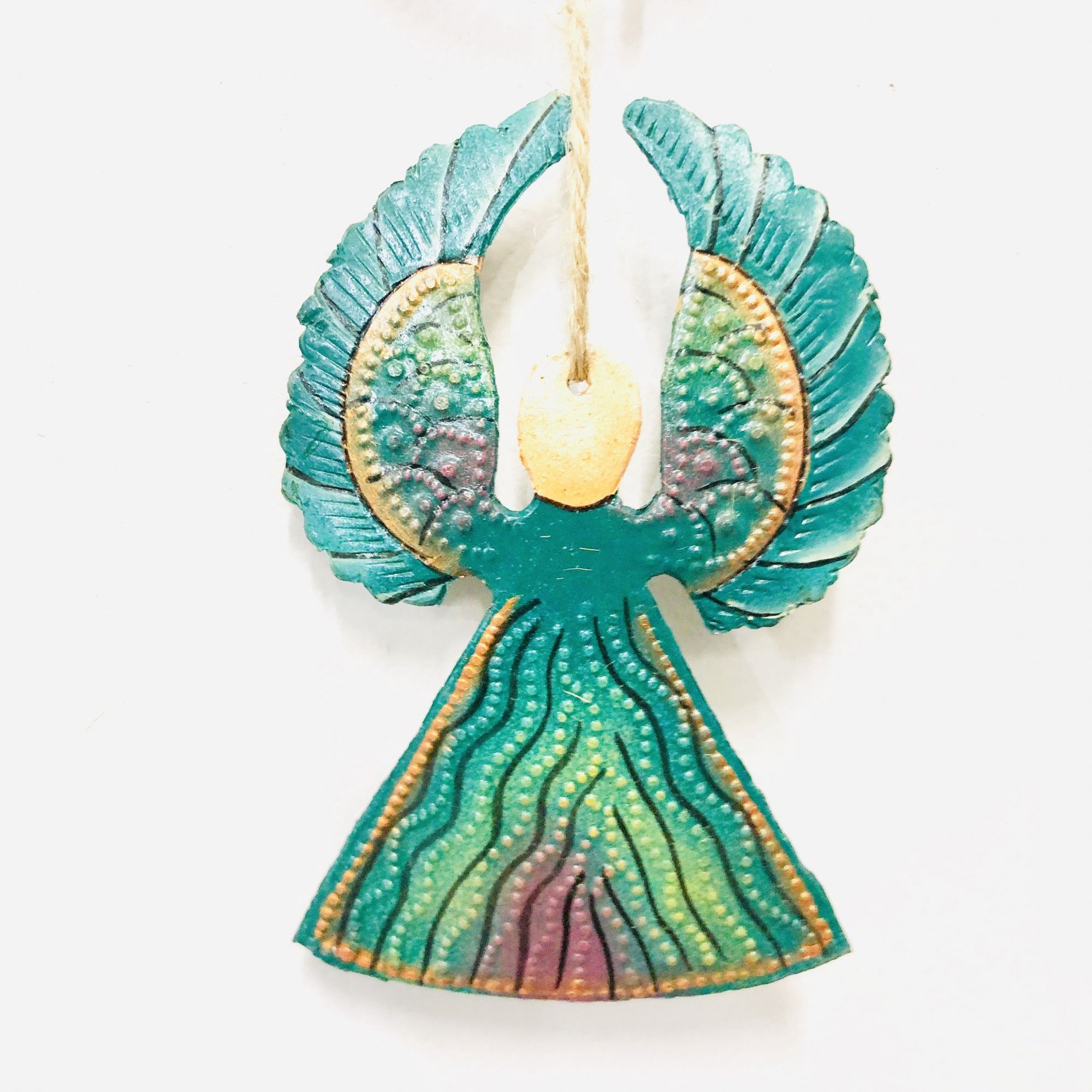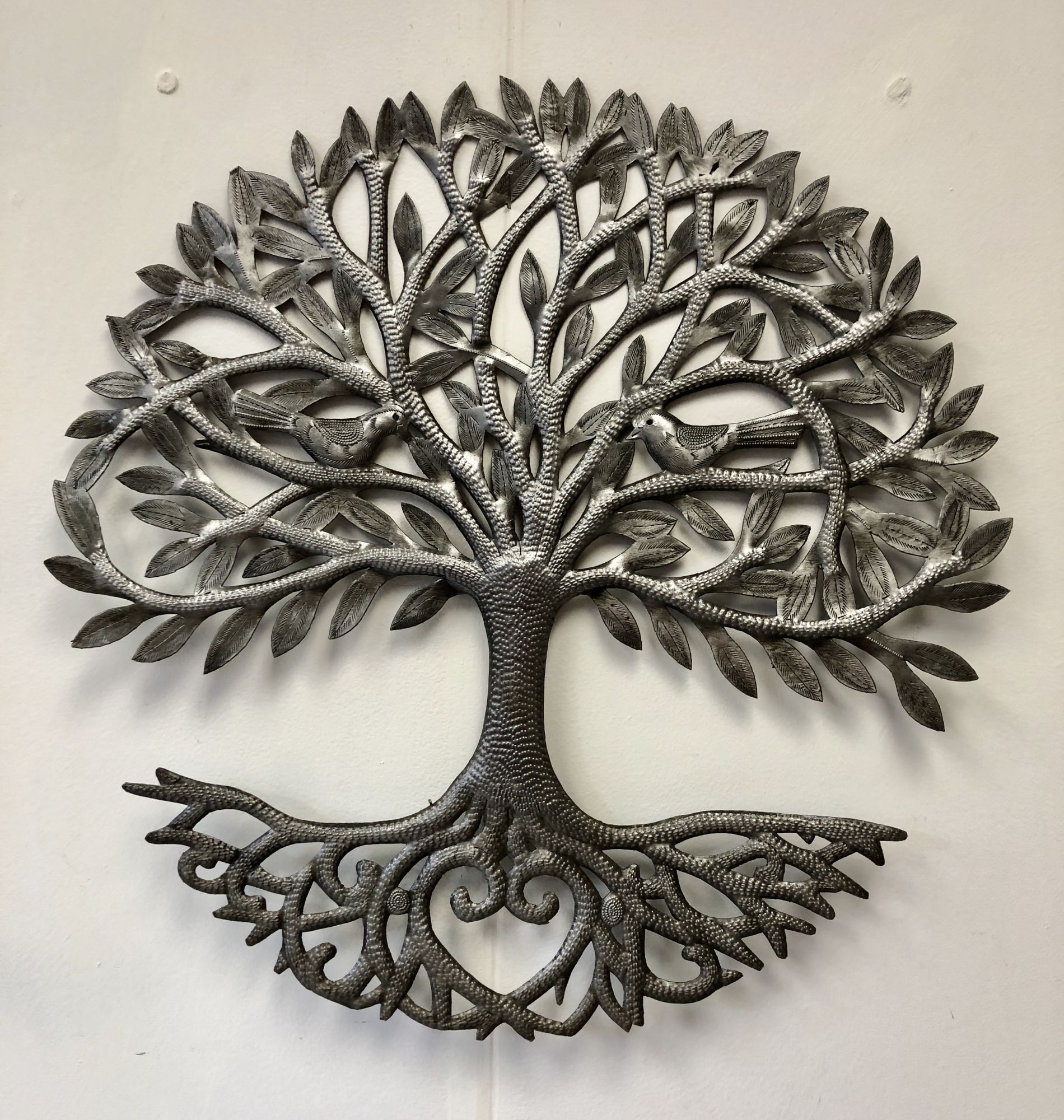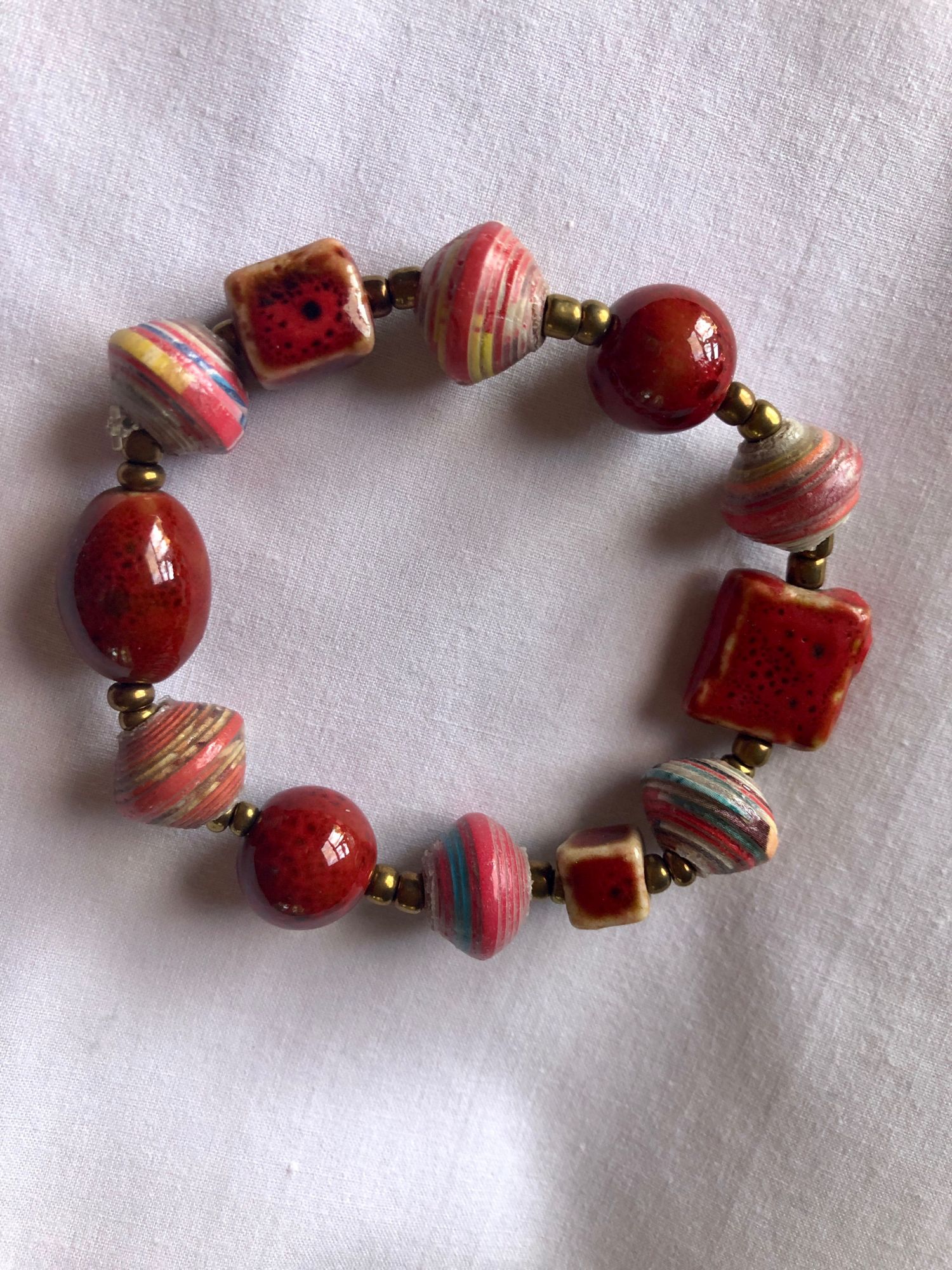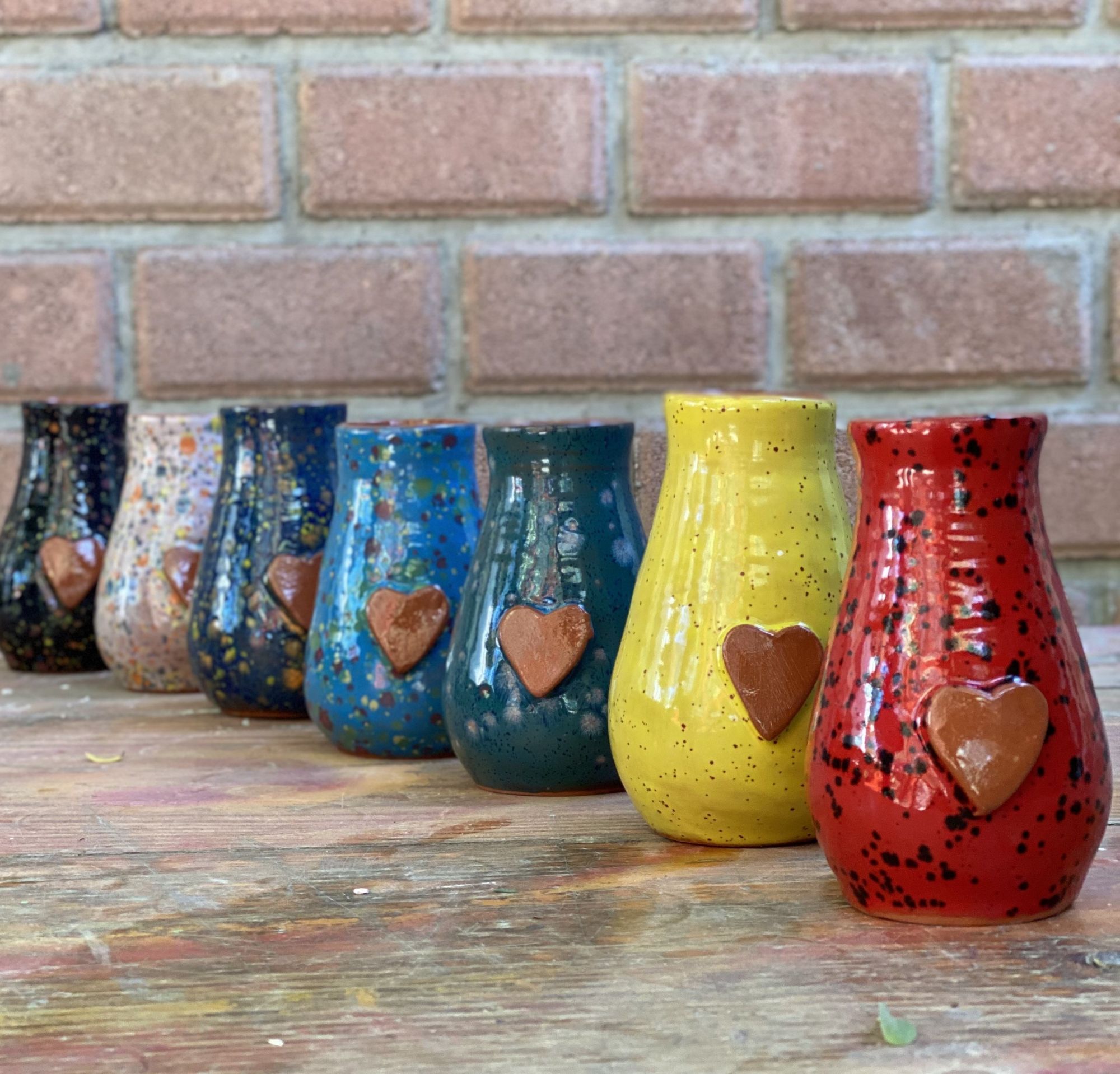 Our craft items are always available at Mercy-By-The-Sea Retreat Center gift shop in Madison, CT. Call them for hours. They are also available online at Haiti's-back-porch
8th Annual Golf Outing
The 8th Annual Outreach to Haiti Charility Golf Tournament will be held on Saturday, September 23, 2023. The "For the Love of a Child" golf event will be held at Wintonbury Hills Golf Course in Bloomfield, CT, Golfweek's 2018 & 2019 #1 Best Course You Can Play in Connecticut!
The tournament includes 18 holes of golf with a cart, lunch, dinner, and prizes for $175. There is a dinner only option for $50. Sponsorship opportunities are also available.
Click here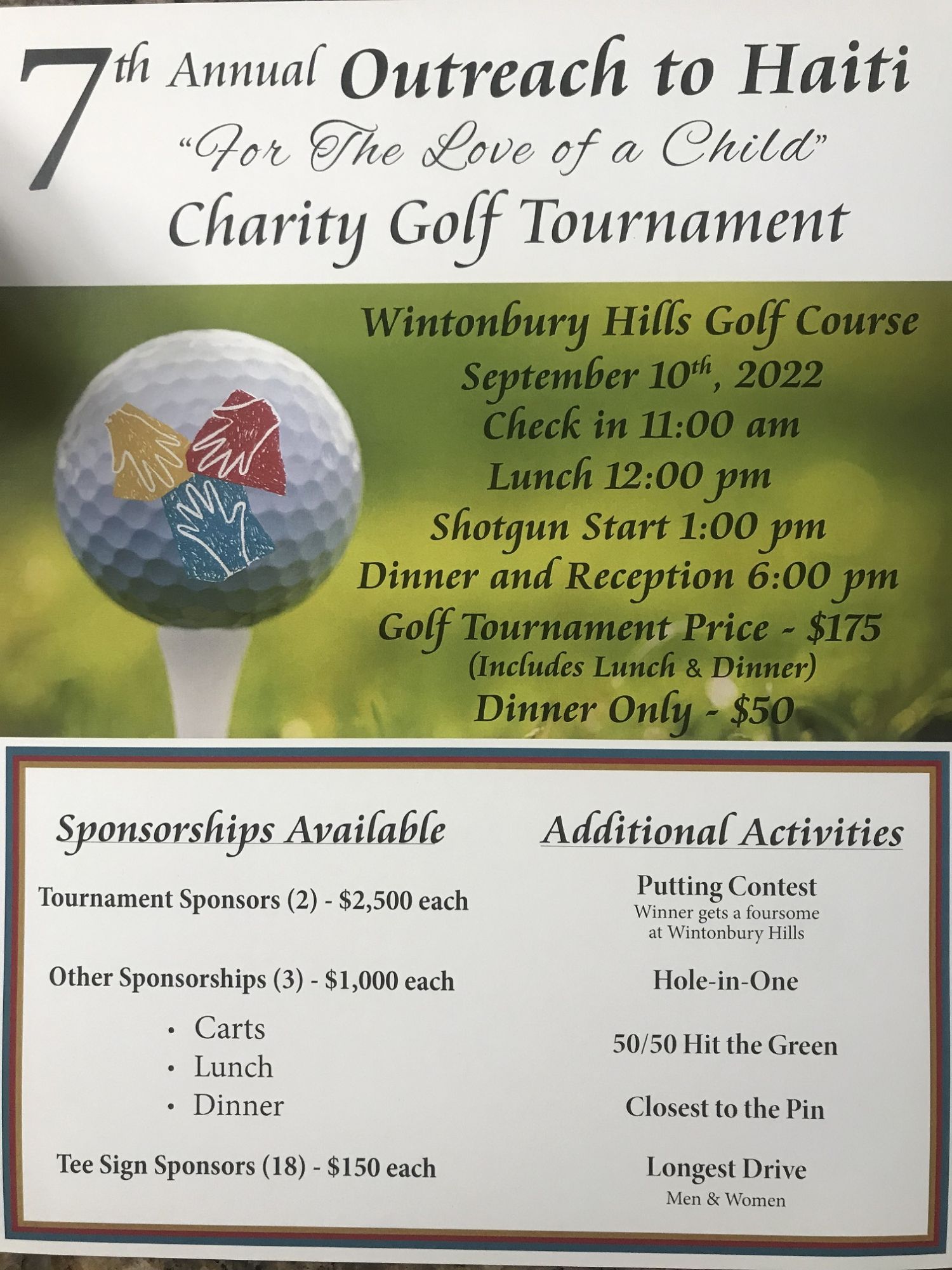 for more information or contact James Michel at 860-306-5609.
Capital Campaign Update
Phase 1 Completed!
Thank you to our wonderful donors!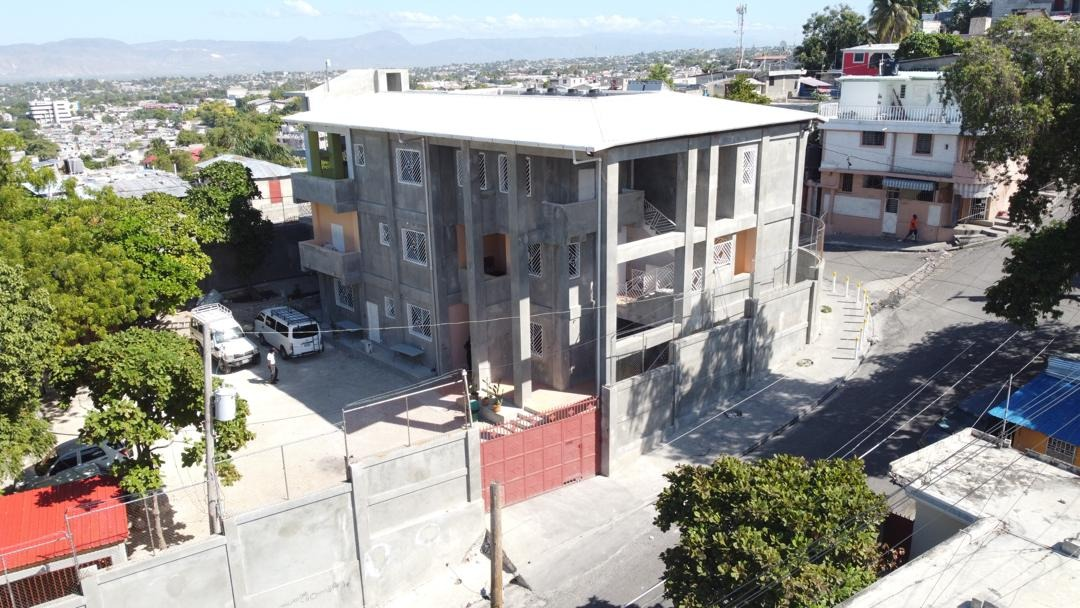 Phase 1 was officially completed in mid December! The initial focus was on completing the office space, allowing us to move our offices out of rented space in October and to stop paying rent. Finishing on the rest of the building followed, and the final inspection occurred in December, with clinic operations moving in right after.
While achieving this milestone was a long time coming, it is also a huge achievement. The success has been in spite of a presidential assasination with associated unrest, a pandemic, and occasional hurricanes. It was possible due to the perserverance and dedication of our Haitian partners in the building project: UGC Construction, headed by Jean-Renet Carier, La Promesse Construction, headed by Leandre Mondestin, and our oversight/liaison firm UOC/Proche, headed by Stephan Destin, with project managers Rose-Pascale Durosier and Ruddy Narcisse. They have delivered a high quality building in very difficult circumstances. Thank you!
We are greatly excited to be all together in this one building, and to have this wonderful foundation for our ministry in Haiti.
We still need to raise money for Phase 2 of the building which will make the building more energy efficient (shading, solar energy, fans, etc.), add finishing touches (exterior painting, two small exterioir buildings, parking lot etc.), and replace our very old and worn out generator.
Of course, all of this was made possible by the generosity of the many people who donated the money to enable us to build this wonderful structure. Words can not adequately express our gratitude.
Click here to see photos showing the progression of the building.
Outreach Celebrates 35 years in Haiti!
Outreach to Haiti reached 35 years of service in Haiti in 2020. We celebrated hat milestone on November 8, 2021, at Mercy High School in Middletown. As with our 30th anniversary celebration, we honored several people who have significantly contirbuted to our mission in Haiti. Those individuals are:
Most Reverend Michael R Cote, D.D,
Ellen Flynn, RSM
Reverend Gerald Kirby
Mr Daniel E O'Sullivan
Our inaugural Works of Mercy Award
to
The Padre Pio Foundation of America
We thank all who joined us for this celebration, and contributed in honor of this anniversary. It is your support that enables our ministry in Haiti.
You can still donate for our anniversary by clicking here
Diocese of Norwich Outreach to Haiti, Inc.
815 Boswell Ave.
Norwich, CT 06360
Phone: 860.800.3601
Email: [email protected]