2020 Ride - September 14-18
On Monday, September 14, a team of riders from Outreach to Haiti will be starting the sixth annual bike ride. As with past years, the team will ride 337 miles over 5 days. The bike ride has been planned as a "virtual trip" across Haiti, and we will visit some of the parishes and schools in Connecticut that are twinned through Outreach to Haiti with parishes, orphanages, and schools in Haiti. This year is different, though. In the past we started in Maine and cycled through five of the six New England states. Because of travel restrictions, we are going to stay in CT. But the ride will go on – it's still 337 miles over 5 days – and CT is just as hilly as the rest of New England!
The purpose of the ride is to raise awareness and funds to support our mission in Haiti. Outreach to Haiti has been in Haiti for over 35 years, serving the poor in the Kris Wa (Christ the King) community of Port-au-Prince and surrounding areas with a healthcare clinic, food and nutrition programs, education programs, developing and maintaining twinning relationships, cultural immersion trips, and the FAK program, which empowers women to start their own businesses. Our motto is Helping Haitians Help Haitians. More information about Outreach to Haiti can be found on other pages of this website.
The specific goal of this year's ride is to raise funds to support these programs. This year, conditions in Haiti have been worsened by COVID-19, and the demand for our services has increased significantly. All of our programs, but especially food and nutrition, have become even more critical than ever. So the people we serve in Haiti ARE IN GREAT NEED OF OUR SUPPORT.
At the same time, many of our ongoing efforts in the U.S. to raise the money that supports the programs have been significantly hurt by the pandemic. Thus, the "Ride to Rebuild" for the last five years, is now a Ride for Haiti" to support our basic programs.
Please keep us in your thoughts and prayers for a safe and successful ride (and an occasional continual tail wind would be nice!).
Click here to donate:
We will report on the ride, hopefully each day. Tom and Dan will both contirbute to the reporting. As described before, we are doing all the rides in Connecticut this year due to the pandemic. All the rides except Friday are loops.
September 14 - Day 1
What a glorious day for, well, almost anything, but particularly biking. After taking a medical redshirt last season (sorry if you are not a college sports fan), I was back in the saddle today. Lots of good news, very little bad news. Tom planned a great, gentle course. As stated, the weather was ideal, the pace was moderate, perfect for those of us who had not put in as much training as we should have.
Six of us rode - a total of 73.5 miles, starting out in Farmington, and going down to New Haven and back. Tom Campbell, Ron and Emily Paine, Steve Cuddy, Pete Rimkus, and Dan O'Sullivan. John Bouley drove the support vehicle. Here we are before heading out at 9:00 A.M. The support was great for re-provisioning us, but fortunately, was not otherwise needed - no flats or mechanical problems.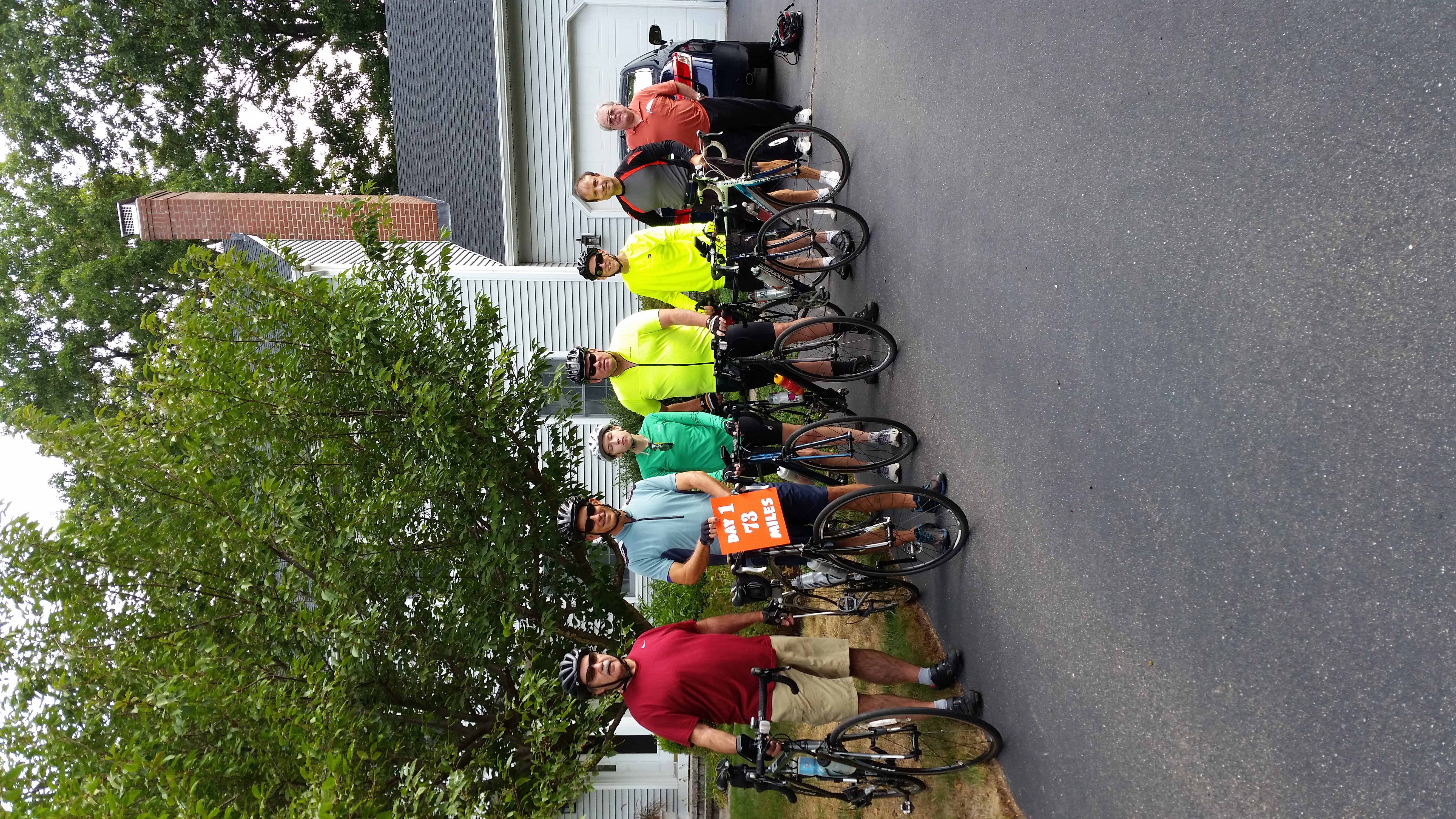 A close up of Tom with the targeted distance, bracketed by Pete and Emily.


The vast majority of the ride was on the Farmington Canal Heritage Trail. A paved, well-maintained, smoothly graded trail. While it is generally very well maintained, it did still have a bunch of downed trees from the recent storms. Most were cut up and off the trail. We did a little maintenance ourselves, pulling one large branch off the trail. We had our most exciting moment of the ride when a branch fell just as we were passing. It seemed to brush Pete's helmet as it swung, pendelum-like from the end that was still slightly attached. A very close call. Pete might choose a word other than exciting.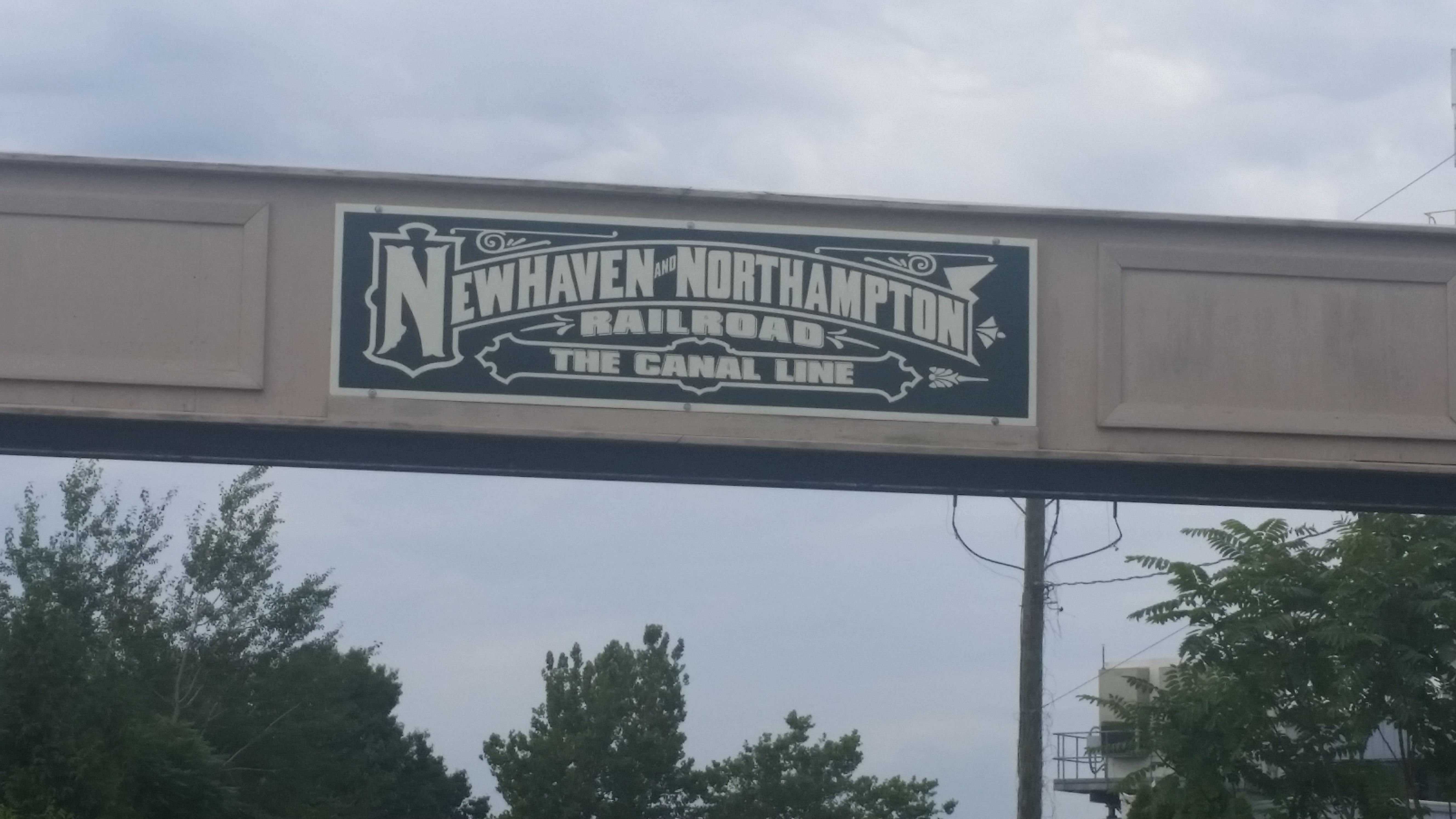 Here is the Farmington River, from the trail's bridge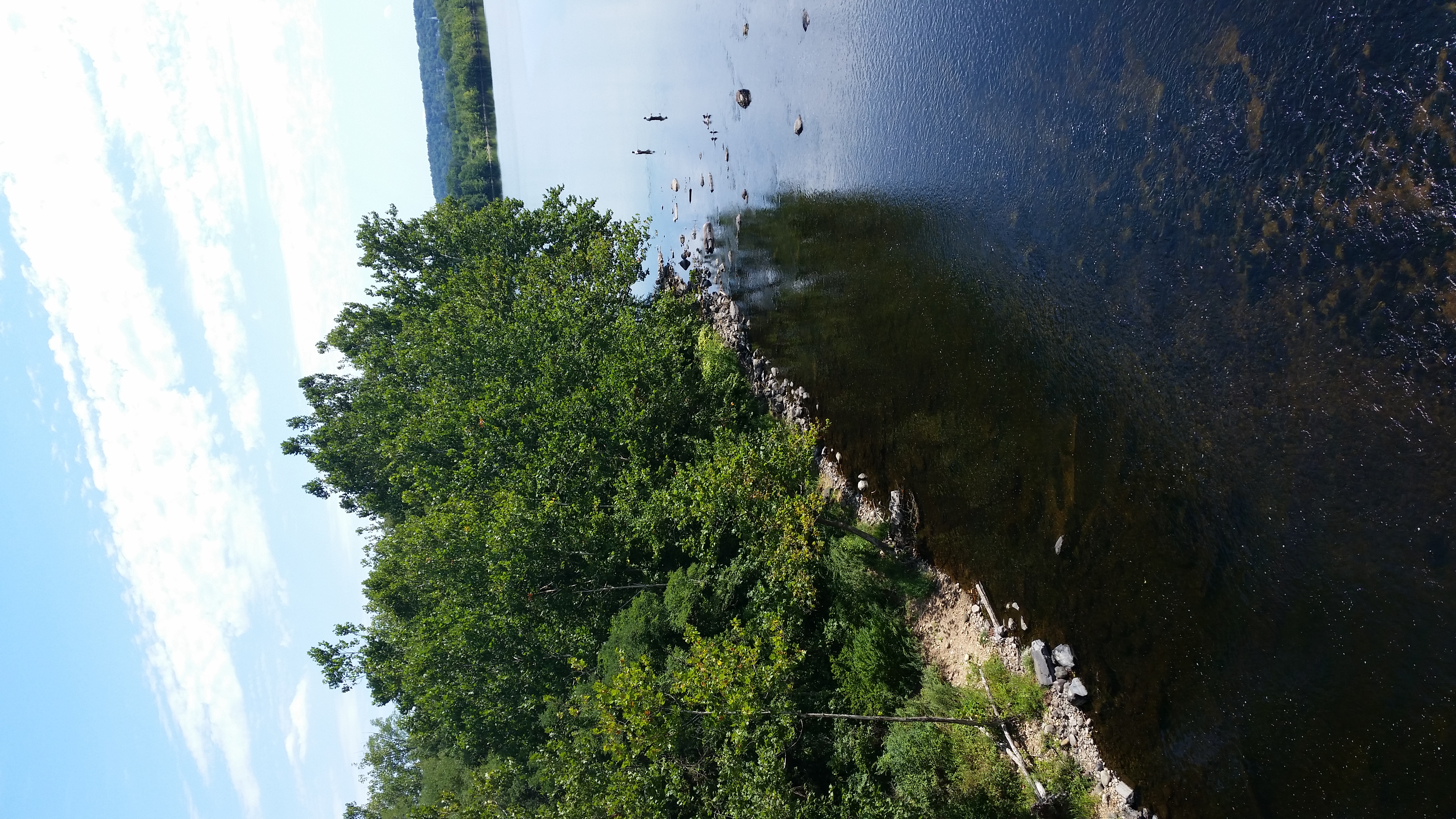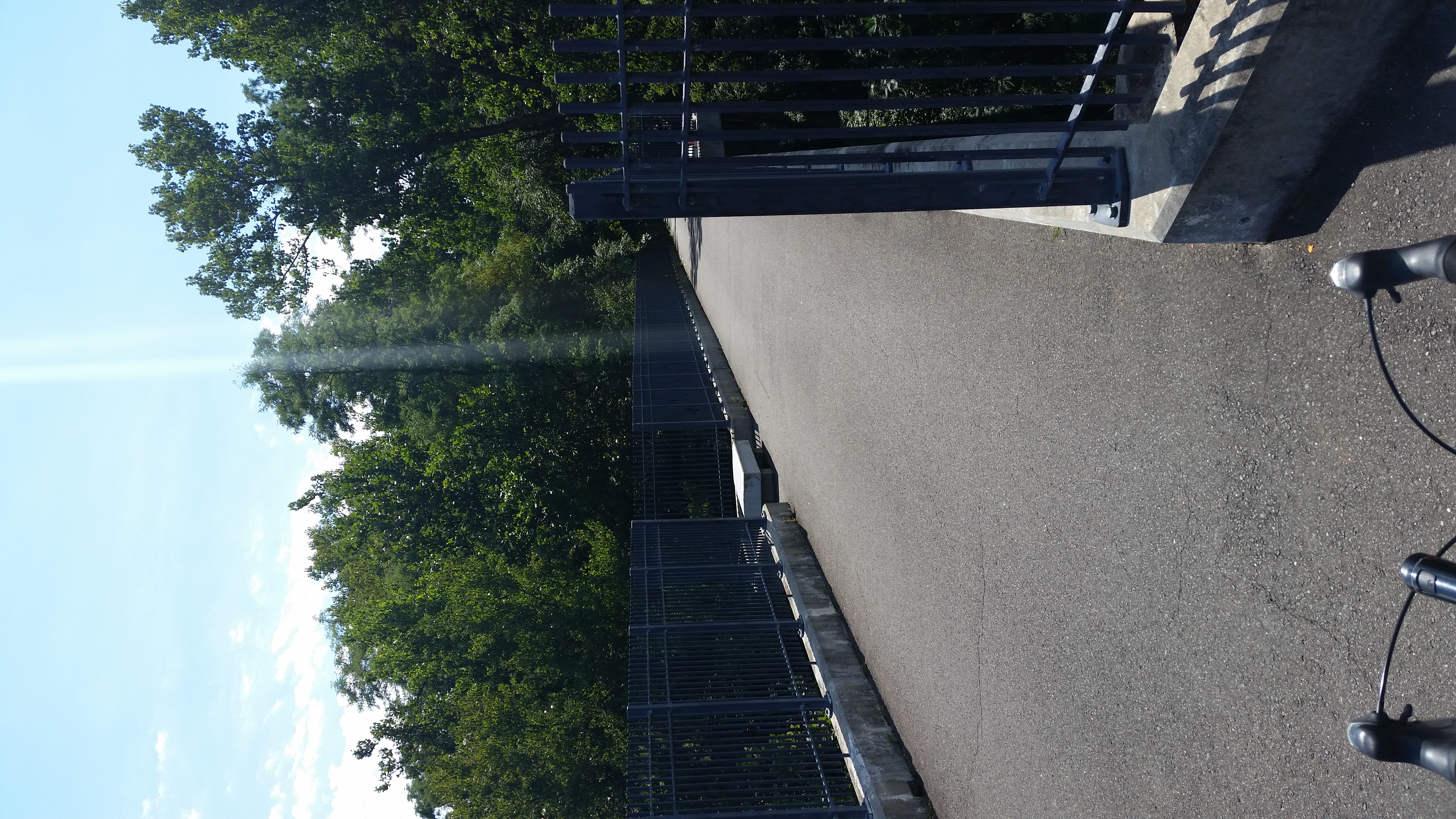 The ride reached its point of return on the Yale campus, but we didn't go for a full tour.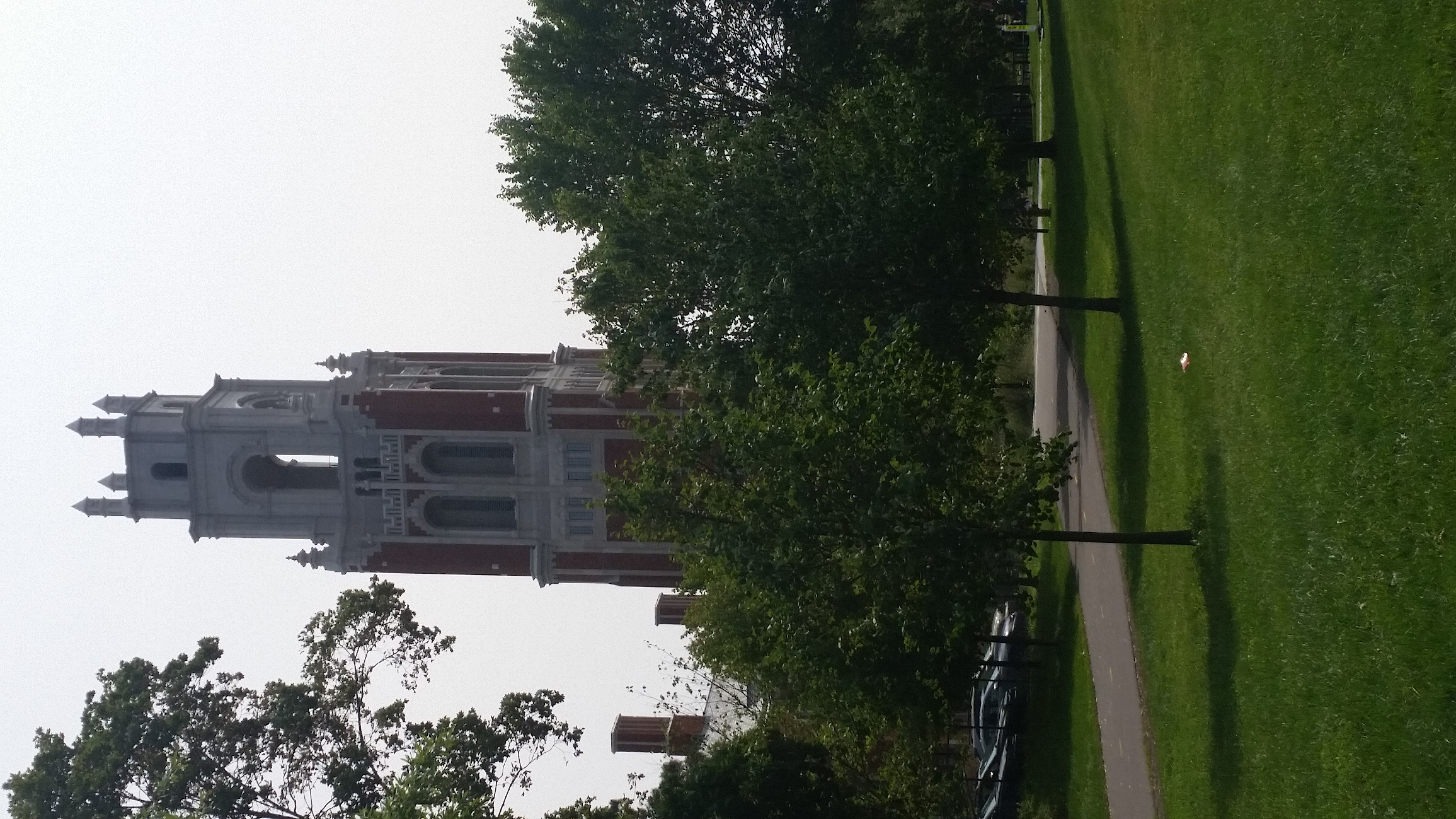 Tom's neighbors; twin children gave him (and us) a great send off - and signs we were grateful to see after 73.5 milies. Thanks Colin and Liam!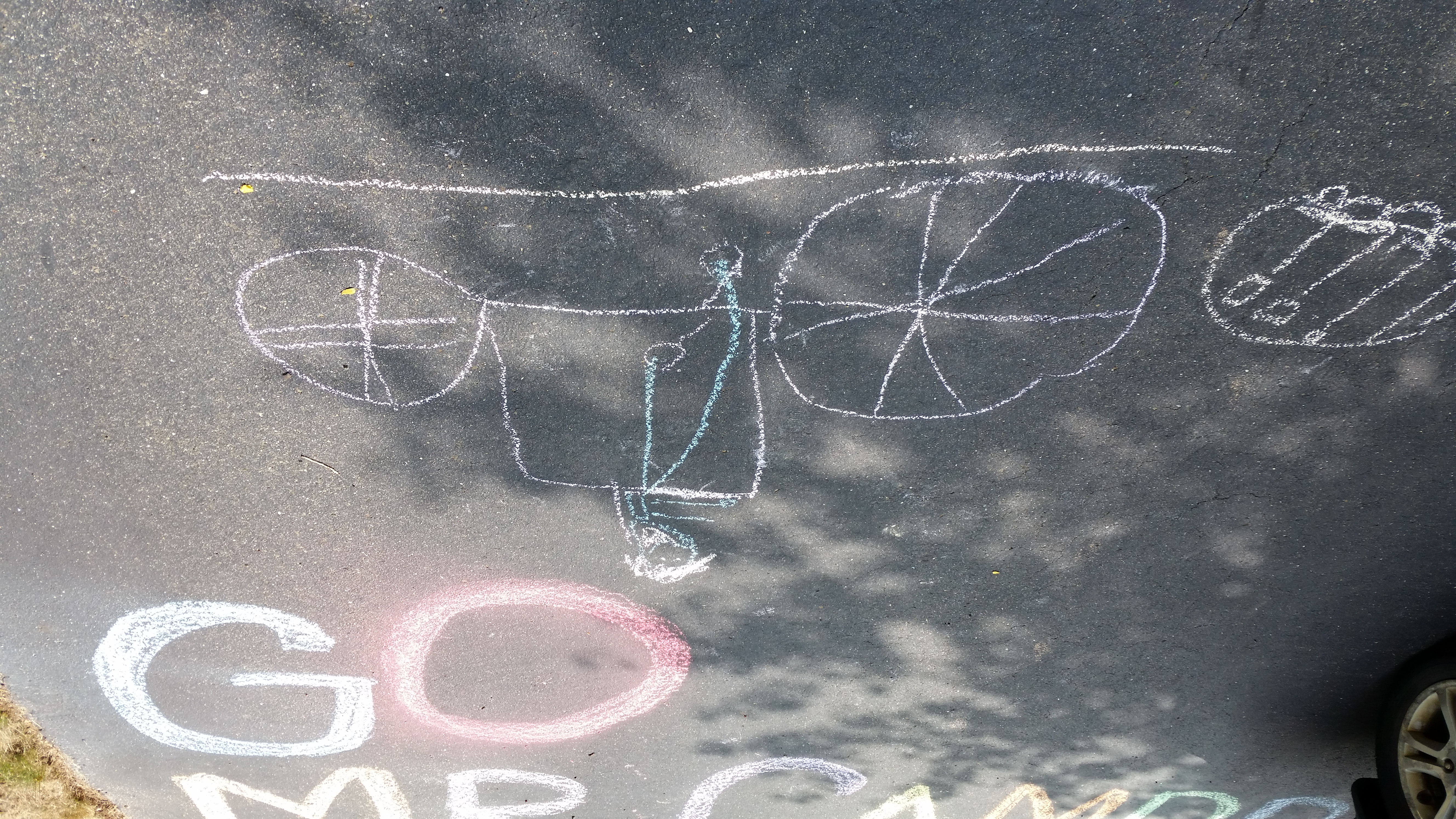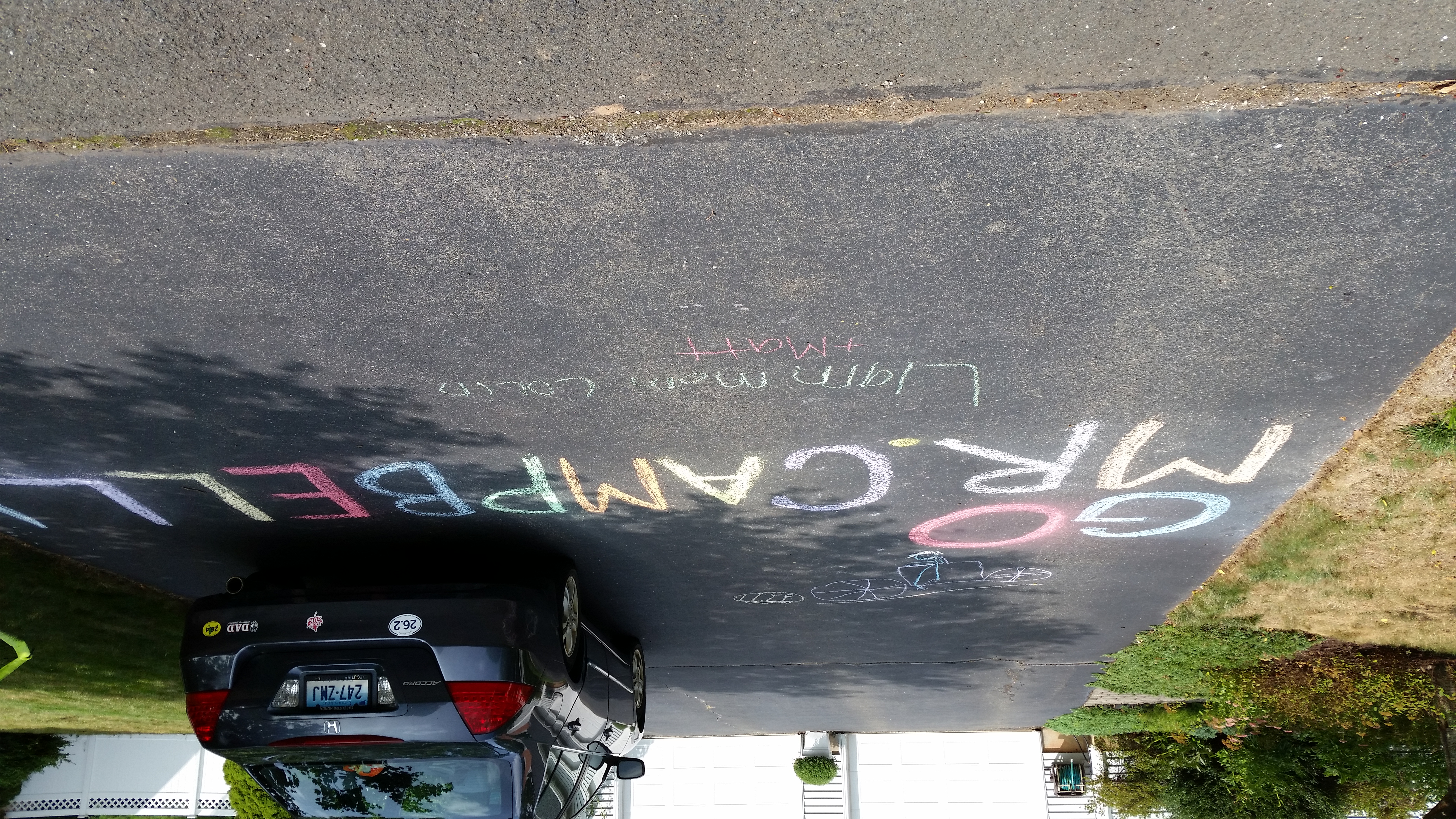 Tomorrow we head out from St Mark's Church, St Pio Parish, in Westbrook at 9:00 a.m., after visiting with some of the peope in the parish. The parish is one of the many Norwich parishes twinned with parishes in Haiti, through Outreach to Haiti. It looks like we will have another great weather day!
September 15 - Day 2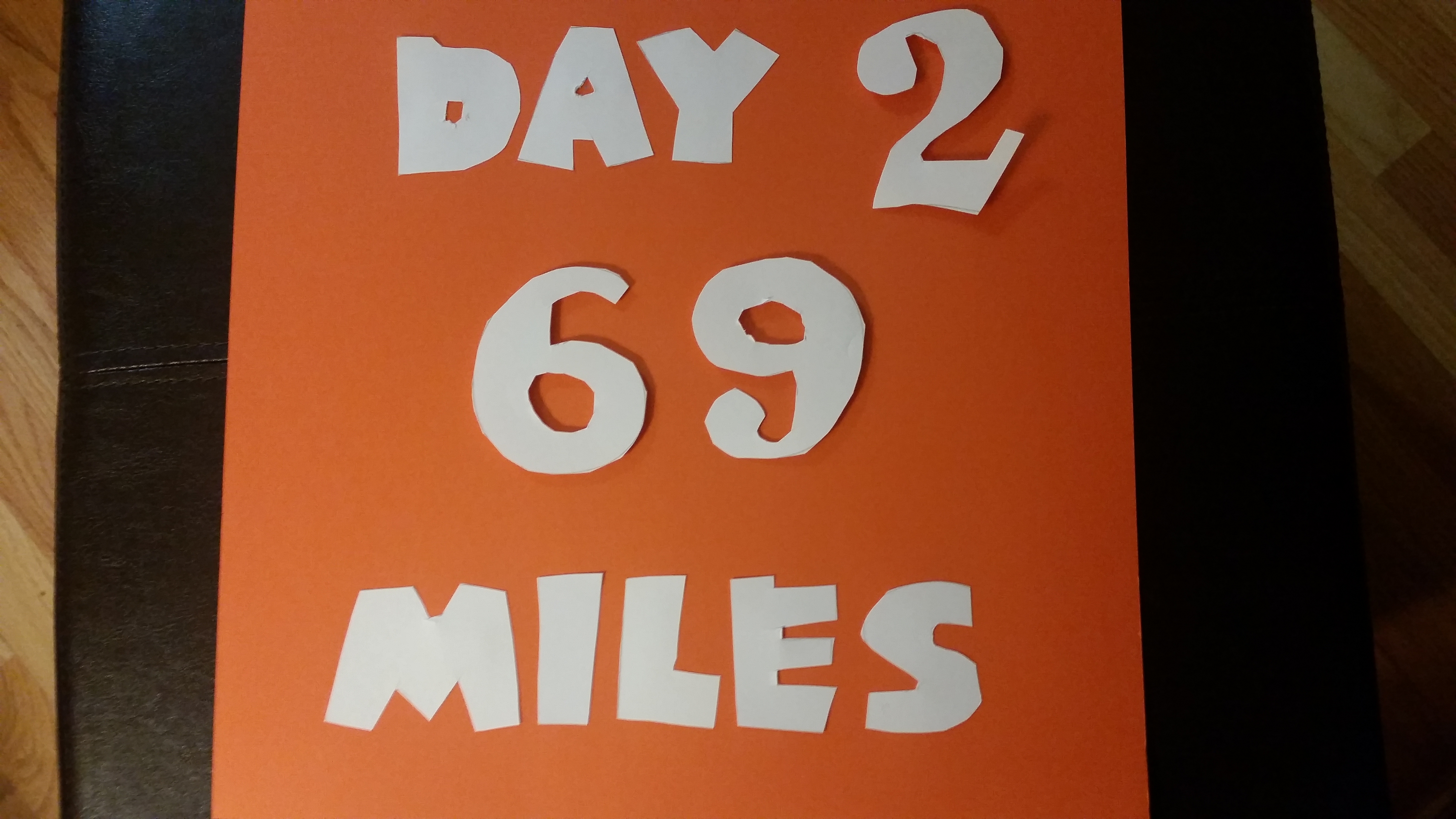 Another great day for biking. A little cool (just over 50 degrees), and we started with a little bit of haze - which is a remnant from the California wildfires (yes, on the east coast). It warmed up nicely when the sun came out.
There were five of us riding today - a total of 68.5 miles, starting out at St. Mark's Church in Westbrook, and doing loops in both Lyme/Old Lyme (LOL) and the Old Saybrook/Westbrook/Clinton/Madison area, and back to St. Mark's. All the riders from yesterday were there, except for Steve, who had work obligations. Dorothy Paine drove the support vehicle.
Before we left, we had a wonderful reception by St. Mark's Haiti Ministry, with a few goodies, and a chance to have some pickle juice, which I understand is good for hydration and curing cramps! The parish is one of the many Norwich parishes twinned with parishes in Haiti, through Outreach to Haiti. Also, joining us was Fr. Frank, Susan Wallace and Marie Farrell from OTH. More importantly, we received two blessings - one from Fr. Martin from St. Mark (see below), and one from Fr. Frank.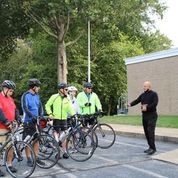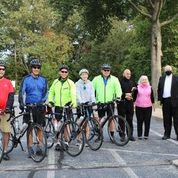 Here we are before heading out at a little after 9.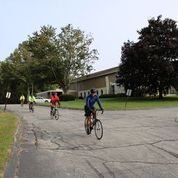 Today's ride was a really nice route. We rode along the water - over the Connecticut River and along the Long Island Sound. Most of the hills were manageable, and the ride along Route 1 was fun (although there was a bit of traffic). Only one minor mechanical, and no trees jumped in front of us today! We also saw a couple of deer run across the road ahead of us as we were heading towards the Fenwick section of Old Saybrook (we weren't quick enough to get a picture).
Along the way, we stopped at Christ the King Church in Old Lyme. We received a nice welcome from Fr. Joe and a few parishioners, and were able to have a few snacks and fill up our water bottles. Here we are riding into the parking lot, and in front of the church.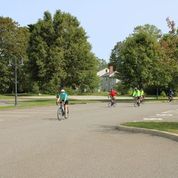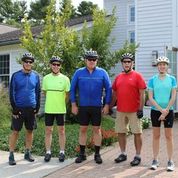 Here are pictures from Old Saybrook.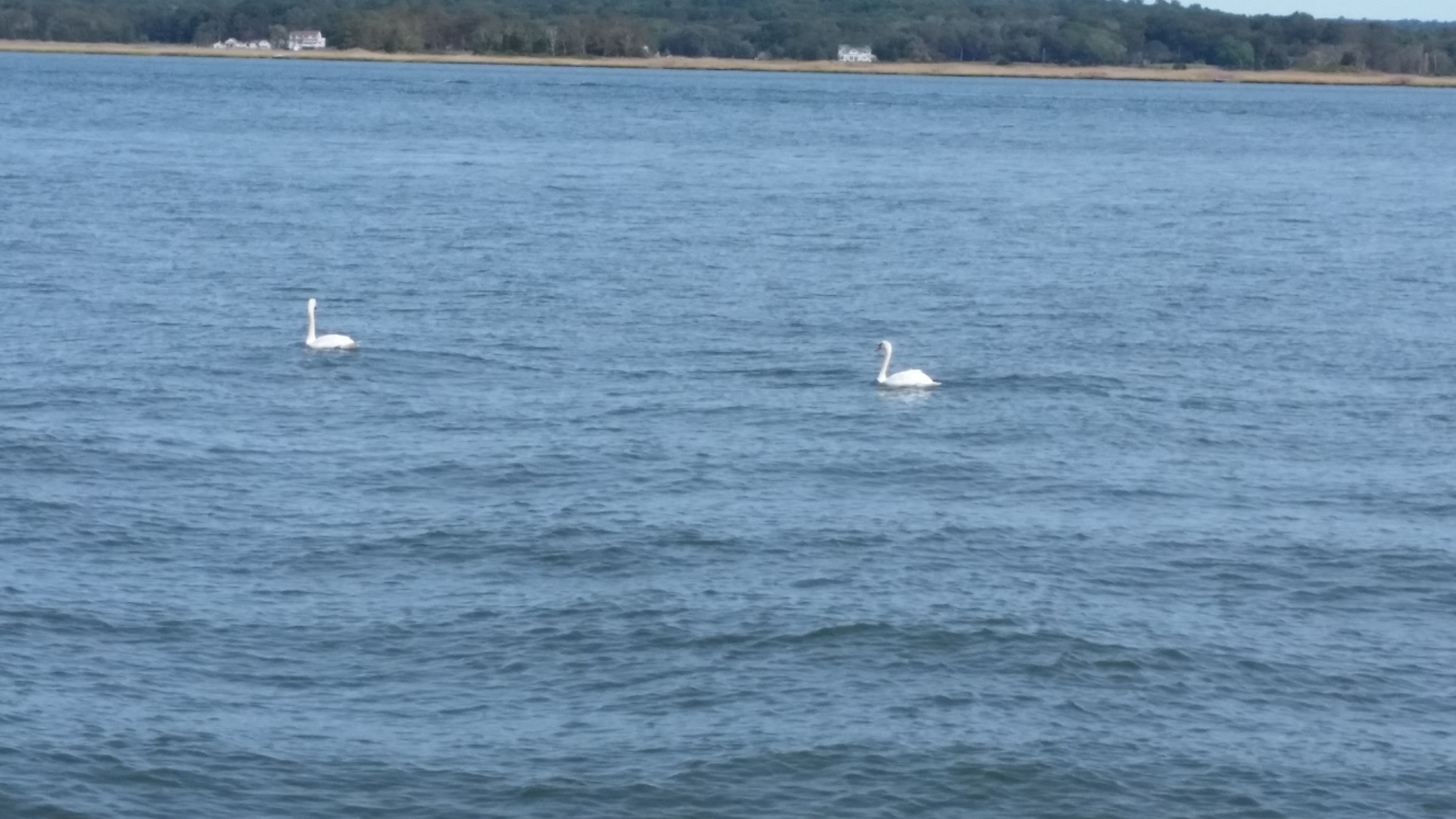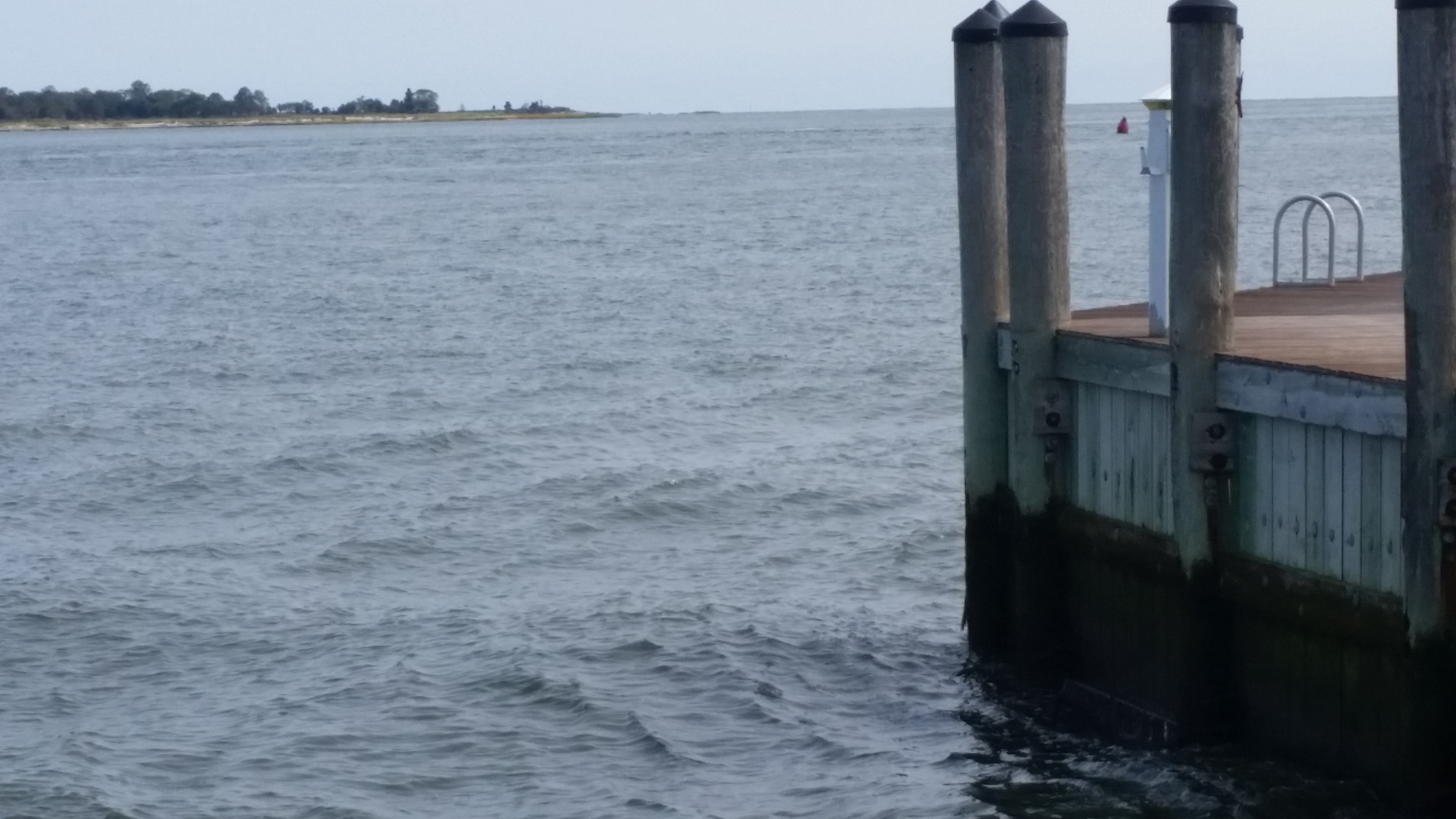 Here are pictures from Westbrook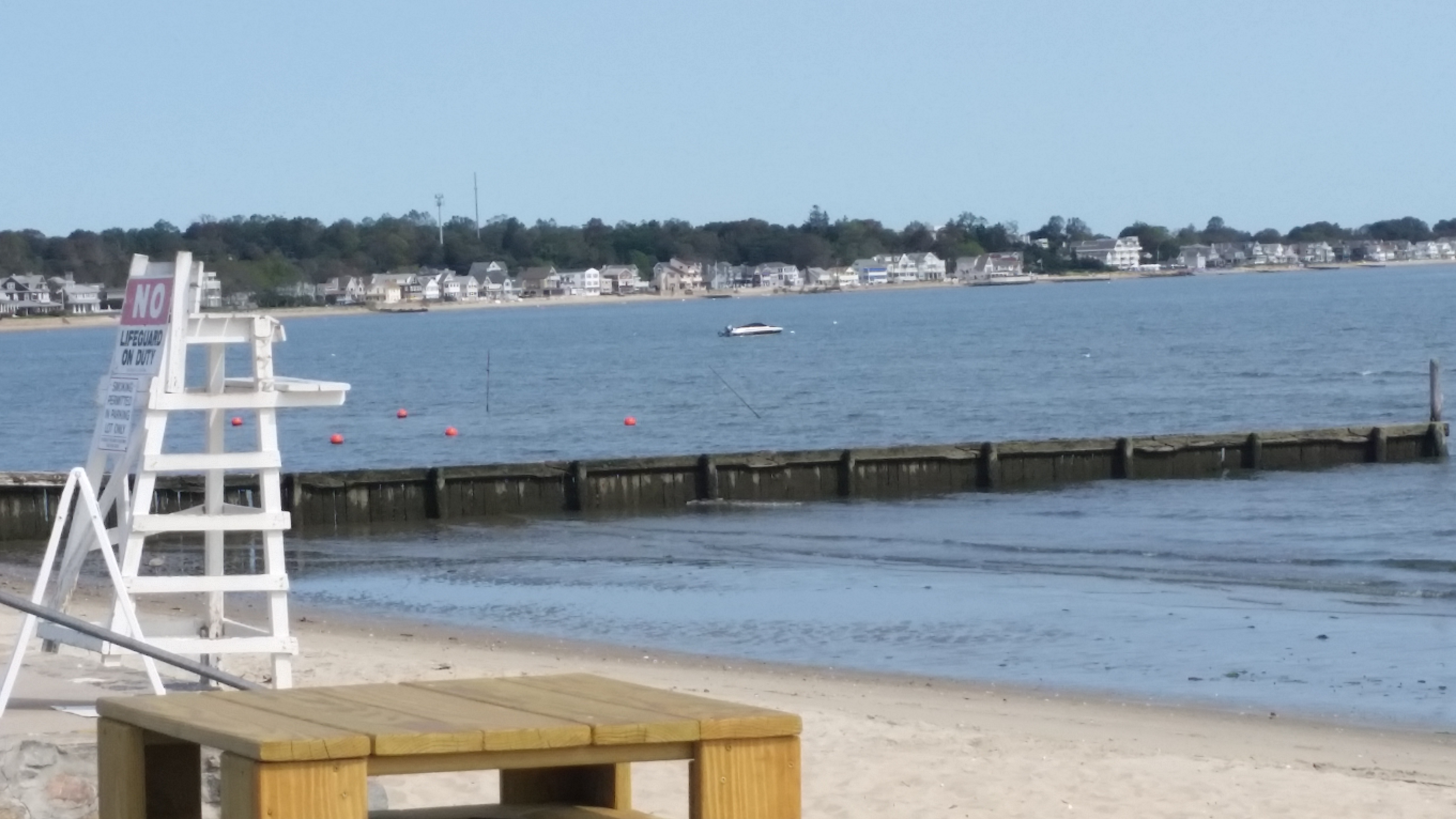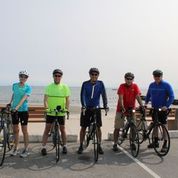 While we were in Madison, we stopped at the famous RJ Julia Bookstore to say hi to Dan's daughter, Kelly. She took a picture of the five of us outside. Luckily, we were outside and socially distance, because we heard there may be undercover mask checkers in the area (an inside joke)!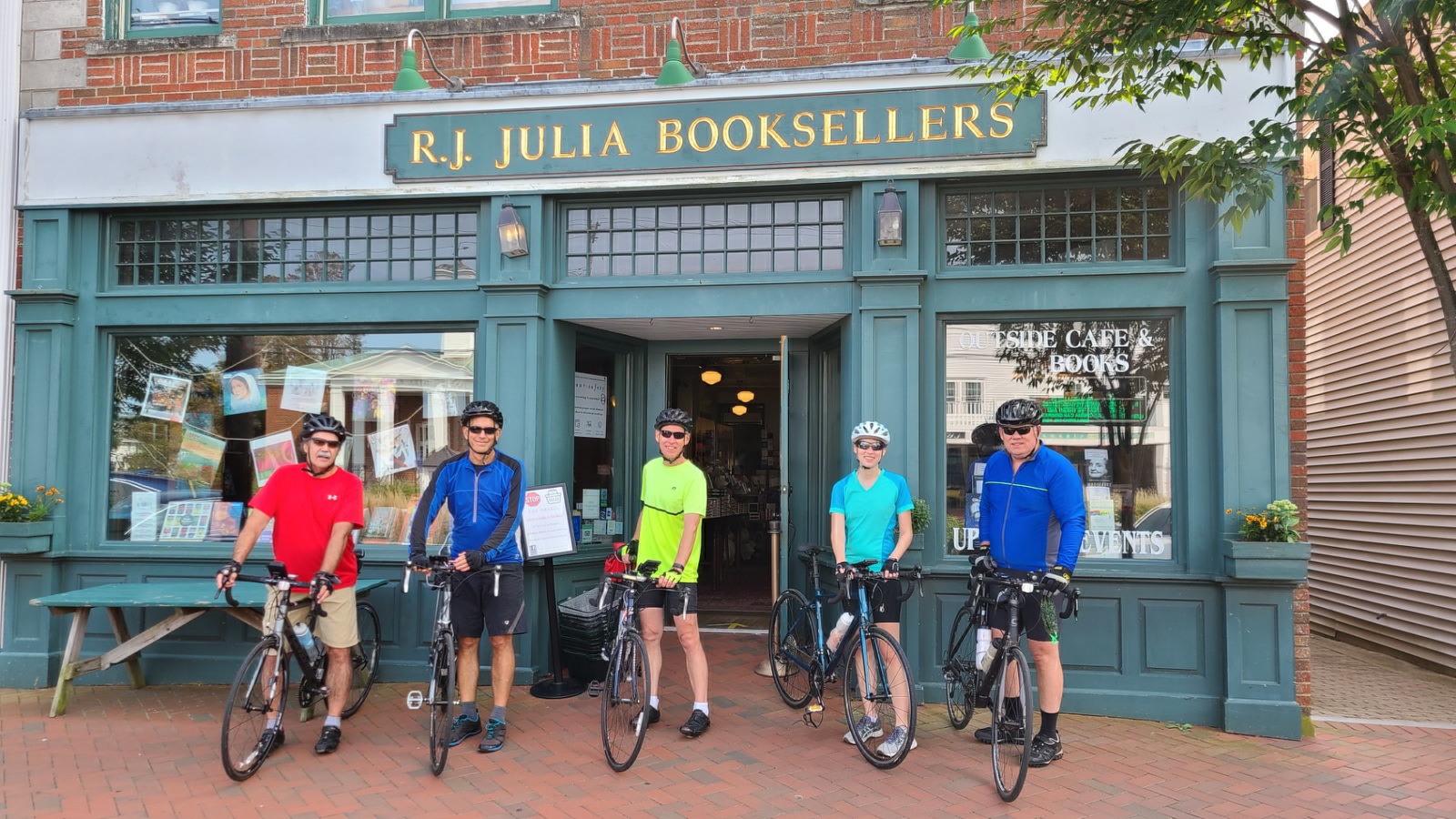 Tomorrow we start in Farmington again, and ride a loop along the Farmington River, with an out and back segment along People's State Forest. The weather forecast is calling for another fabulous day!
September 16 - Day 3
Another glorius day for biking. It started out a bit cooler than expected, about 55 degrees, but very workable. As you see below, the target was 67 miles. It ended up being 67.8 miles (a technical disclosure - we compare the mileage each of us gets from our individual apps, and pick the one that is longest - as long as it makes sense, and is reasonably consistent - the differences don't really affect anything, but it makes us feel slightly better)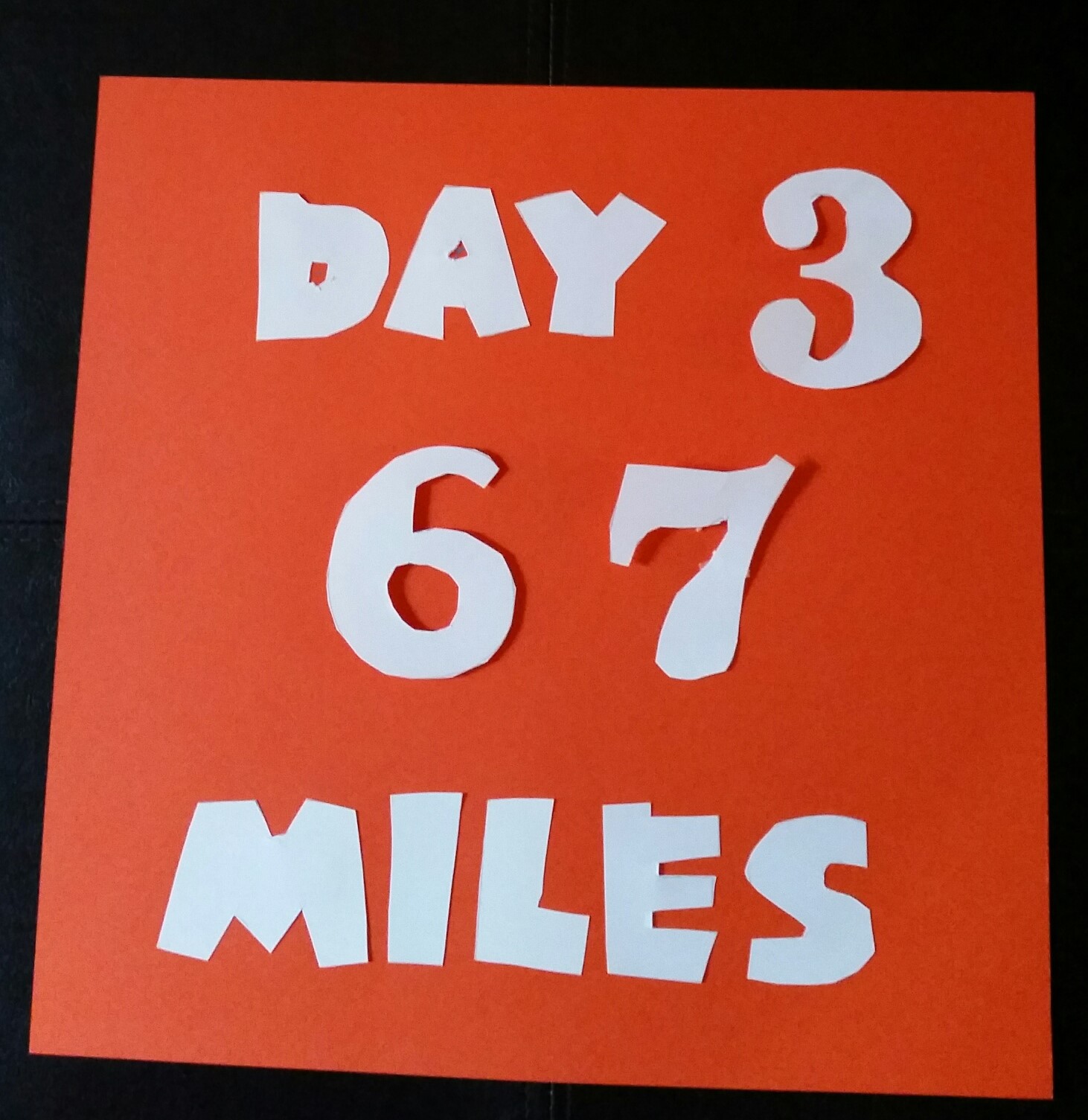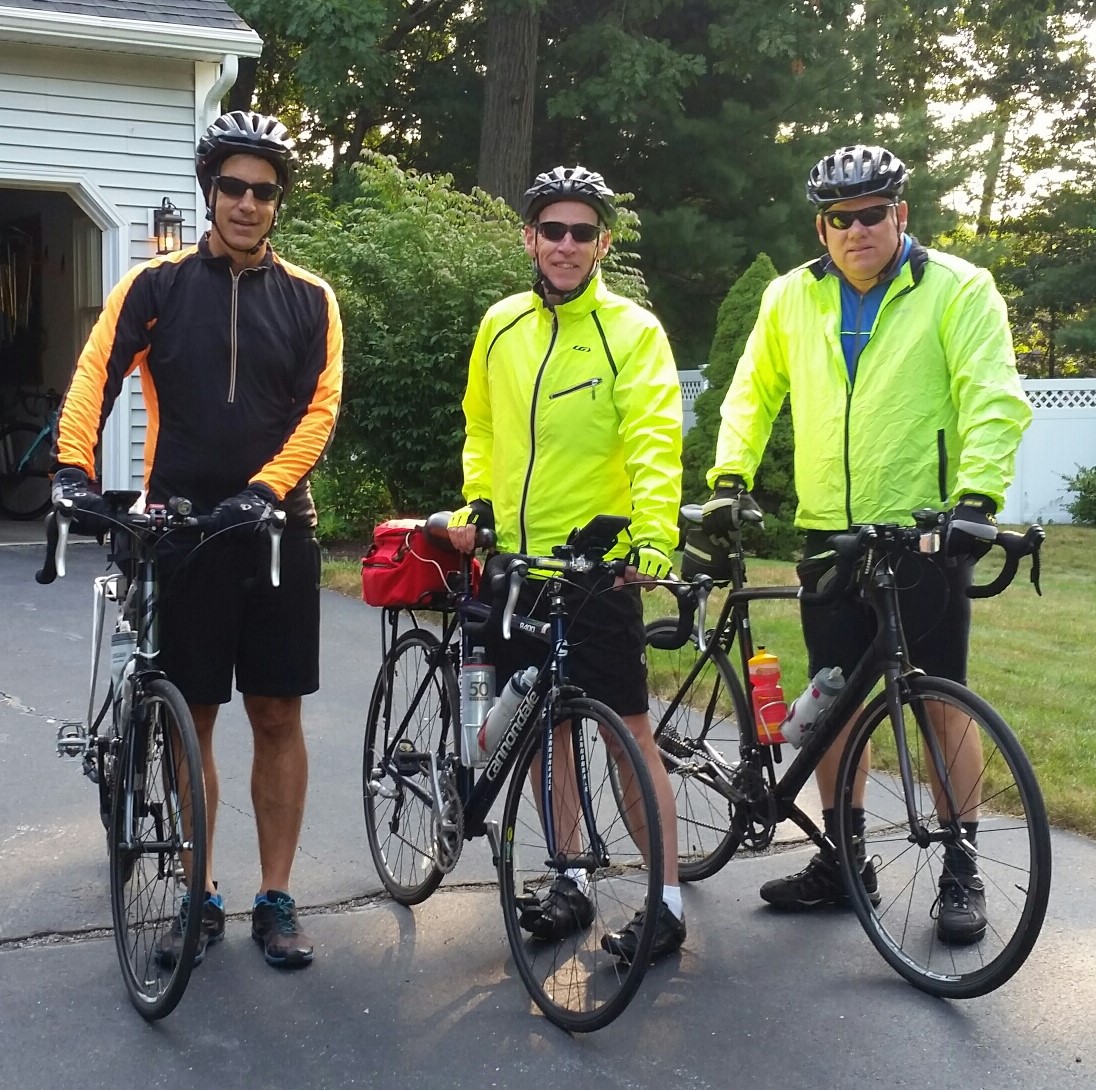 The route started at Tom's house again, with three riders today, Tom, Ron and Dan. John Bouley again provided excellent support!
The route wound alongside and back and forth over the Framington River, through American Legion State Forest, out to Riverton , and back through Peoples State Forest. We then started another loop out through Canton, toward Granby, and coming back in through Avon and Simsbury. We hit some significant highways like Route 44 and Route 10, but Tom found a lot of quiet, undulating country roads that were very pleasant to ride along. Of course, he was also able to sprinkle in some interesting hills.
There were a lot of great scenes of the Farmington River. I would have stopped for a half dozen more - but then again, any reason to stop is a good reason.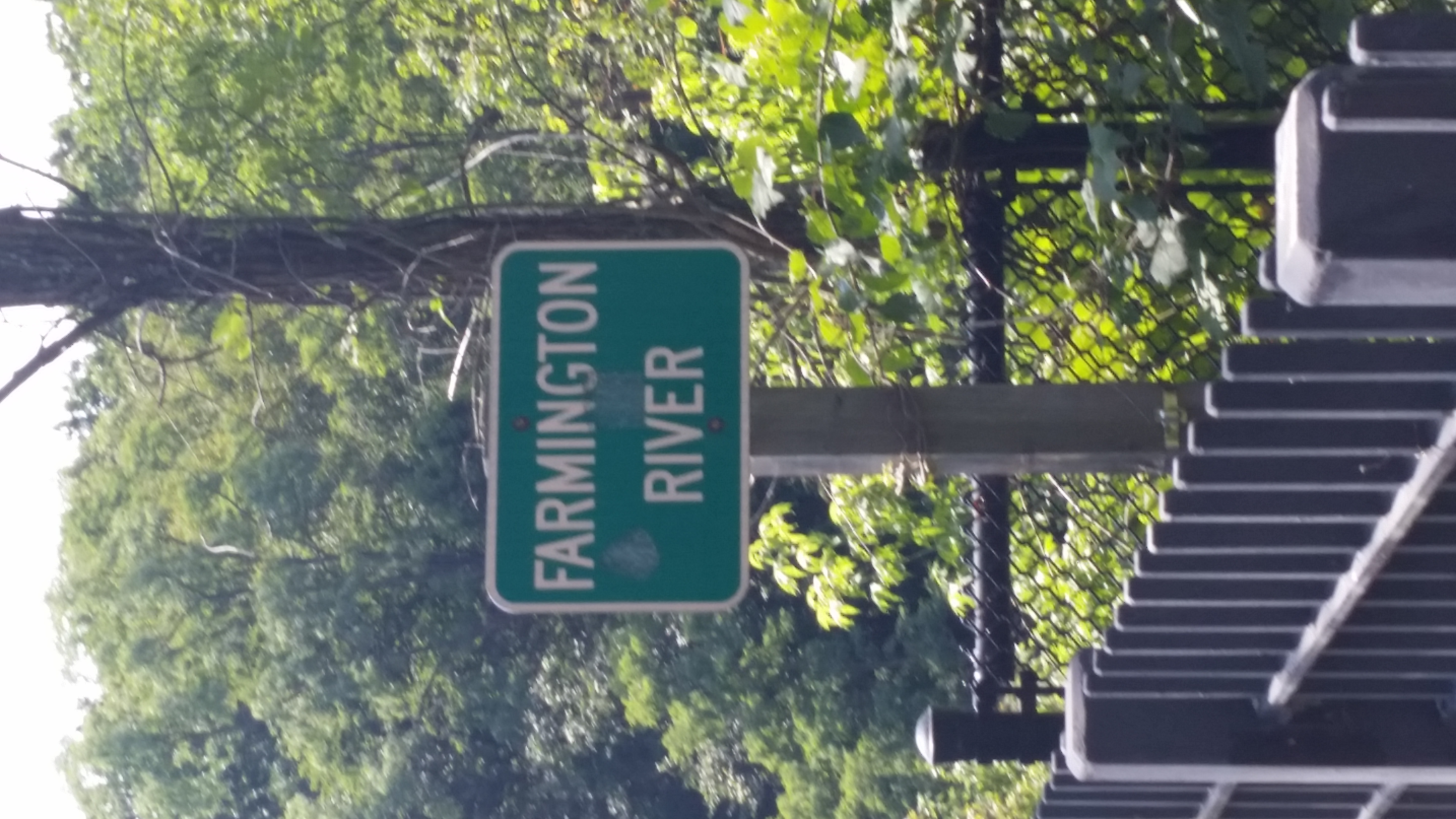 As we passed through Burlington, we saw these nice falls on the Farmington River.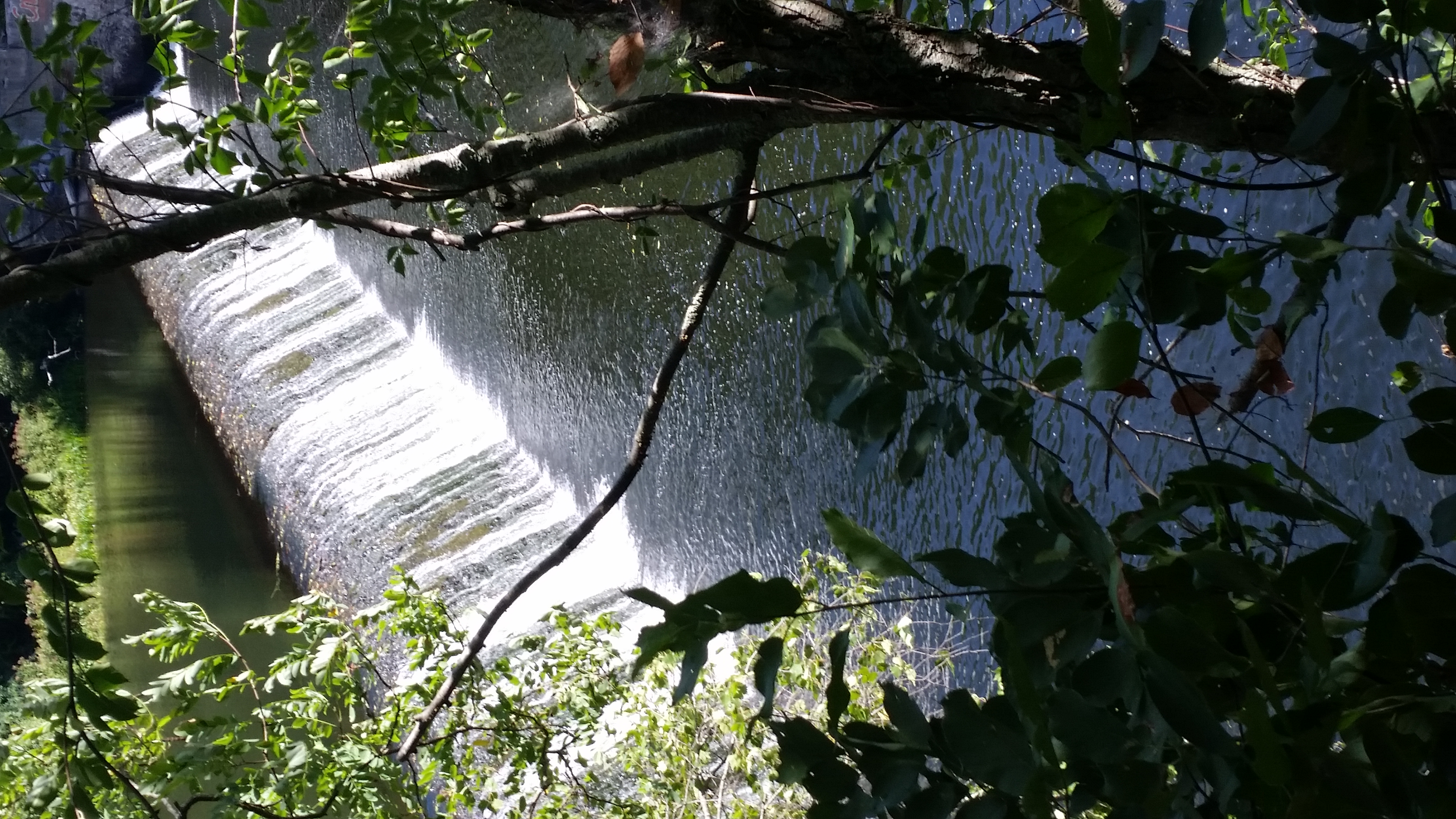 The farthest point of the first loop, Riverton: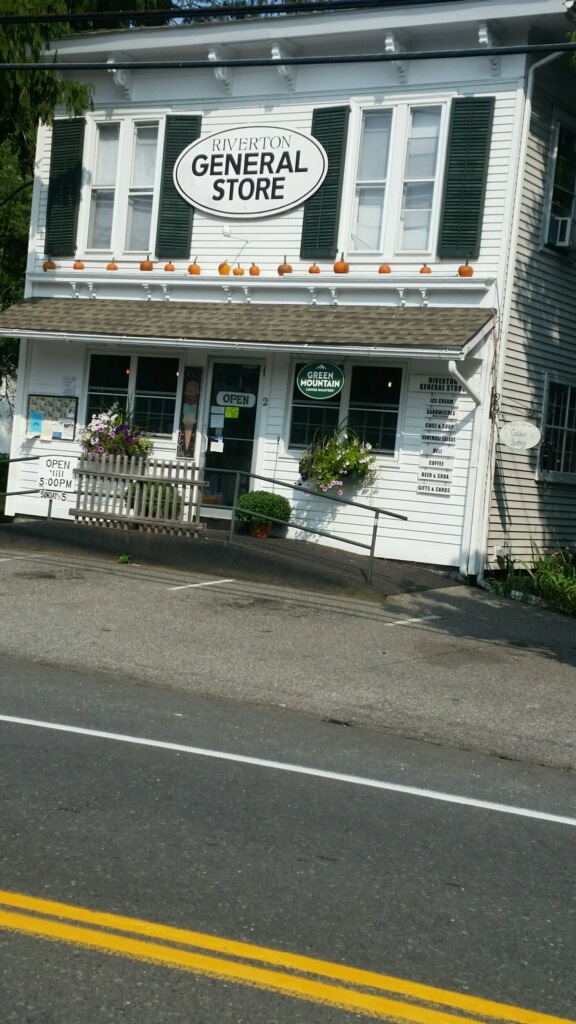 Concluding the ride, we were again greeted by the sign from Tom's neighbors. Colin and Liam (see day 1 for photos)
Tomorrow we start in East Hampton, from Jim and Mary Ann Hubert's house. Our first stop is the Cathedral where we will be greeted by Bishop Cote. We will also stop at Holy Family church in Hebron, another long time twin to a parish in Haiti.
So far, each day has gotten more difficult, with more elevation gain. Tomorrow takes that to another level, being about 1,000 feet more in elevation gain than any of the rides so far.
September 17 - Day 4
We really hit the jackpot so far with the weather (other than perhaps the wind we encountered yesterday). Today was another great day for biking. We started at Jim and Mary Ann Hubert's house on Lake Pocotopaug in East Hampton. Usually, we stay over the night before after our "regular" Wednesday ride, for a great meal and wonderful company. But because the need to stay in CT and to socially distance, we had to settle on starting and stopping here.
While our target was 72, we ended up at 76.2 miles. This was due to a detour we had to take early in the ride - the result of a bridge being under repair. Riding today was Tom, Ron and Dan, along with Jim Hubert. Jim rides 50 miles every year, and he continued his tradition for the 6th straight year! Providing support today was Dorothy Paine and Mary Ann Hubert.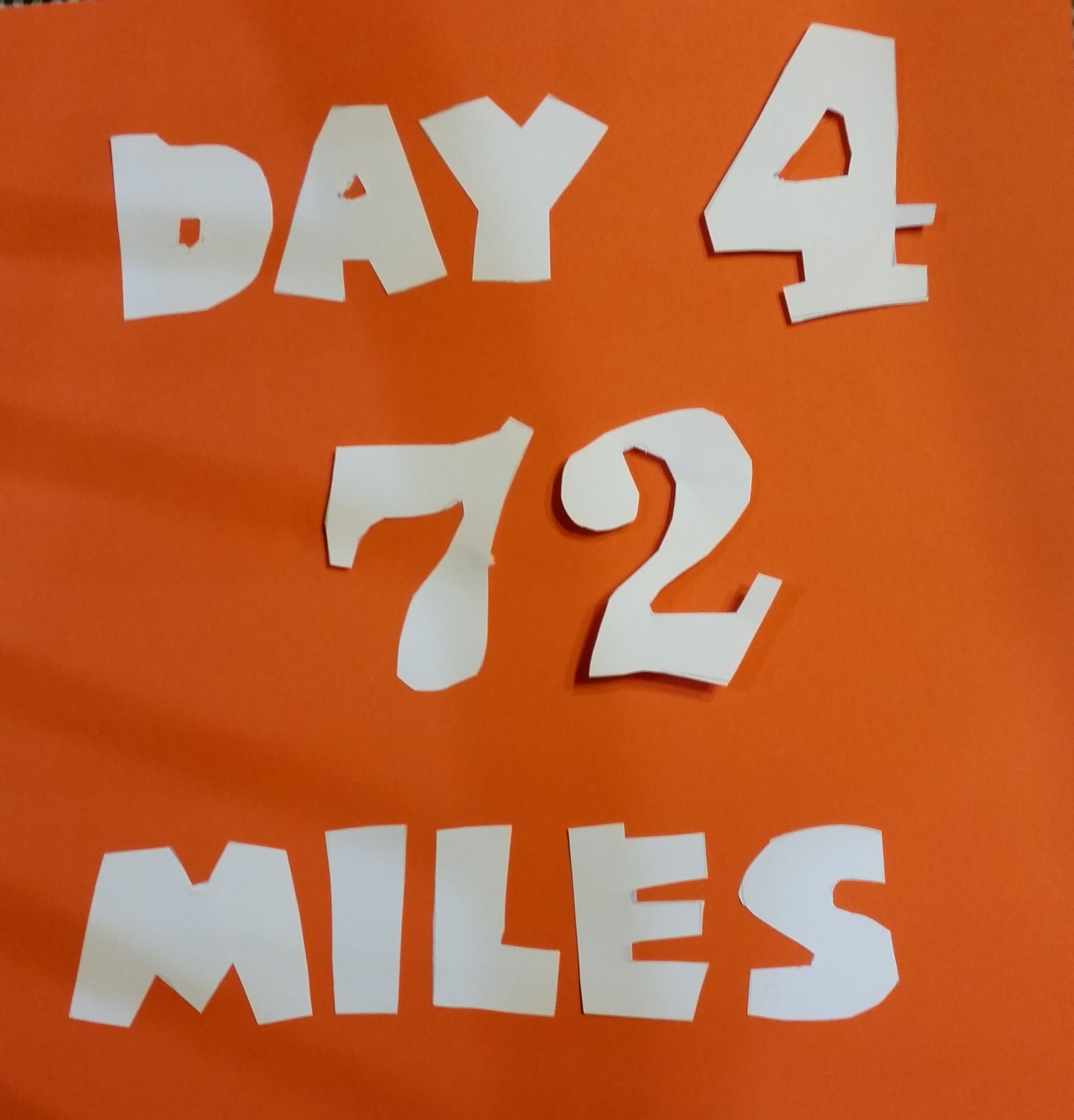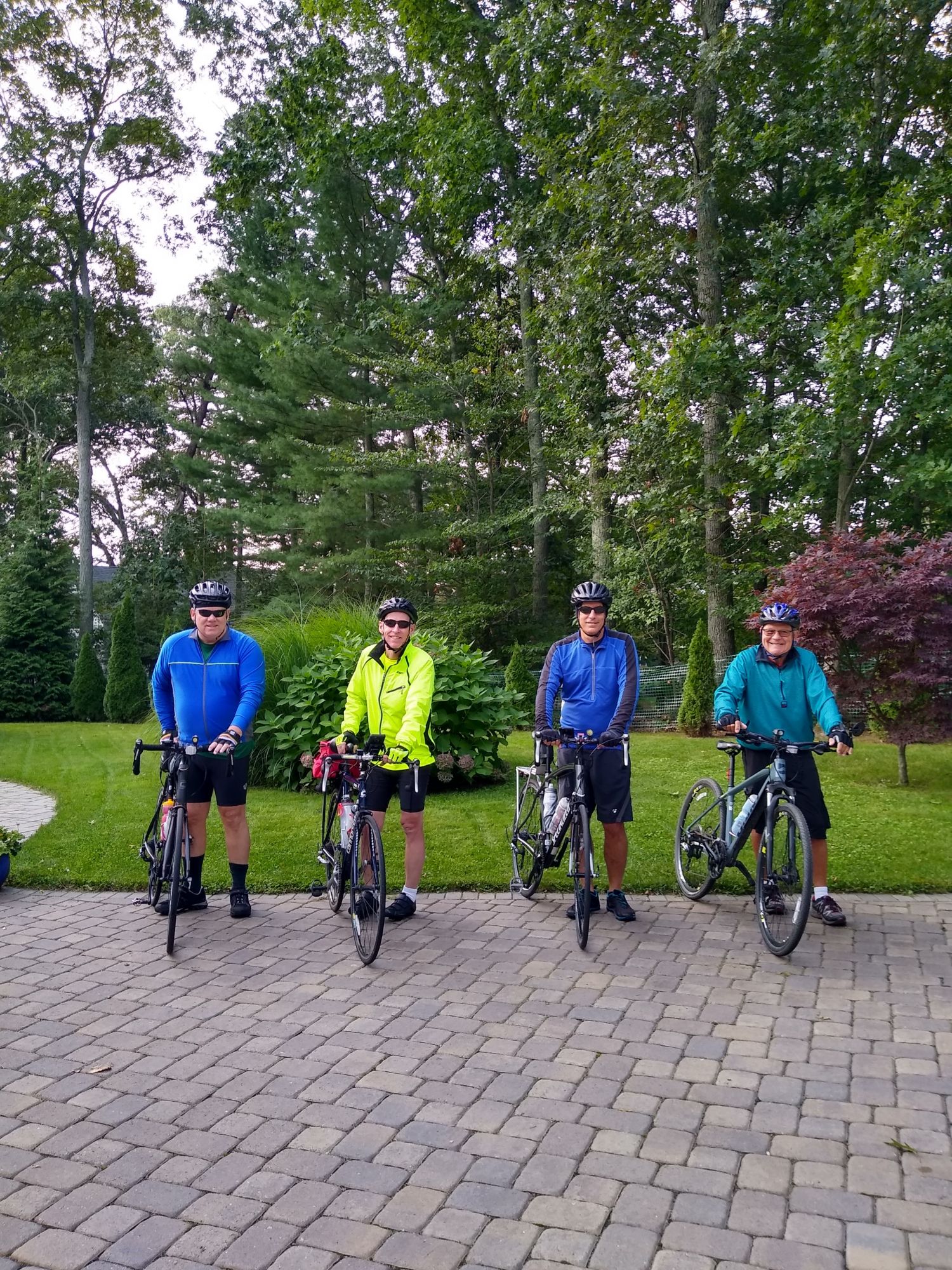 A lot of day was spent riding on the Airline Trail - a series of (mostly unpaved, but very rideable) trails through Central and Eastern CT. Dorothy made the mistake of asking why they called it the Airline Trail. Well, channelling my inner Cliff Clavin, I gave the answer. The name comes from a line dropped onto a map (from the "air") when they were trying to find the best route for a train to take from New York to Boston.
We started the ride at 8:15, with tempatures just under 60 degrees (it warmed up pretty quckly and reached into the 70's). We headed towards the Cathedral in Norwich with a goal of a 10:30 meeting with Bishop Cote. Unfortunately, we were delayed due to our detour, but Bishop Cote was kind enough to wait for us. We were also met by Fr. Frank Rouleau, who works with OTH. He is normally in Haiti this time of the year, but is temporarily staying in the US.
On past rides, when we visited the Cathedral in Norwich, we were also met by the students in the Cathedral School (grades K-8), and we would get an incredible reception. This is usually the highlight of our ride (sorry, Bishop Cote). One of the unfortunate effects of COVID-19 is that this year, we couldn't meet with the students. You can see the difference in this year vs. last below. However, we are blessed and fortunate to have been able to be with Bishop Cote today.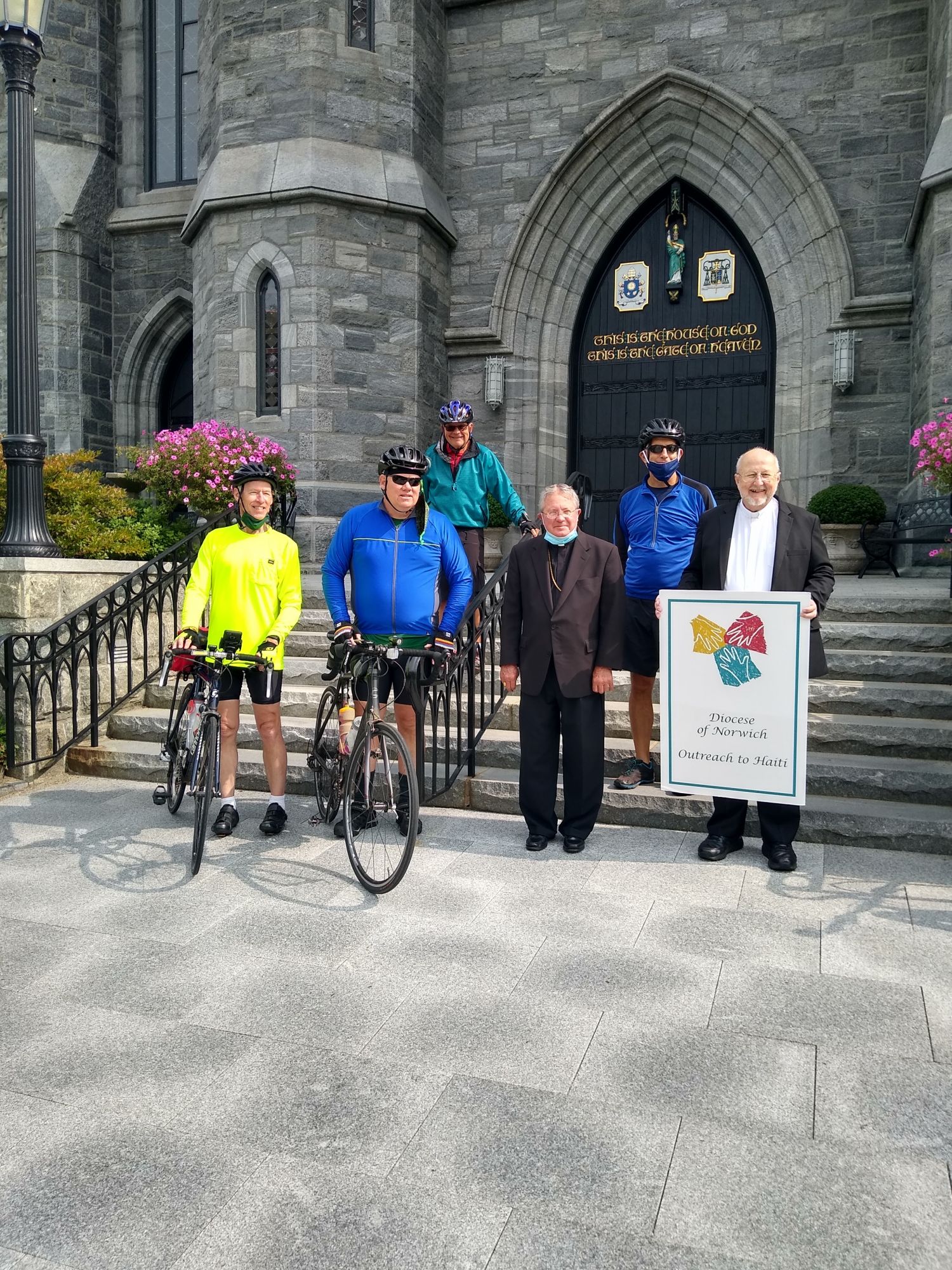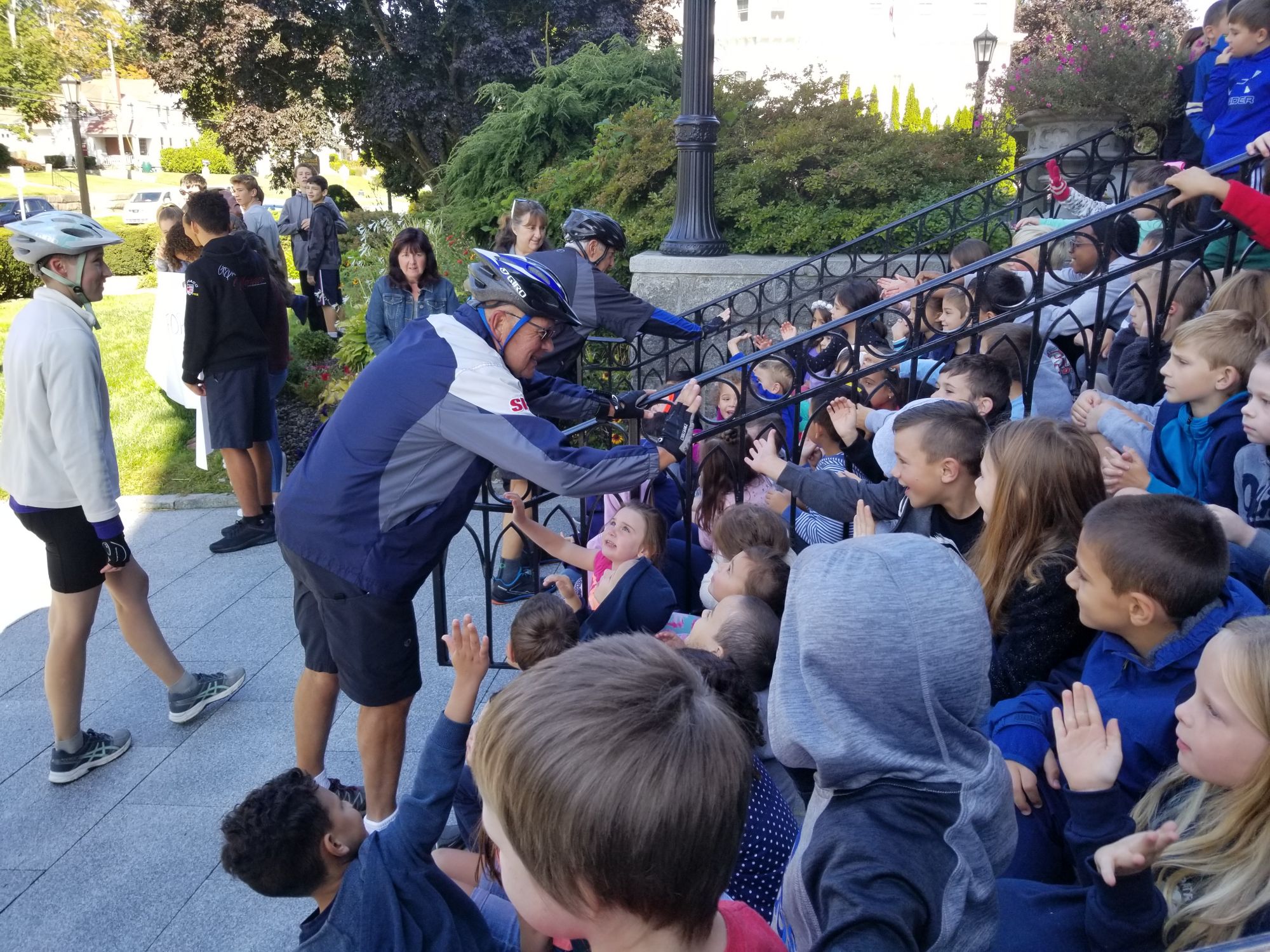 (Just to be clear, the picture on the right is from last year - pre-COVID-19, when no one was required to wear masks.)
We stocked up on drinks and had a few snacks (thanks Dorothy!), and were on our way. Ron, Dan, and I were headed towards the Church of the Holy Family in Hebron by way of Williamantic and Jim rode back to East Hampton - he made his goal of 50 miles! Great job, Jim!
After riding through several towns, the last of which was Williamantic (home of the famous Frog Bridge), we made our way back onto the Airline Trail and headed towards Holy Family.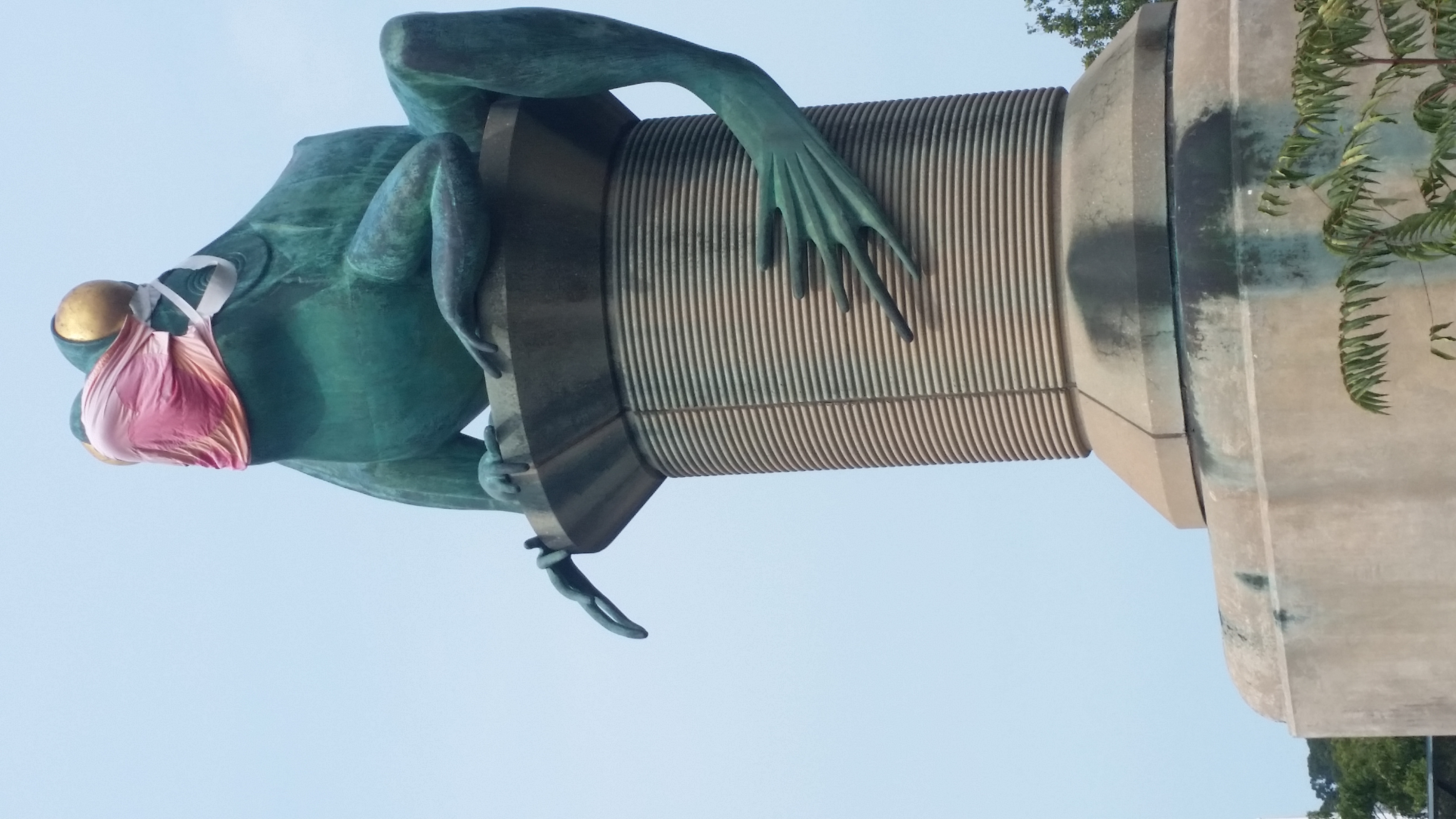 (a very socially distanced frog!)


The last time we visited Holy Family, it was at the end of one of our rides. Dan and I were riding hard because we were late, and we hit a nice downhill right before the church. Unfortunately, the sight lines weren't good, and we rode right by the church. We were wondering for a moment why people were yelling, when we noticed we had gone right by the church! This time we got it right (and we were coming from the other direction this time). The Church of the Holy Family is a parish that very generously twins with a parish in Haiti, and so it has a great relationship with Outreach to Haiti. We had a very nice visit, before heading back to the Airline Trail and finishing our ride at the Hubert's.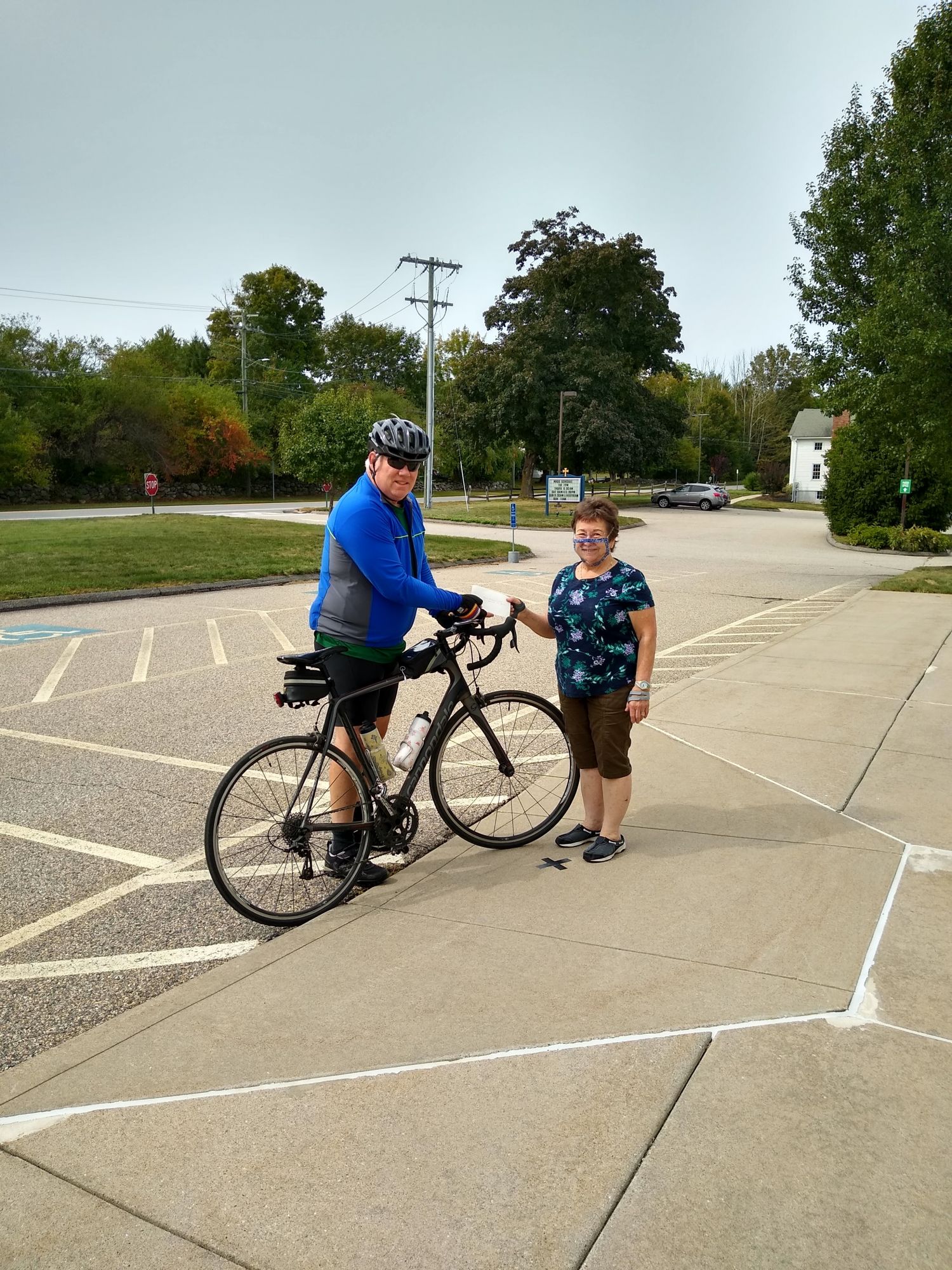 Dan receiving generous donations from a couple of the people on the Haiti committee at Holy Family, from Mary-Ellen Gonci.
We ended the day with a very nice get together on the Hubert's deck overlooking the beautiful lake (because Mary Ann won't let us leave her house on an empty stomach!).
Tomorrow we start at St. Matthew's in Tolland, another long time twin to a parish in Haiti. We plan to ride about 57 miles (or maybe we'll skip the first uphill mile and make it 56), before finishing our day, and the week, in Farmington.
September 18 - Day 5
Yes! The end of the ride today. With all the good things, and great memories each ride has, it is still a relief to get to that finish line.
We started the day meeting with Fr. Rick Ricard and several parishioners at St. Matthew's Church in Tolland. St. Matthew's has a twin in Haiti, and John Bouley, one of the OTH Board members is on their Haiti Committee. They have always welcomed us on these rides. Fr. Frank Rouleau joined us for the get together.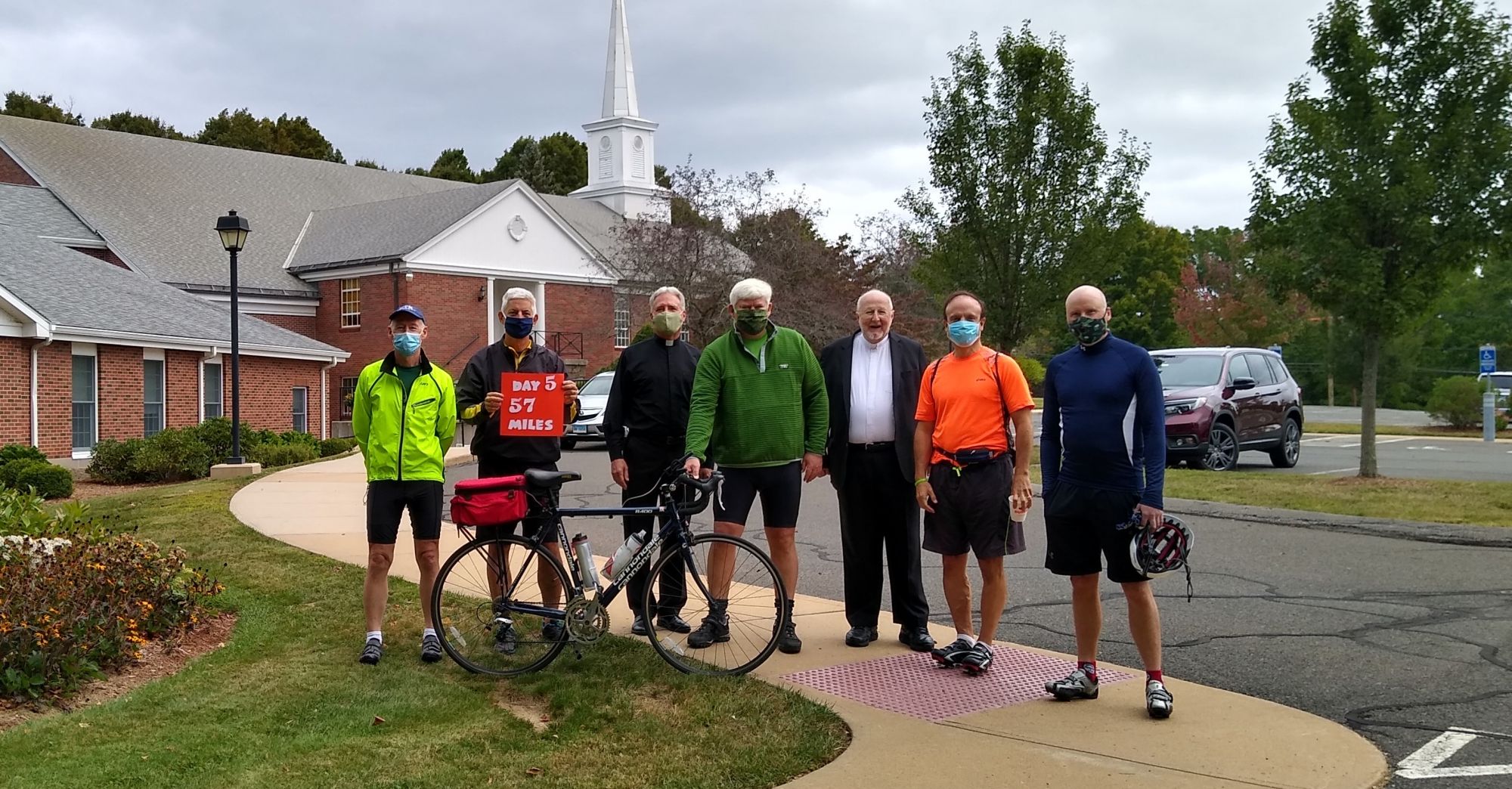 While we had done loops the other 4 days of the ride, we did a one-way ride on Friday. The idea was to get somewaht of a downhill day. For those of you who don't know Tolland, there are several long, steep hills approaching it. I suggested to Tom that we start at Tolland, and actually go down those hills instead of up. It seemed like a good idea at the time...but more on that later.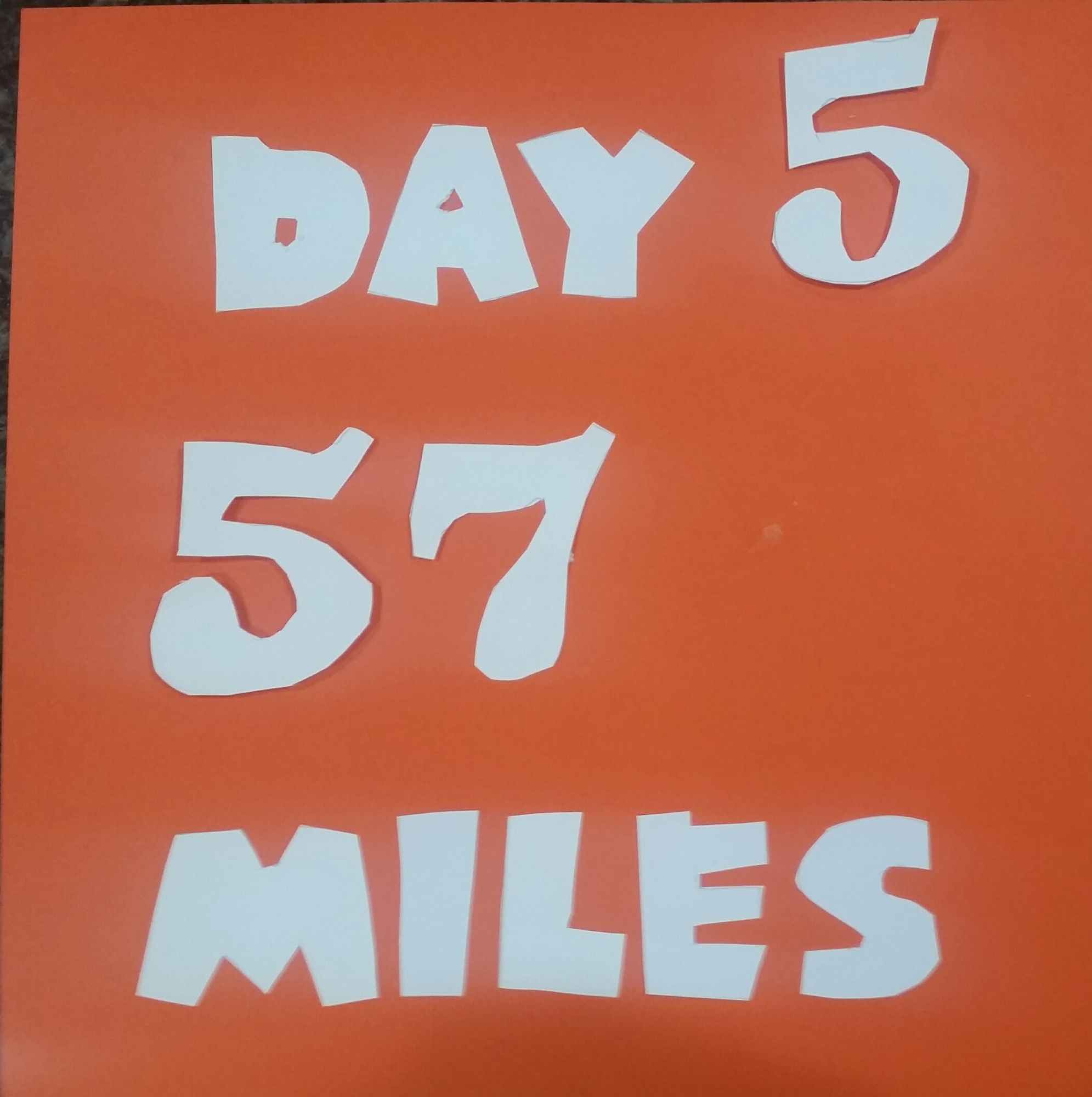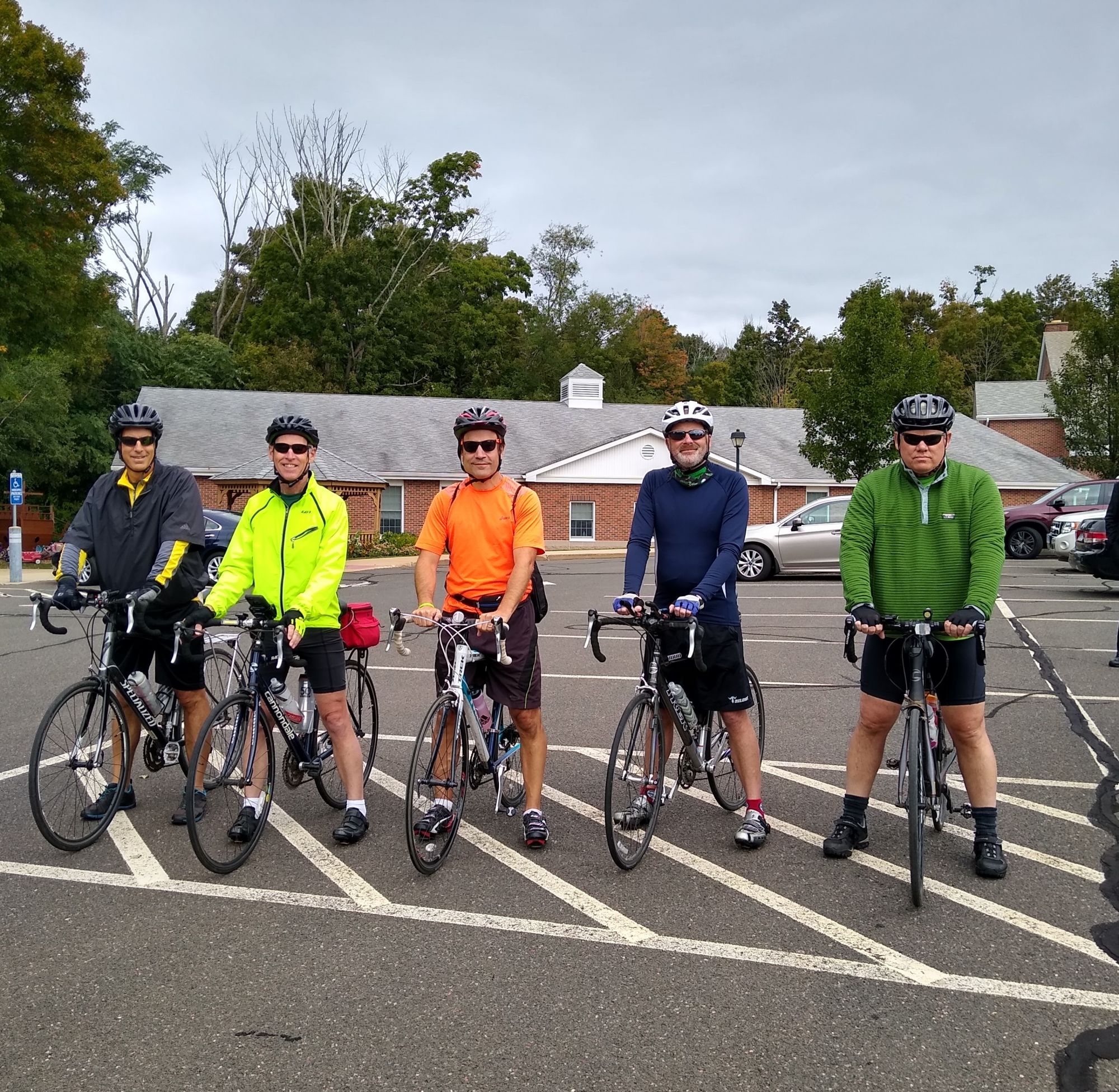 We started the ride itself at 10:00 A.M. Tom, Ron, Dan, Tim MacLachlan, and Steve Cuddy were the riders today. Fr. Frank gave us a blessing, and we started out. We again were blessed with good weather, although we did have some trepidation for the first several hours. We could tell we were starting to push our luck, as the sky was darkly overcast, and there was a strong wind (occasionally at our back), and it felt raw for the first several hours. However, our luck held, and it actually got very nice in the afternoon.
Tom had warned that, while we would go downhill, we would start start the ride with a fairly long uphill segment. He was certainly right, and the climb maxed out at a 9.8% grade. Not the best way to warm-up, but it is always nice to get the tough part out of the way early.
Clearly I wasn't factoring in Tom's apparant love of hills. We actually hit several more hills in the 9.5% to 10% range in terms of maximum steepness, and a 10%, 11% and 12% grade. The 12% hill was very long (for us), but the others were not so long. If you don't ride, you may or may not appreciate what the grade is. However, you probably have seen signs on highways saying something like: Warning: steep grade, 7%, trucks use low gear. For these hill, we don't have to be warned to use low gears!
We had nice views of the Connecticut River,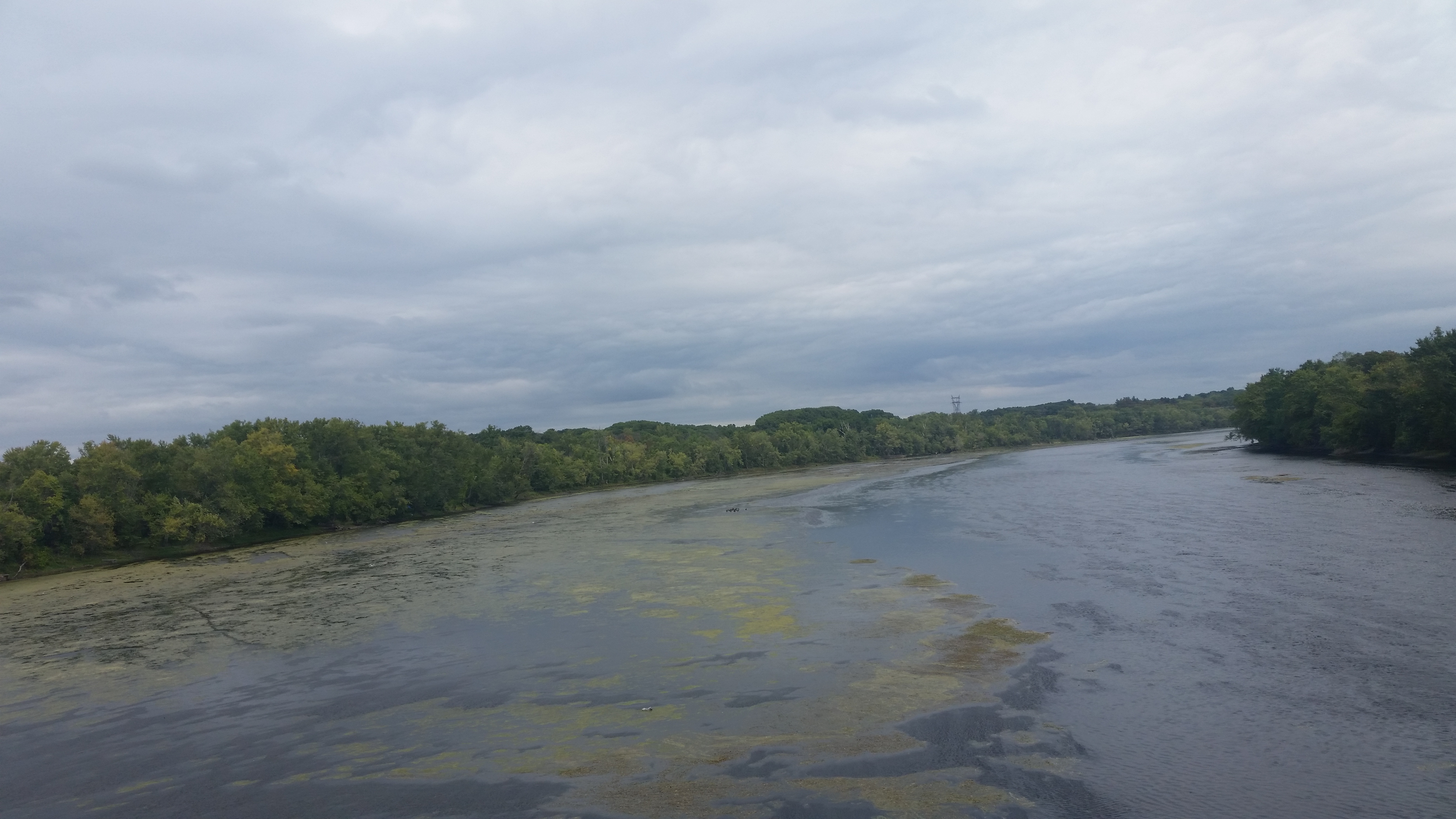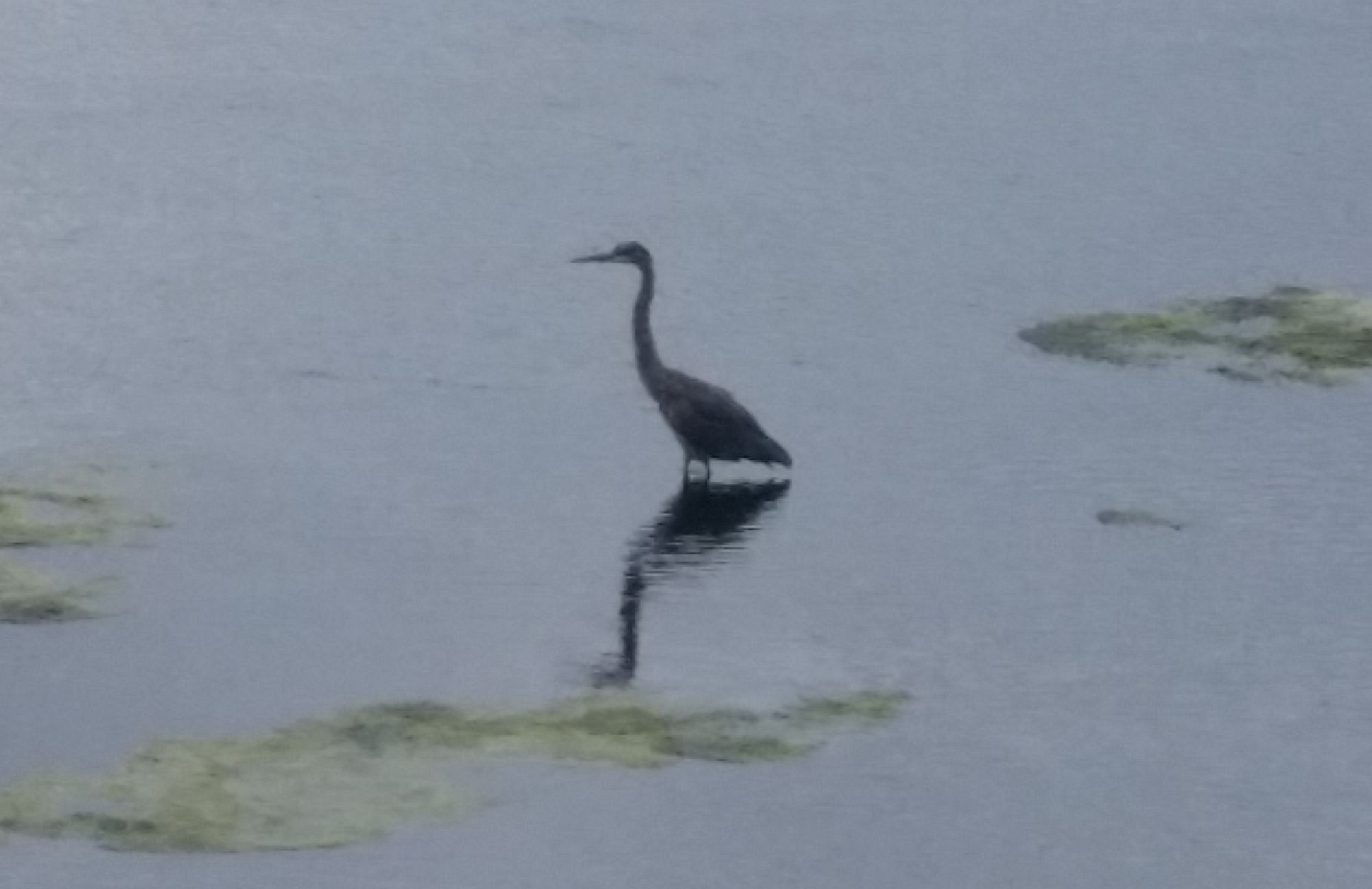 We saw tobacco barns in Suffield: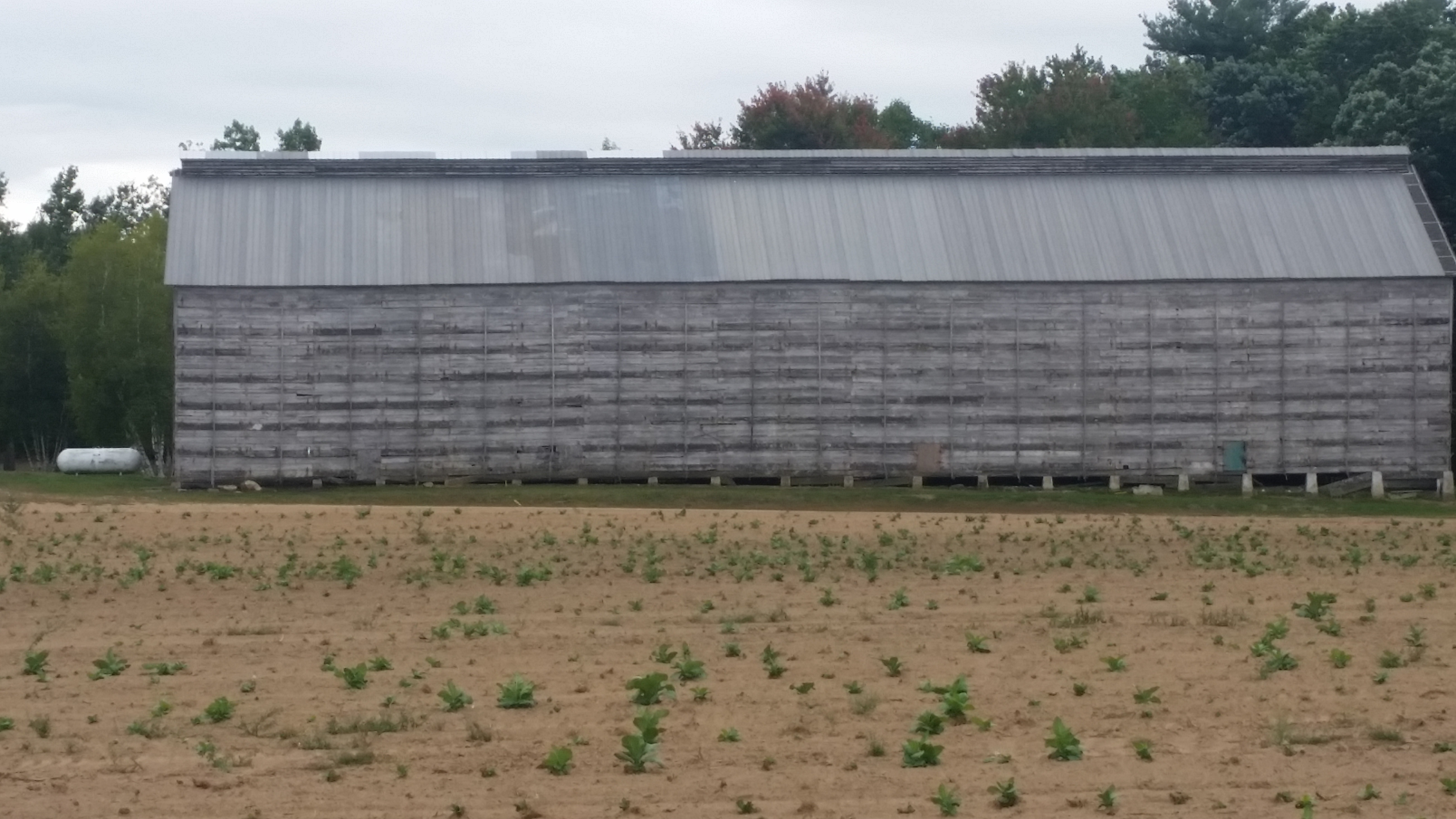 and even had time to tailgate - due to the wonderful ride support provided by Dorothy Paine - Ron's wife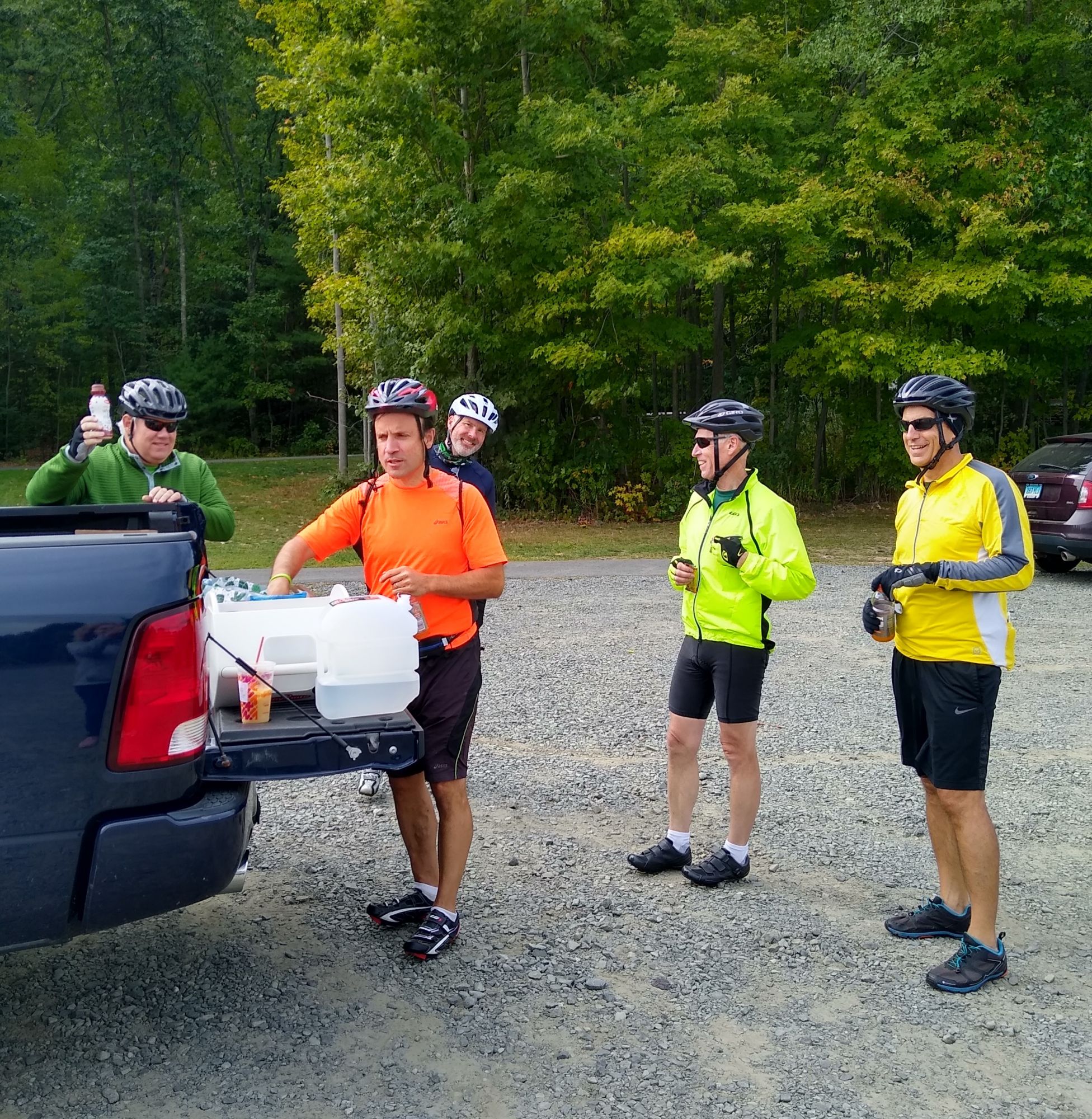 All good things must come to an end, and here we approach the finsh, and complete the ride.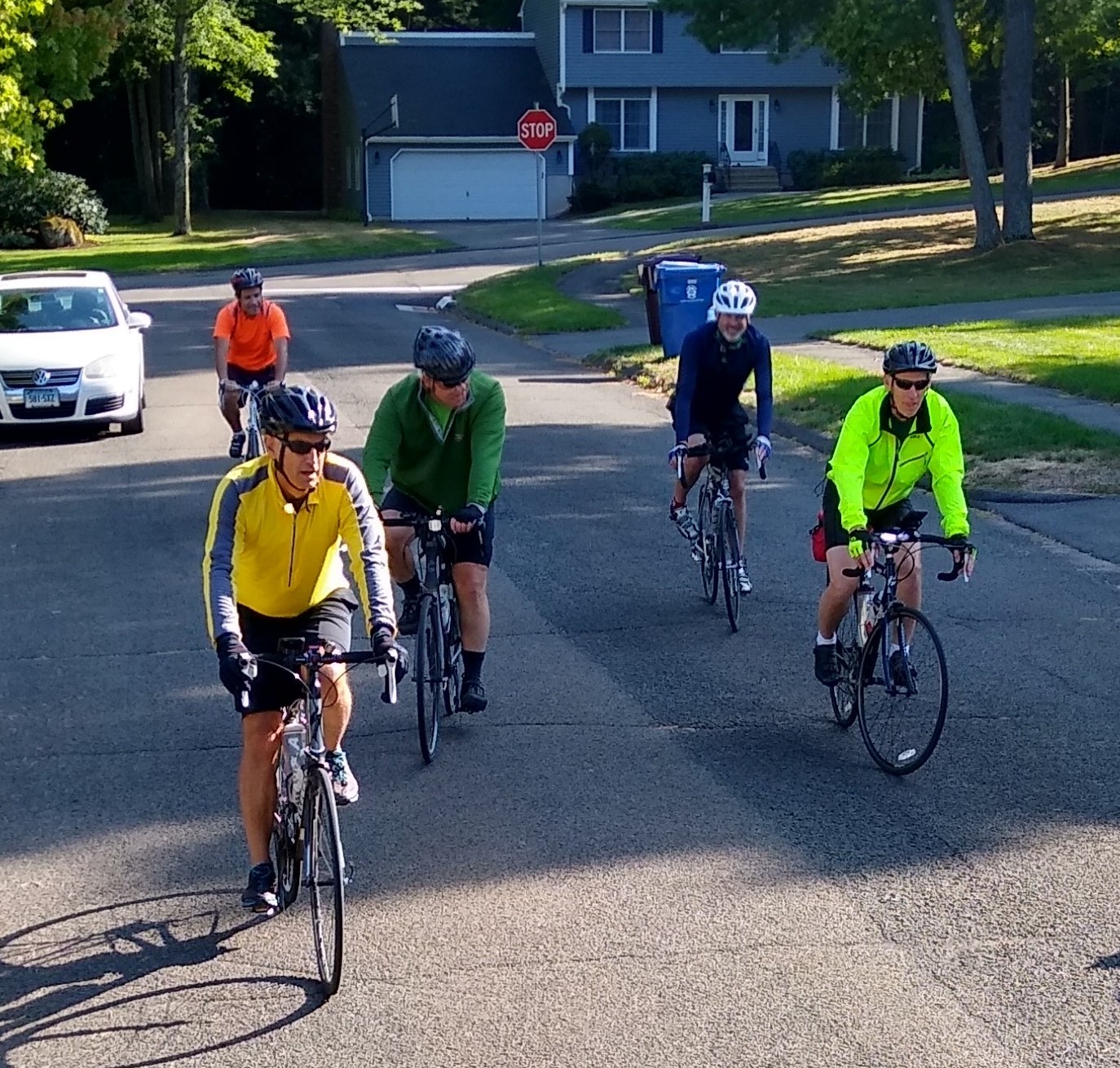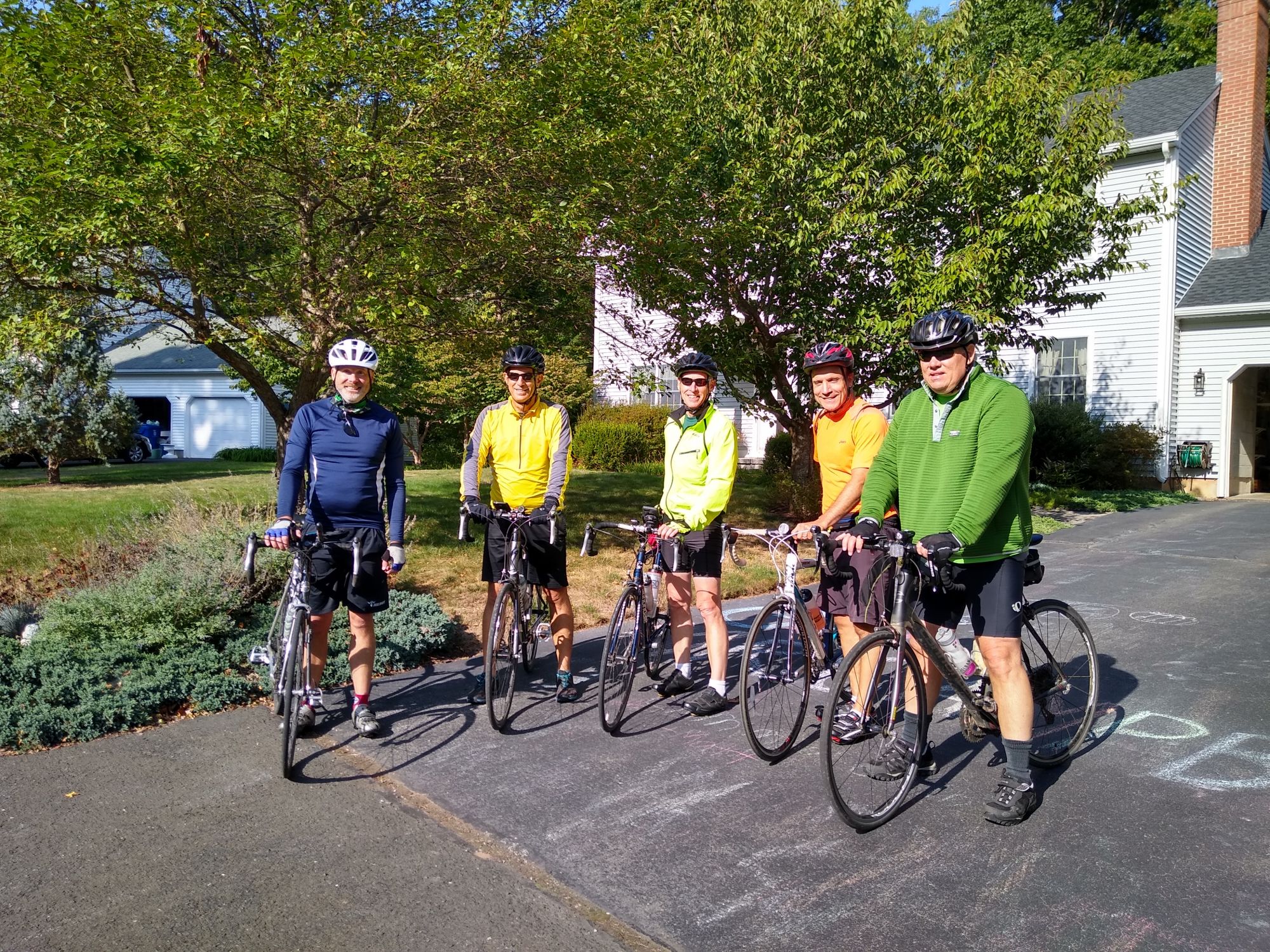 We were incredibly blessed by the weather this year, but even more by the help, prayers and donations of so many people.
The riders: Tom, Ron, Emily, Tim, Jim, Pete, Steve, and Dan, who actually do the ride, and reach out to friends and family for moral support and donations.
The support drivers, either on the road, or on call - Dorothy, John, MaryAnn, and Lynn - needed for mechanical support this year, but the ongoing support of having food and drink ready, and meeting us for breaks, makes the ride much more tolerable - and that much more fun!!
All of Tom's work on the courses (don't tell him I said this, but despite my [Tom added "constant"] griping about the hills, he does a fantastic job on the routes!)
The parishes that reached out and met us - giving us great send-offs, or support during the day - St Mark's in Westbrook, Christ the King in Old Lyme, Church of the Holy Family in Hebron, and St Matthew's in Tolland. These help strengthen the relationships for the work all of us do in Haiti, helps the riders tremendously, and provides important financial support. All so important for our work in Haiti to reach as many people as possible.
Bishop Cote, who makes time in his busy calendar each year to greet us and express his great appreciation for what we are doing to help support Haiti.
Our family and friends - our donors - supporting us through the ride, and contributing to Outreach for the critical work in Haiti. Your support is amazing. So far this year, donations are over $20,000 and still coming in. For the six years, donations are approaching $125,000! Amazing!
Thank you all from the bottom of our hearts, and God bless you.
These were the daily rides.
Day 1 – https://ridewithgps.com/routes/33496199
Day 2 – https://ridewithgps.com/routes/33749184
Day 3 – https://ridewithgps.com/routes/33773723
Day 4 – https://ridewithgps.com/routes/33518909