2019 Ride - September 16-20

Ride Starts at 9:00!
Each day, energy and time permitting, we will post a brief description of the day's ride here. We will leave the description of the overall ride at the bottom, and, of course, you can find the donate button at the bottom of the page, or the top right of any page.
We're expecting great weather tomorrow, and all week, with little chance of rain and (hopefully!) less headwind than we got on last year's ride. Ron and Emily Paine and I (Tom Campbell), will start out and be joined by some other riders through the week. Dan O'Sullivan is on the IL this year, but he will be driving the support van!
As we ride, we are motivated by the people of Haiti who never give up, by Outreach to Haiti staff and volunteers, and by all the people who have donated to the bike ride and who have expressed their support. That's what keeps us going.
More later!
Day 1
We started a few minutes early - around 8:45. This year, we started our ride in Kittery Maine. Ron and Emily (father/daughter) rode their tandem. Beautiful weather - 58 degress and mostly sunny when we started and in the 60's for the day. Great riding weather! The winds were from the NW, so less headwind than last year's ride. But since we were riding south and west, we had different looks to challenge us - tail winds, head winds, and cross winds. Not quite warm enough to do without long sleeves, but very comfortable.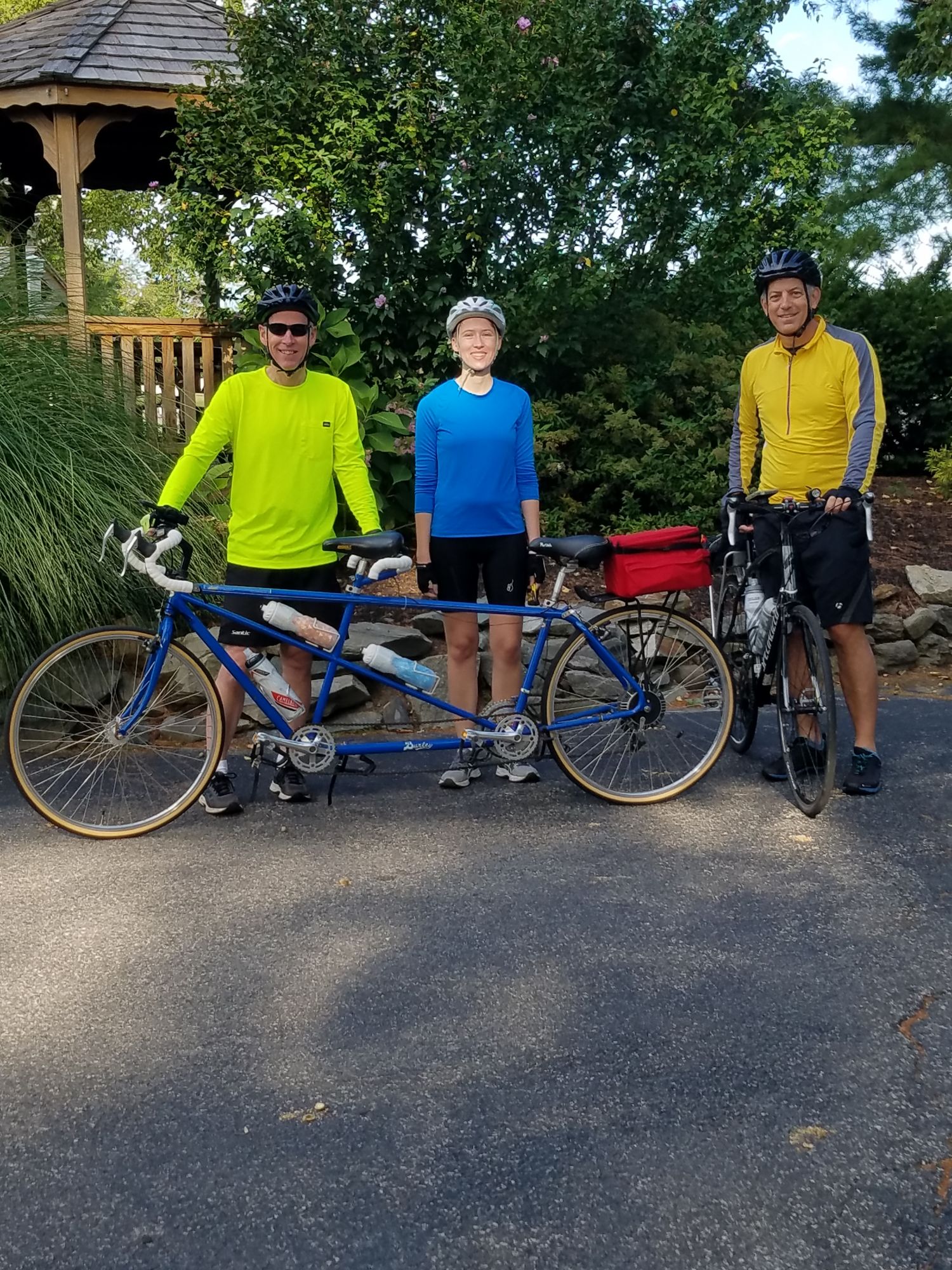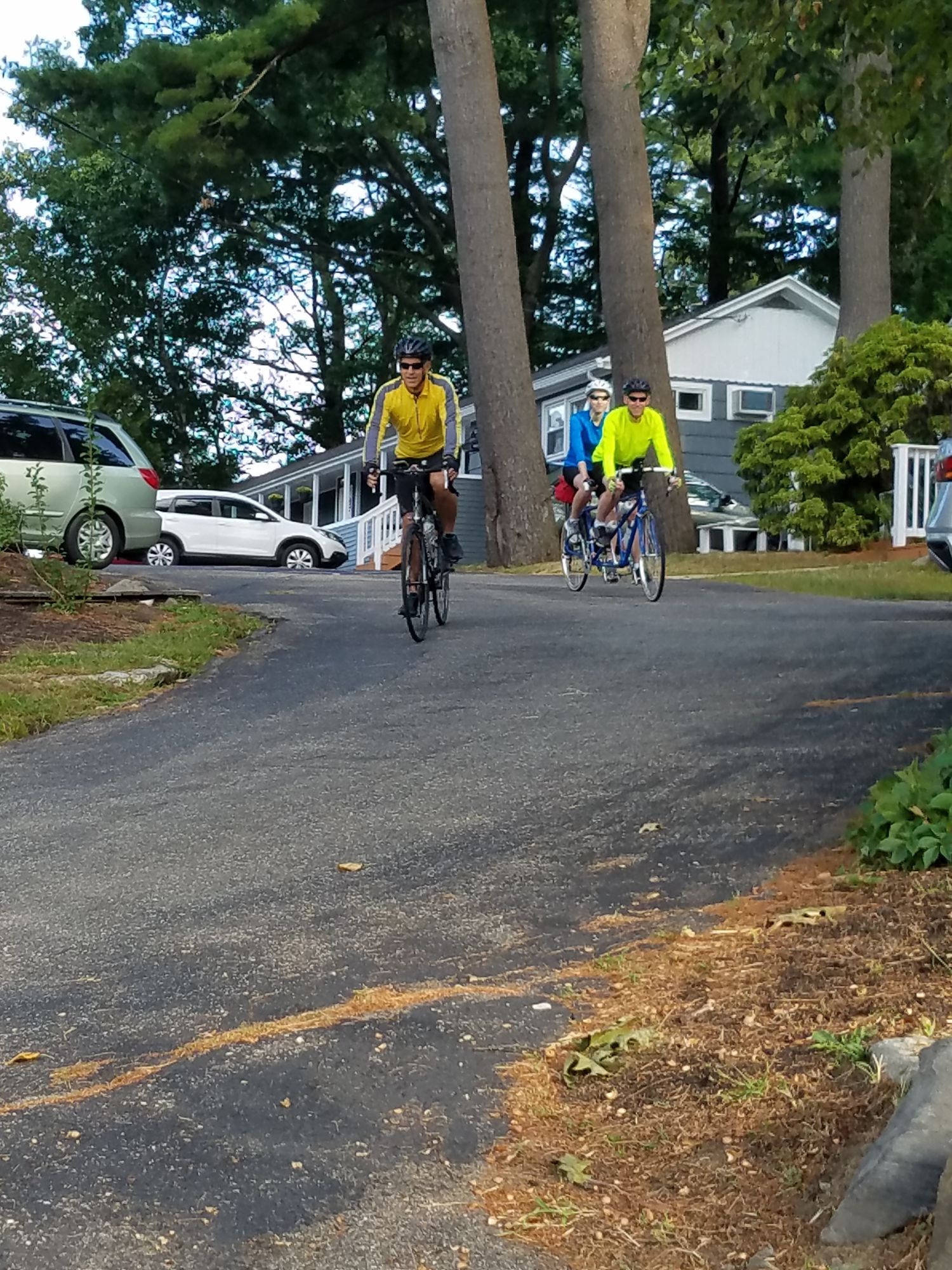 These look like last year's photos, with a different mix of riders. We stayed at the same motel - the Kittery Inn and Suites.
The ride took us on a drawbridge over the Piscataqua River into New Hampshire, through Portsmouth, along the NH coast, and through Hampton Beach. We then rode through Seabrook NH (newly paved road!), and Salisbury MA (which needs to get their roads paved). Then over the Merrimack River. This is a very scenic ride and we covered the first half of the ride (37 miles) in about 2 hours and 15 minutes.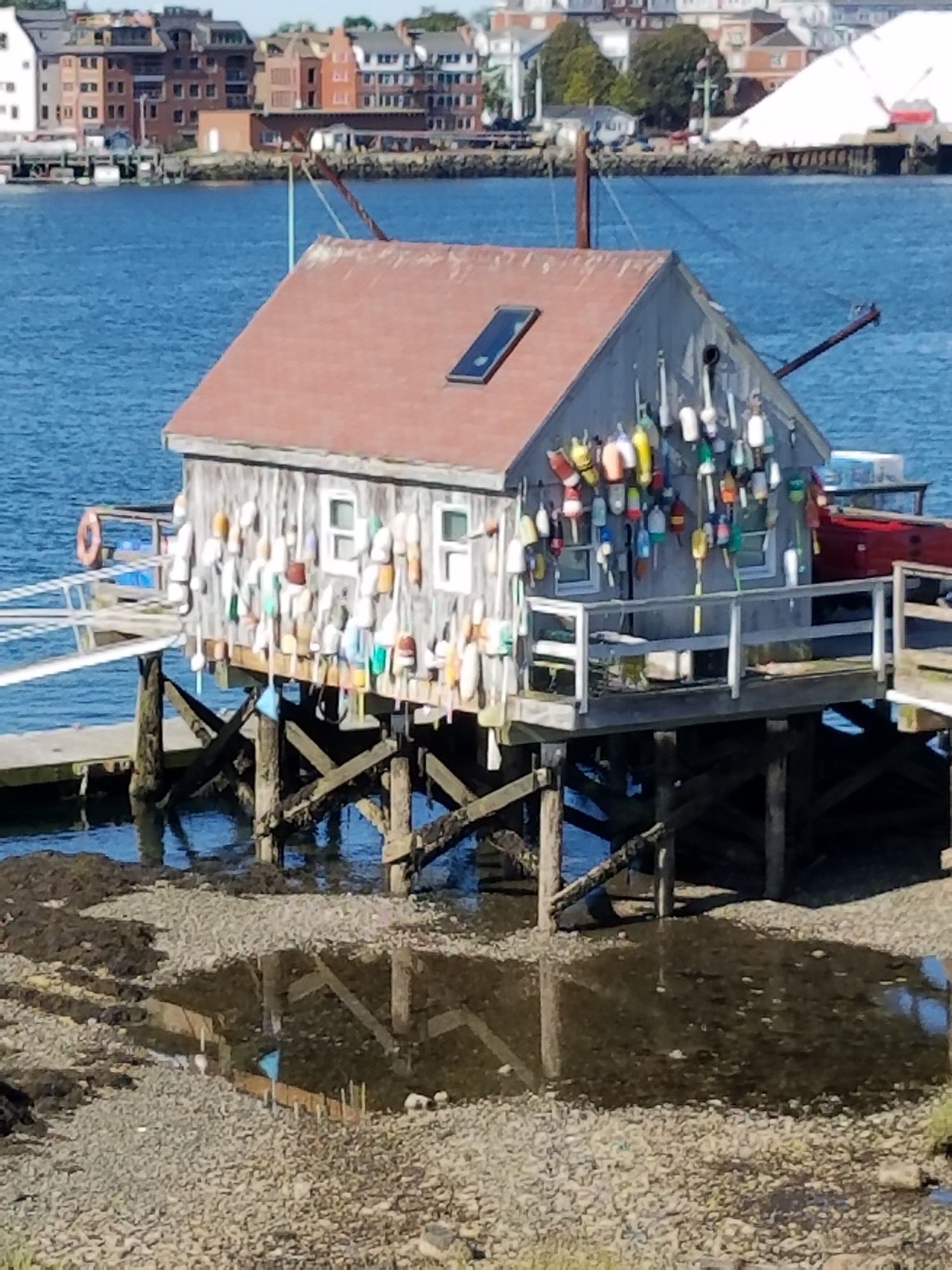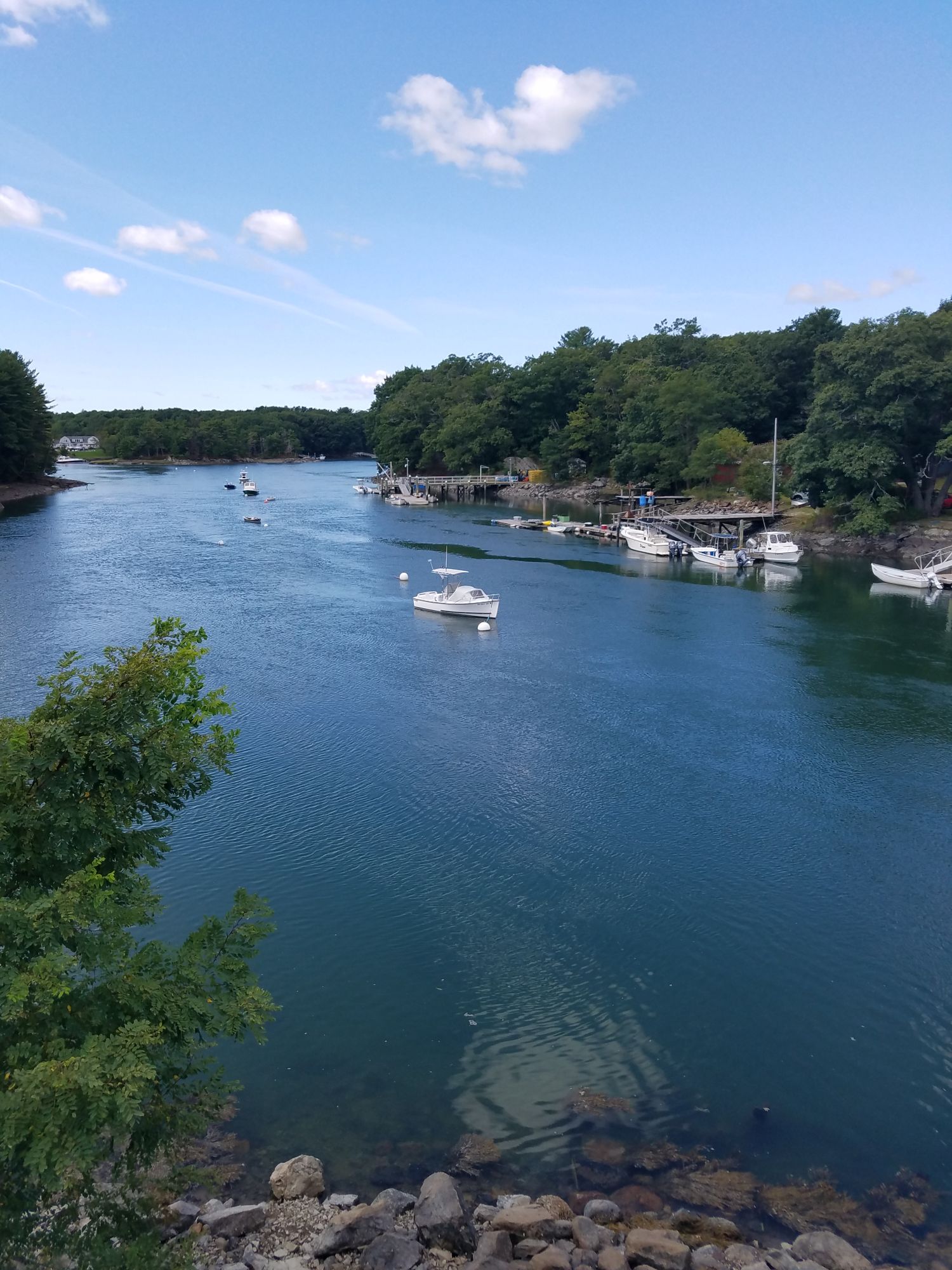 Piscataqua River Sagamore Creek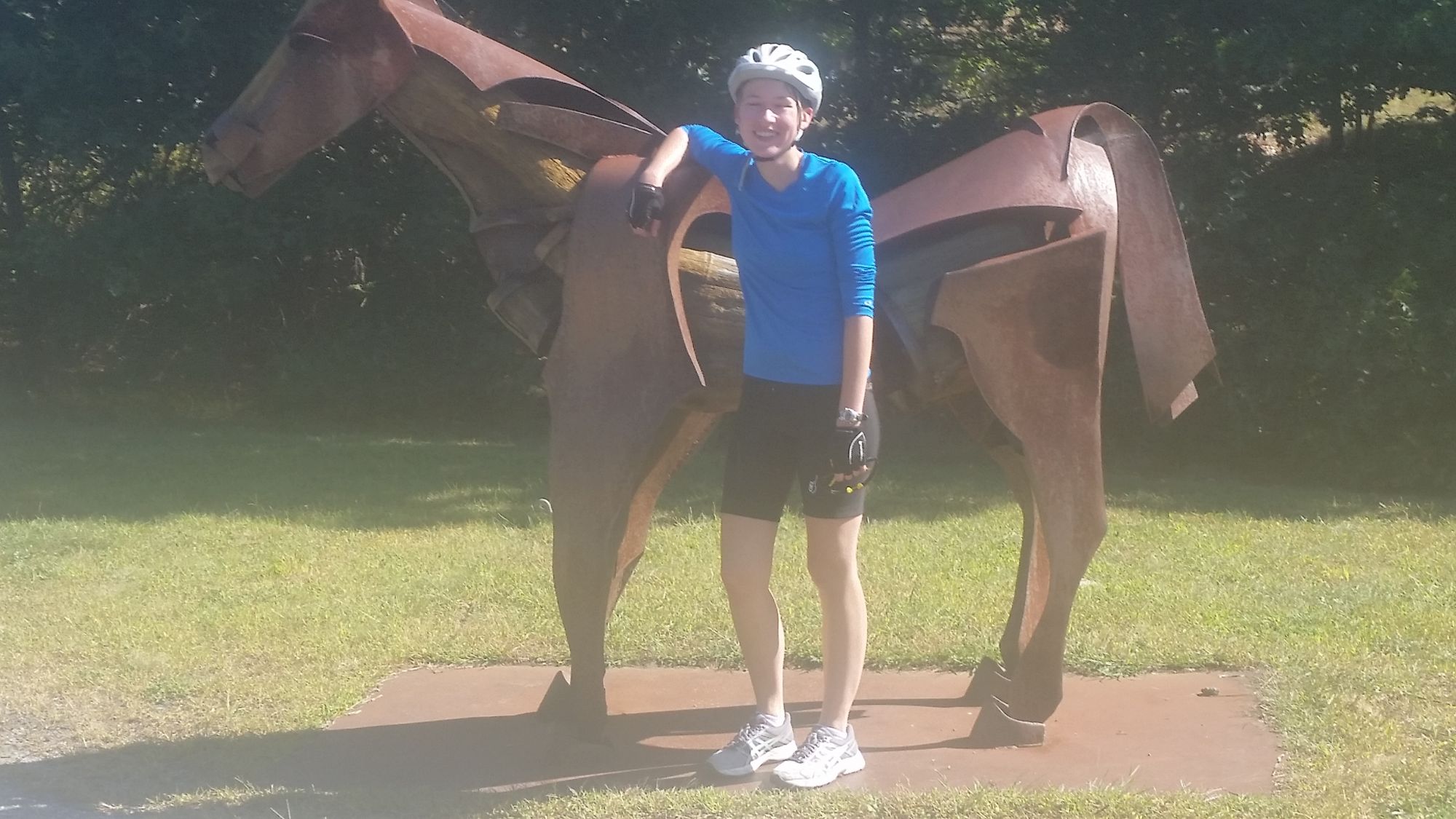 Merrimack River Clipper City Rail Trail
After a break, we went through busier streets and more elevation gain. But we were up to the task.
Georgetown Town Hall and Congregational Church
After riding through heavy traffic and meeting Dan to stock up on drinks and take another rest, we rode the Bruce Freedman Trail for 12 of the last 14 miles. After a short ride through a rotary, we made it to the hotel in Concord MA - safe and happy. Total distance 73.8 miles.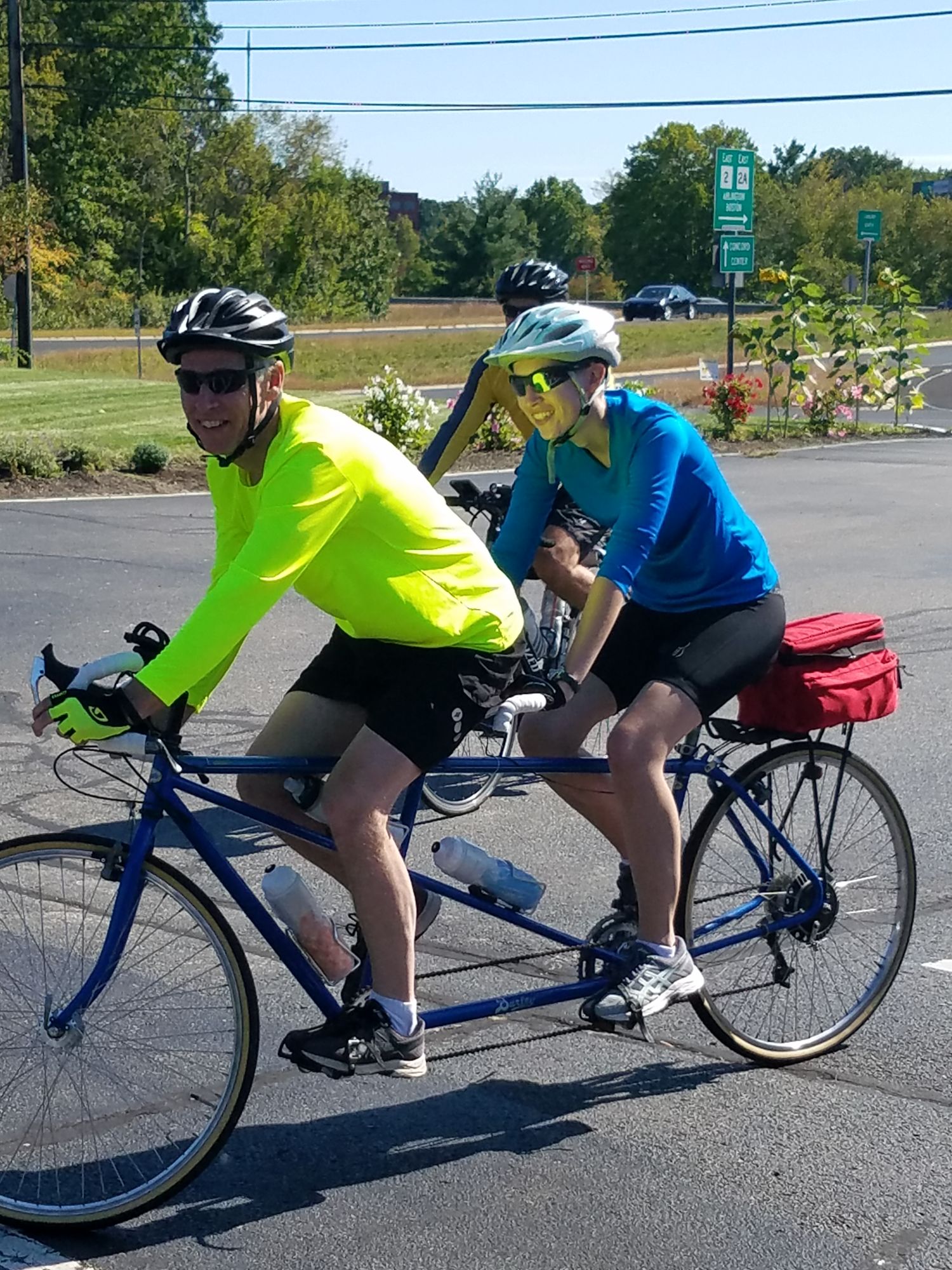 Tomorrow we are riding to Warwick RI, along a new route for us. This will include three different bike trails, as well as a stretch along the Providence Harbor. Stay tuned!
Day 2
We started a few minutes early - around 8:54. Similar weather as yesterday - 58 degress and mostly sunny when we started and in the 60's for the day. A little less sun today, so it felt a bit cooler, and we could feel the wind.
We started in Concord and rode into Rhode Island. For the first time, we went further into the state RI. We also rode on three different bike trails. We are enjoying the ride, but are finding it challenging.
Here we are leaving the hotel in Concord: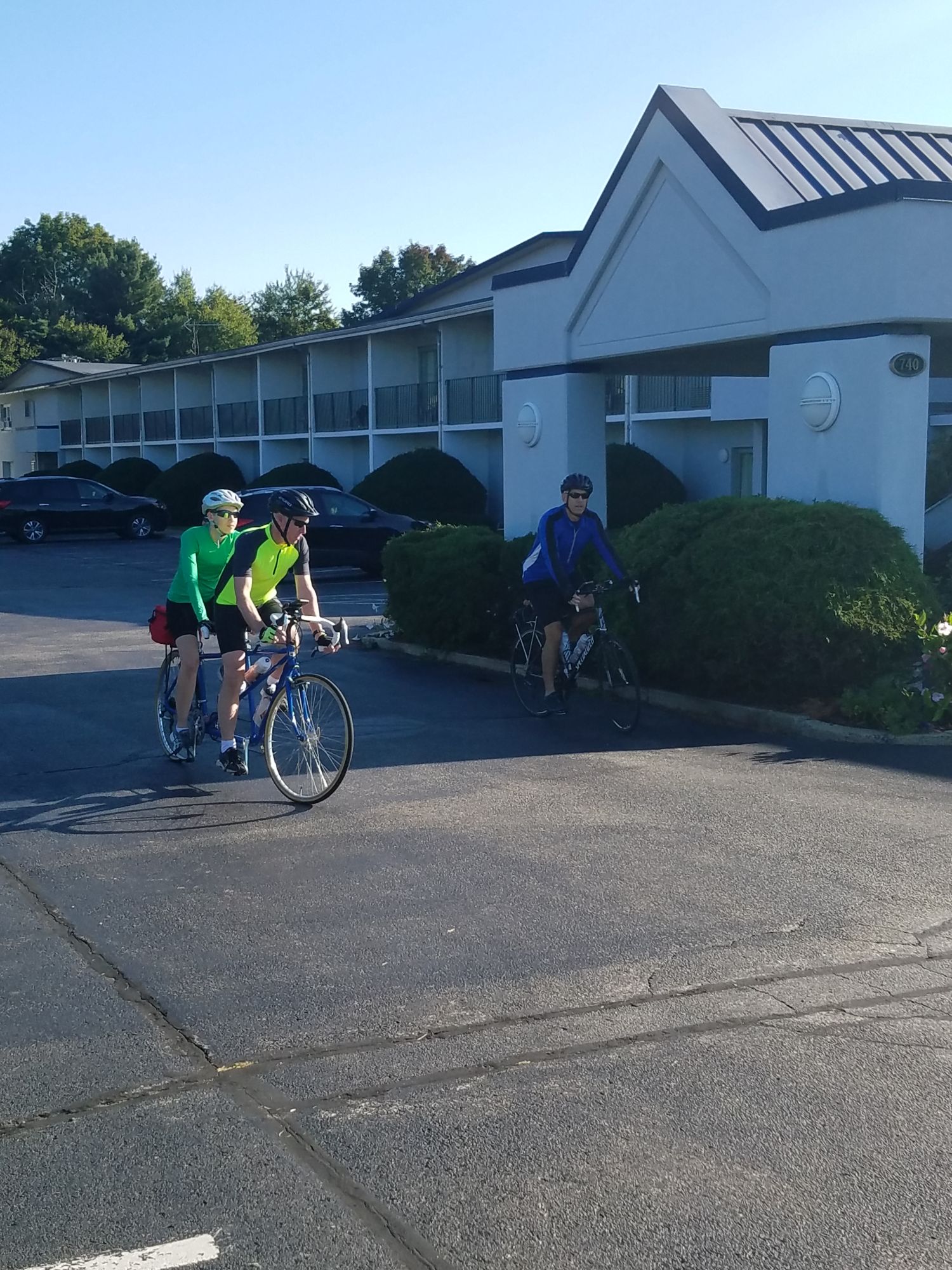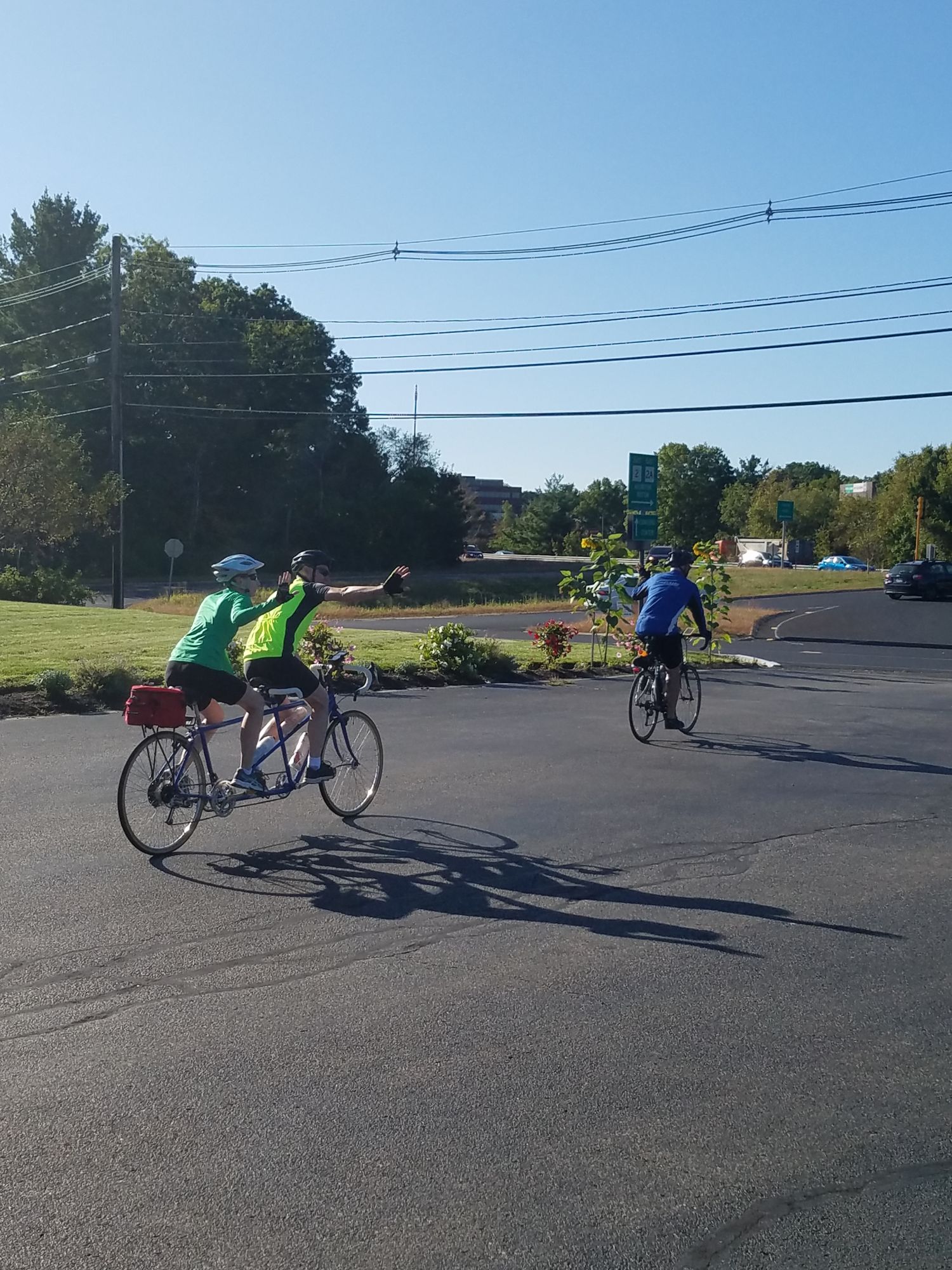 The ride took us through back roads south of Concord. The roads were up and down hills, with some traffic and a couple of wrong turns - quickly fixed. We also encountered road construction, which slowed us down (just a little). So, our pace wasn't as fast as yesterday's but we still did well. We made it to the first trail - the Upper Charles Trail in Holliston MA. This is a nice trail, most of it is crushed gravel, but hard enough to ride our road bike on, and the last few miles were paved. This gave us respite from the traffic, and allowed us to ride at a bit more leisurely pace.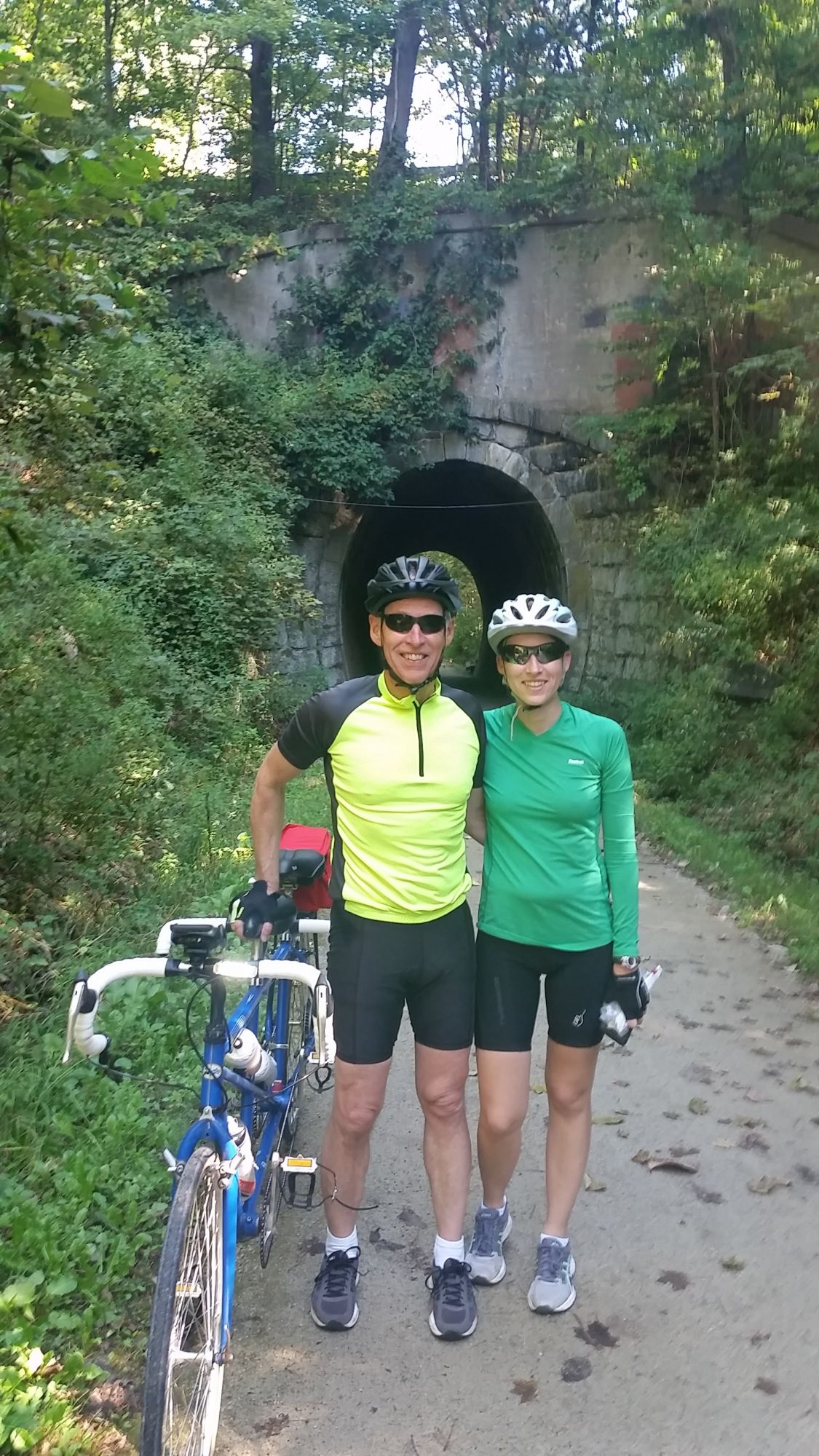 Ron and Emily on the trail
As we made our way into RI, we hit a nice downhill stretch, and we were looking forward to the Blackstone River Trail. But first, Dan met us at the head of the trail with a restock of drinks, and we took a break. The trail runs through several towns in RI, and goes between the river and railroad tracks. It is paved and it was a really nice ride, except it was very bumpy from tree roots in some areas. We tried to take it easy at those areas, but Ron and Emily experienced the worse of it on the tandem!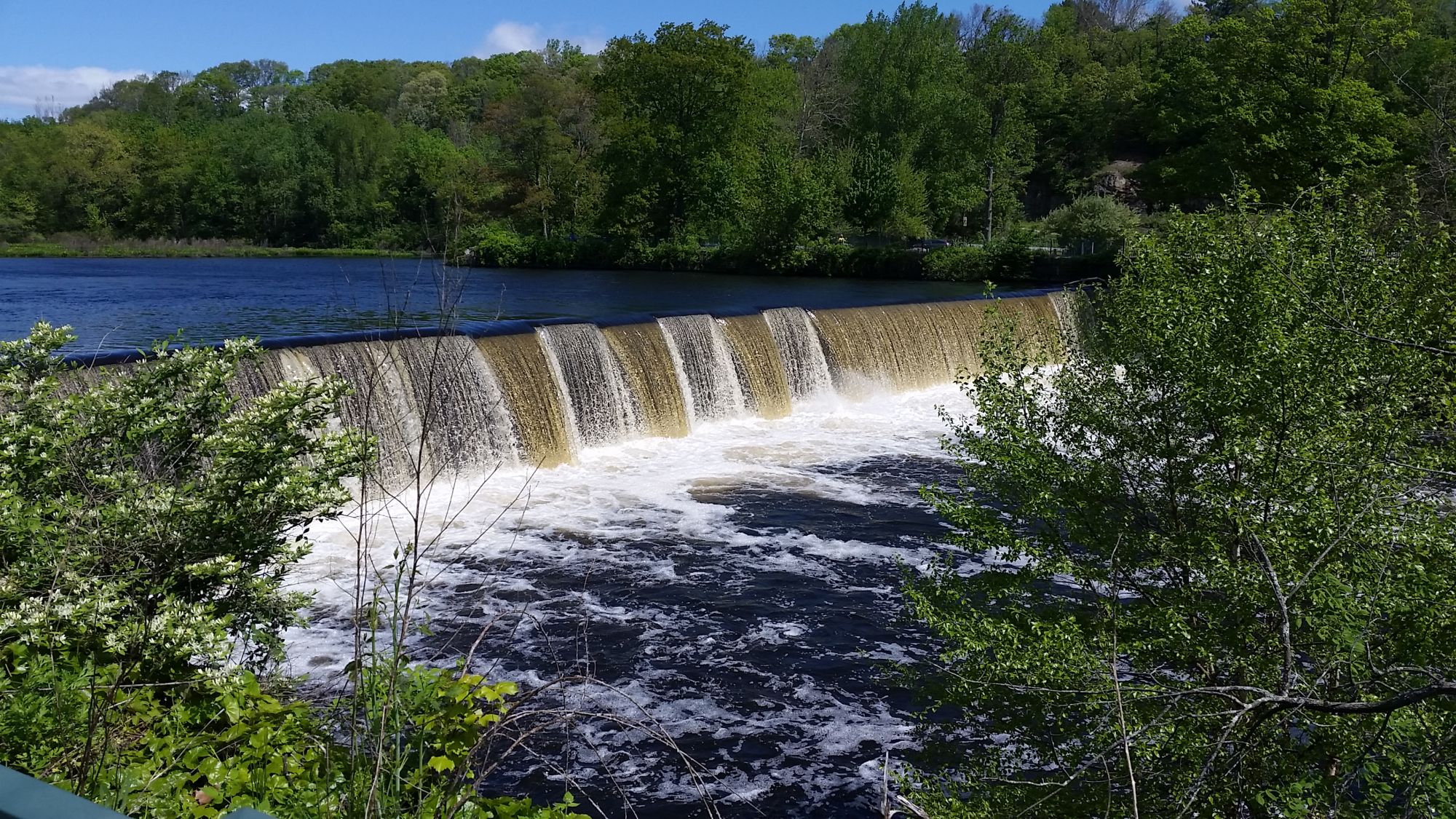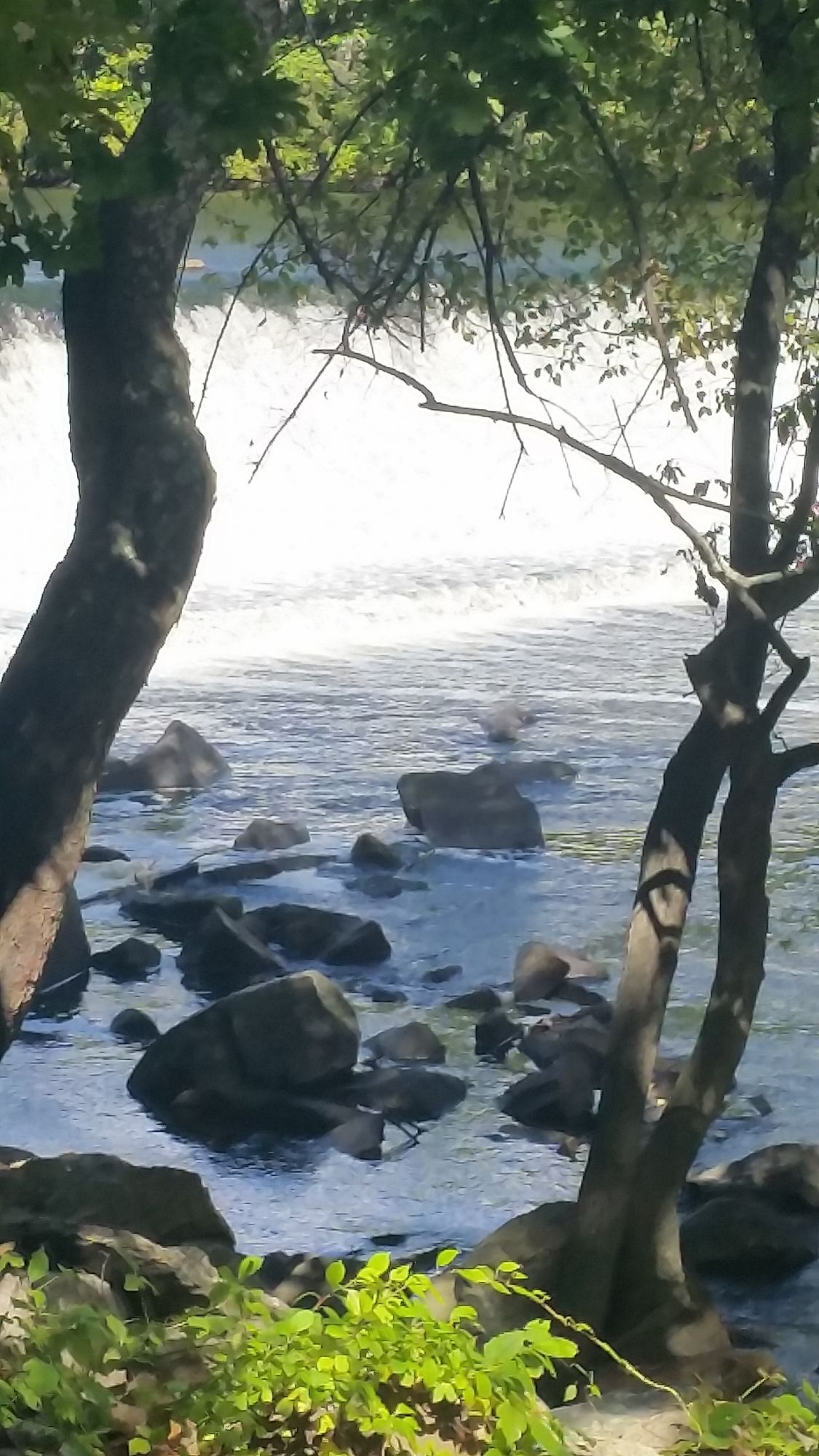 Two pictures on the Blackstone River (two different water falls)
After we left the trail, we continued on city streets on our way to Providence. Although the streets were marked as bike routes, there were several areas were the roads were in poor shape. We did our best on those roads and made it to the Providence Harbor area (also called India Point Park). Dan had stopped to take some pictures, and we got to say hi again.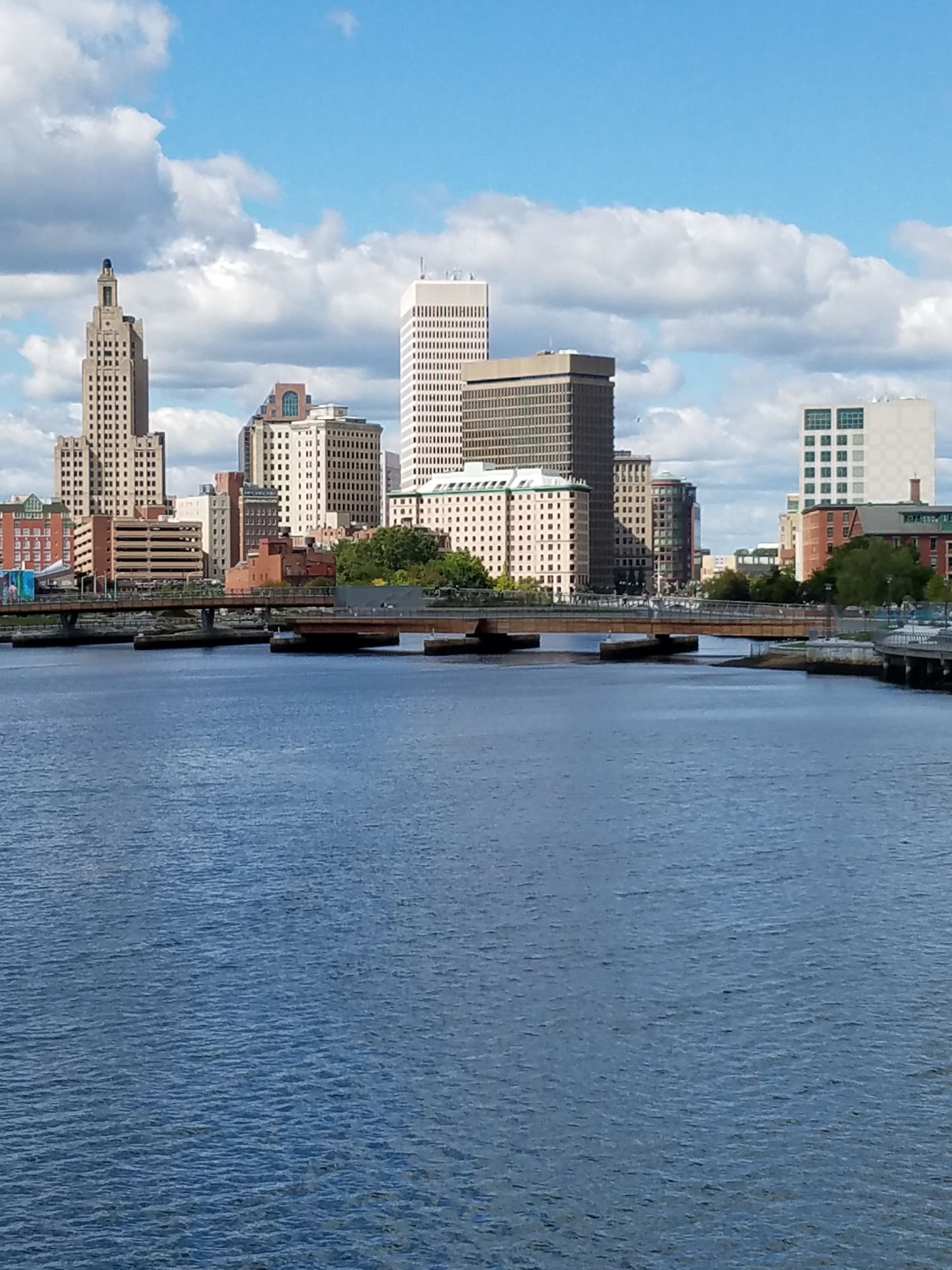 A couple of Dan's photos from Providence Harbor
We made our way along the streets of Providence to the last trail. After making a couple of more wrong turns (all my fault, but I'll use unfamiliarity and GPS issues as a partial excuse), we were ready for another trail. We rode the first 6 miles of the Washington Secondary Trail into Warwick. Another nice trail - it is also paved. Our hotel was a short distance from that point. We are looking forward to riding the remaining 13.5 miles on this trail tomorrow.
Total distance today - 68.7 miles.
Tomorrow we are riding to the house of our good friends, the Huberts, in East Hampton CT, along a new route for us. This will include the rest of the Washington Secondary Trail and parts of the Airline Trail. Stay tuned!
Day 3
We started around 8:50. The weather was the same as the last two days. But it felt cooler on the shaded bike paths and back roads.
Here we are leaving the hotel in Warwick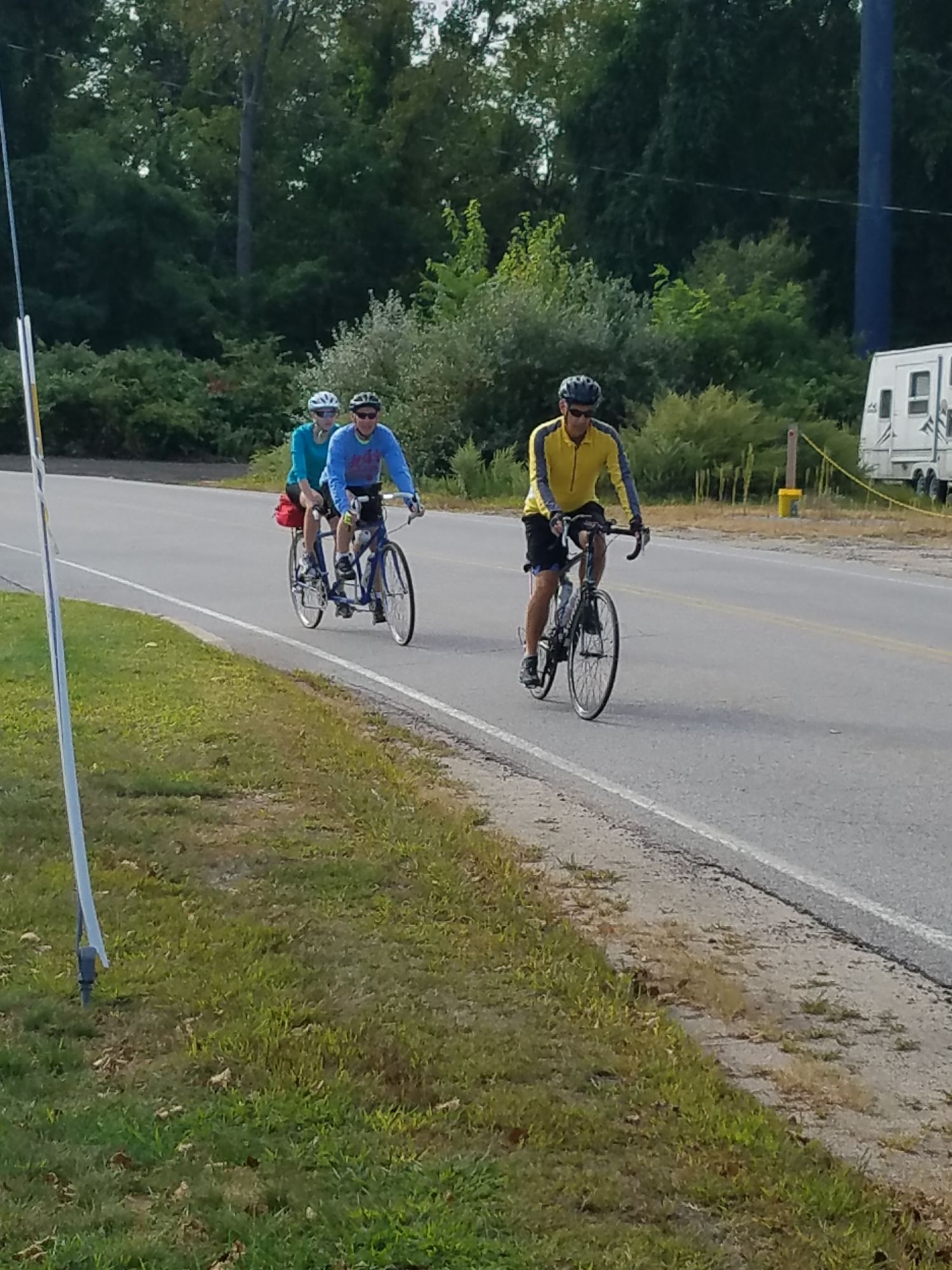 We got back on the Washington Secondary Trail for the first 13.5 miles. It was uphill, but the grade was low (it is a converted rail line), so very rideable. This part of the trail was more scenic than the section we rode yesterday.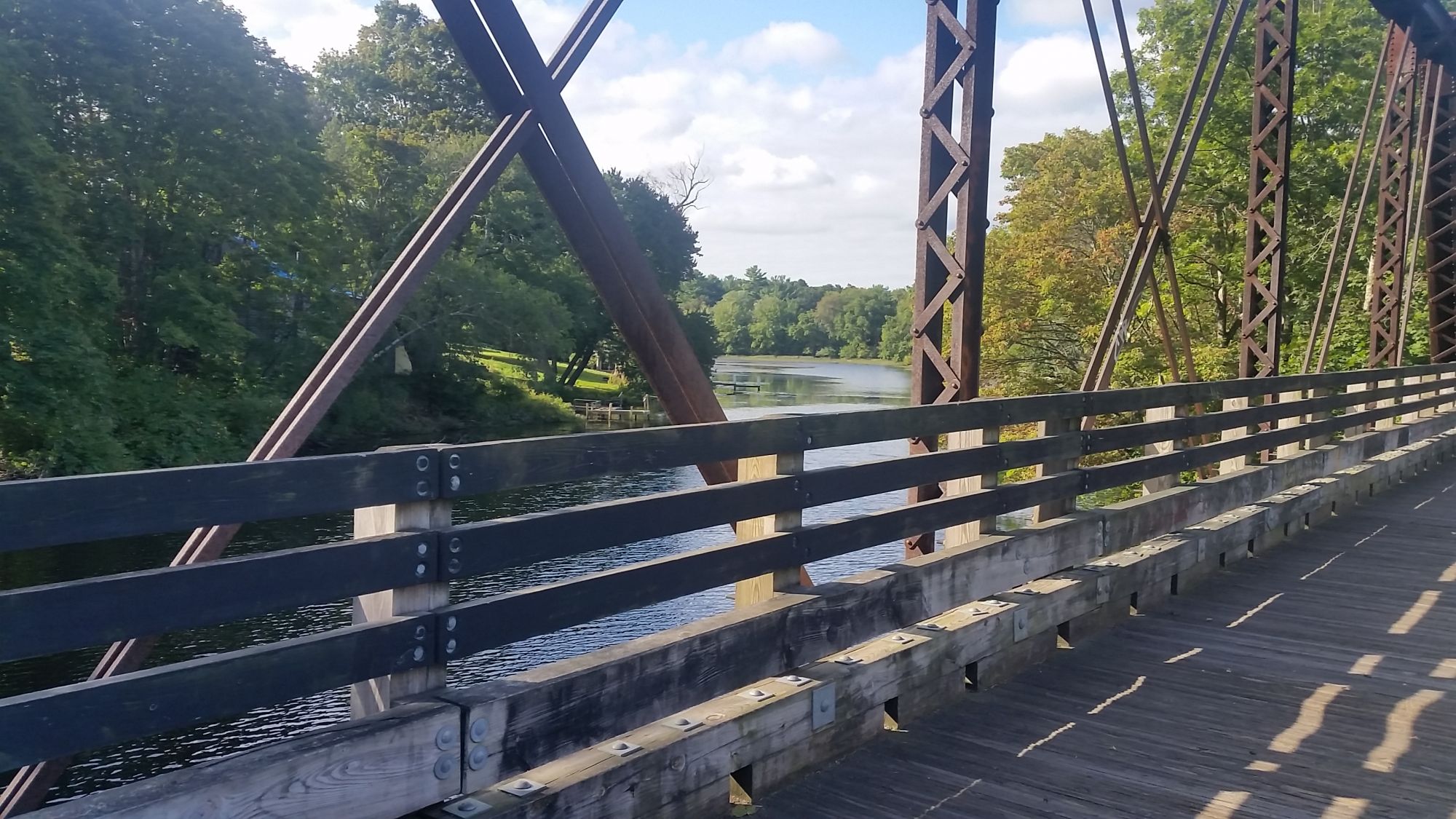 On the trail, over the Pawtuxet River
We then took Routes 117 and 14 into Connecticut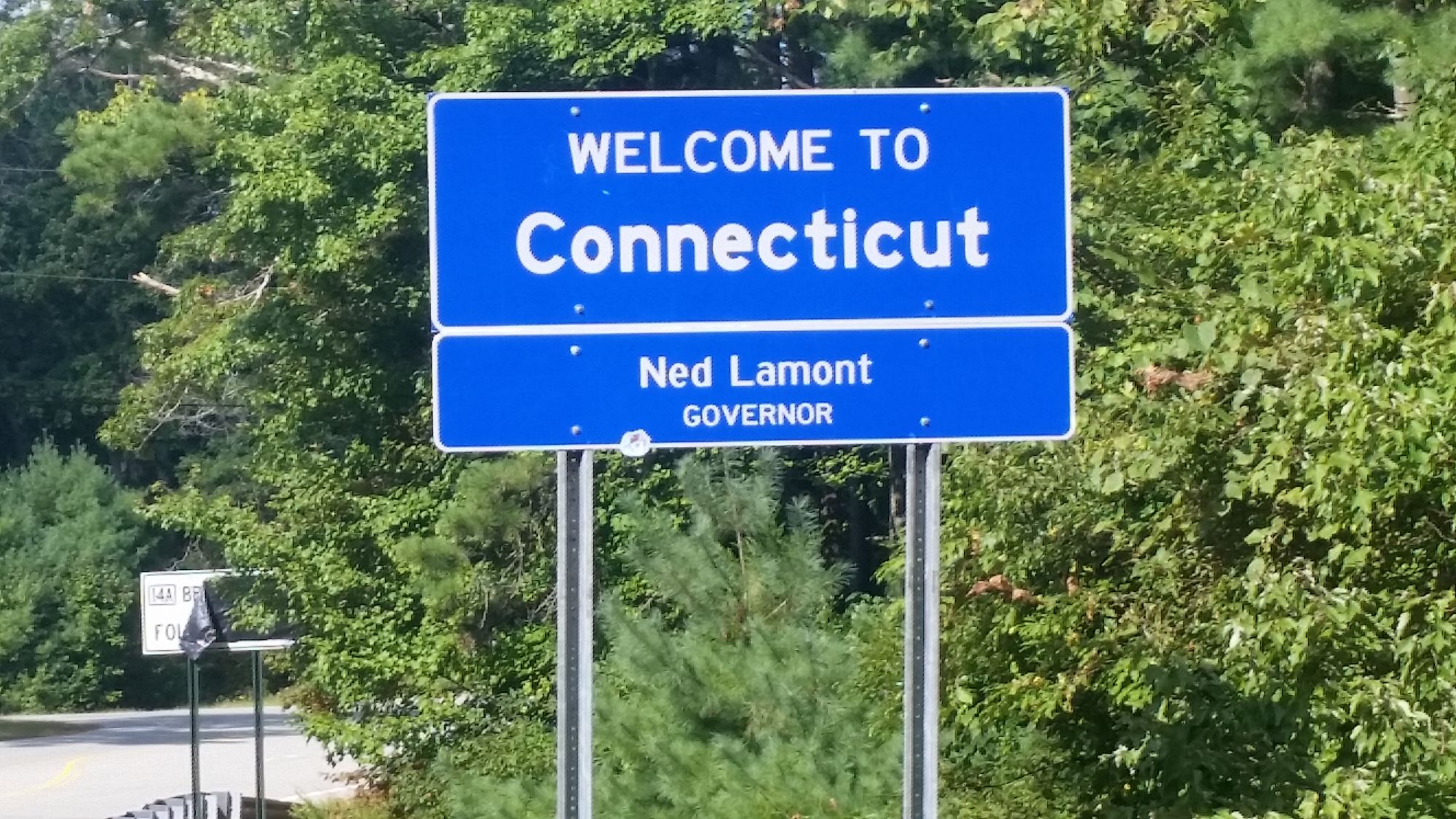 These were rural roads - shaded (which made it cooler), winding, and up and down hills. This was a welcome change from the trail, allowing us to sprint downhill and climb uphill. It was fun for awhile, until it got much hillier. There were several steep hills, which made the ride very challenging (to say the least!). Miles 30-45 were especially difficult. But we continued on, thinking about the people of Haiti and their hardships. The last hill - on Beaver Hill Road (never trust a road with the word "hill" in it!) - really tested us, and we enjoyed the downhill ride to the Airline Trail.
A bit of trivia - the Airline Trail is so named because the designers were looking for the most direct route for trains to get from New York to Boston, and they dropped an "air line" on a map. The trail is mostly unpaved, but very rideable on road bikes. It is paved from Windham through Willimantic, including a stretch through downtown Williamantic and the street along the Frog Bridge.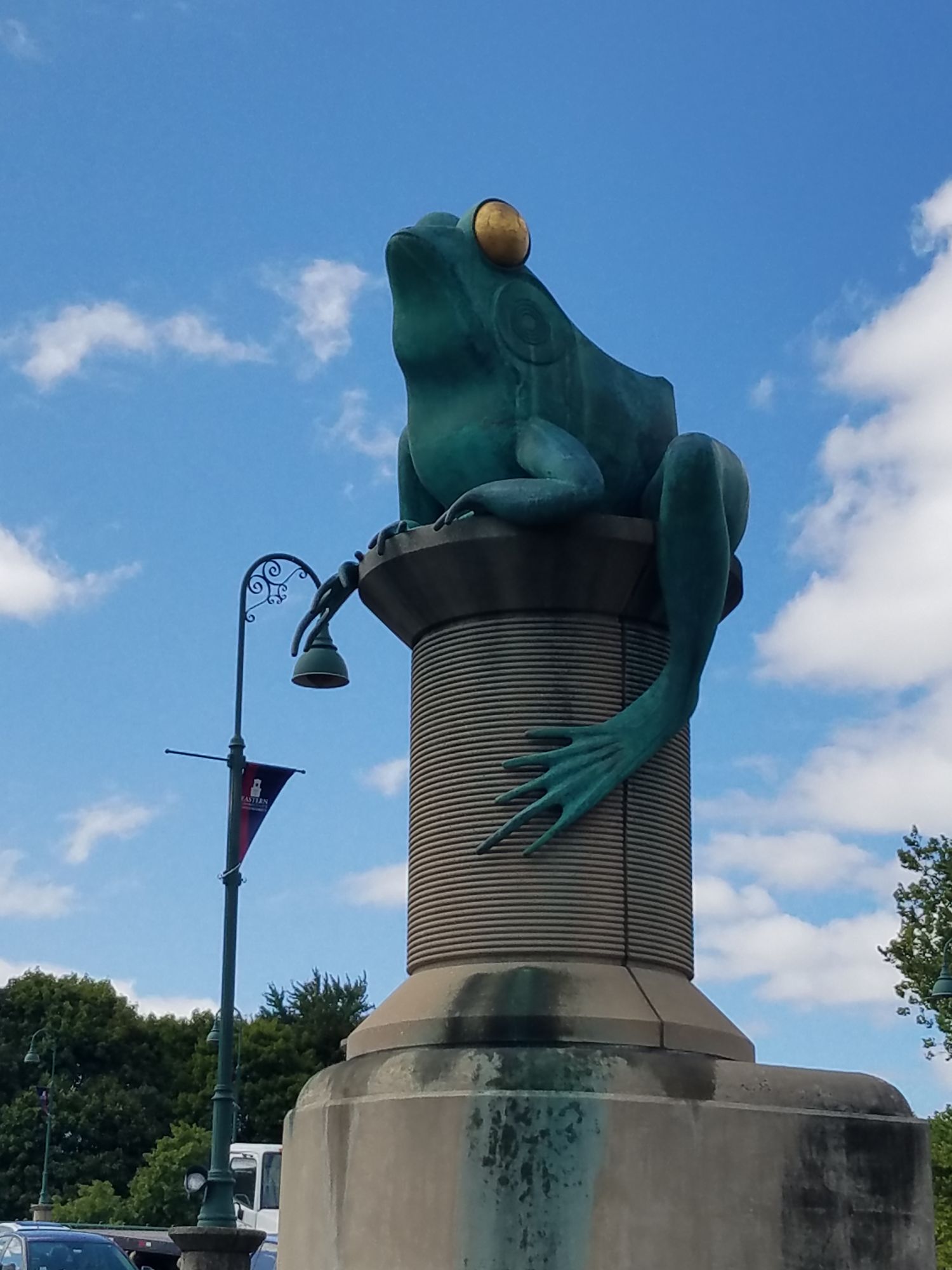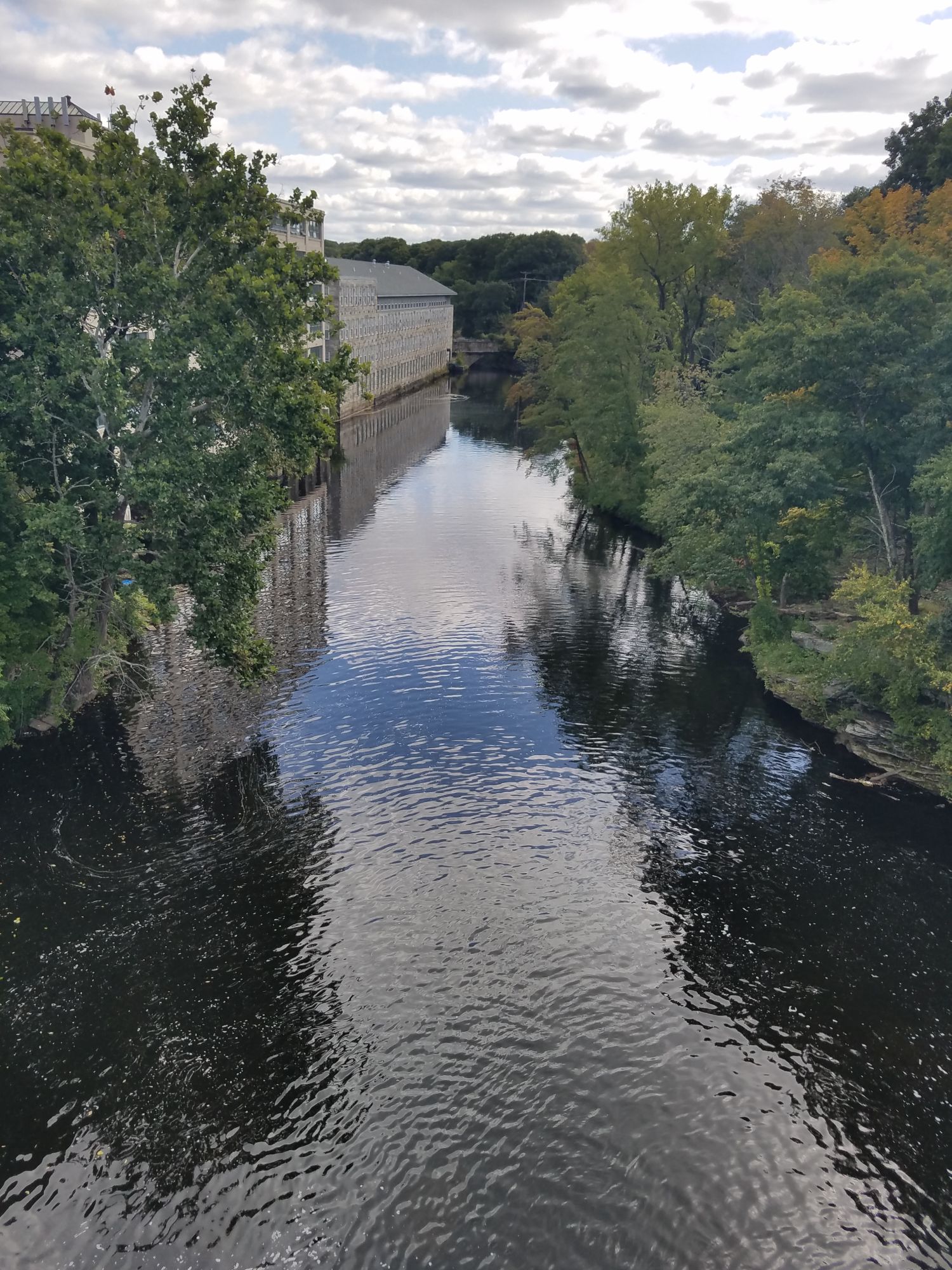 After Williamantic, the trail is unpaved, and starts with a slight uphill grade, followed by a long downhill stretch. We managed the uphill, but really enjoyed the downhill portion. Maybe too much - we hit some pretty high speeds while going through areas of gravel. Not the most safe approach, but when you get a chance to open up, you take it. This was payback for the hills!
We arrived at the Huberts' house, who provided a wonderful meal and great hospitality.
Total distance today - 72.4 miles.
Tomorrow we are riding to St. Patrick Cathedral in Norwich, then along southern CT to St. Pio in Westbrook. It's going to be cold when we start - 45 degrees. Stay tuned!
Day 4
Well, the weatherman was wrong. It wasn't 45 degress at the start of today's ride - it was 36 degrees! That's probably a record low for the five years of Outreach to Haiti bike rides.
Joining us for today's ride was Jim Hubert, his grandson Kevin, and Clark Judge. Jim has riden in all 5 rides, and Clark joined us for one day in 2017. Kevin is a first time rider (and we hope to have him back in the future). Also, John Bouley joined us in the support car. He was with us Thursday and Friday.
Here we are at the start - Kevin, Jim, me, Emily, and Ron (Clark joined us on the trail).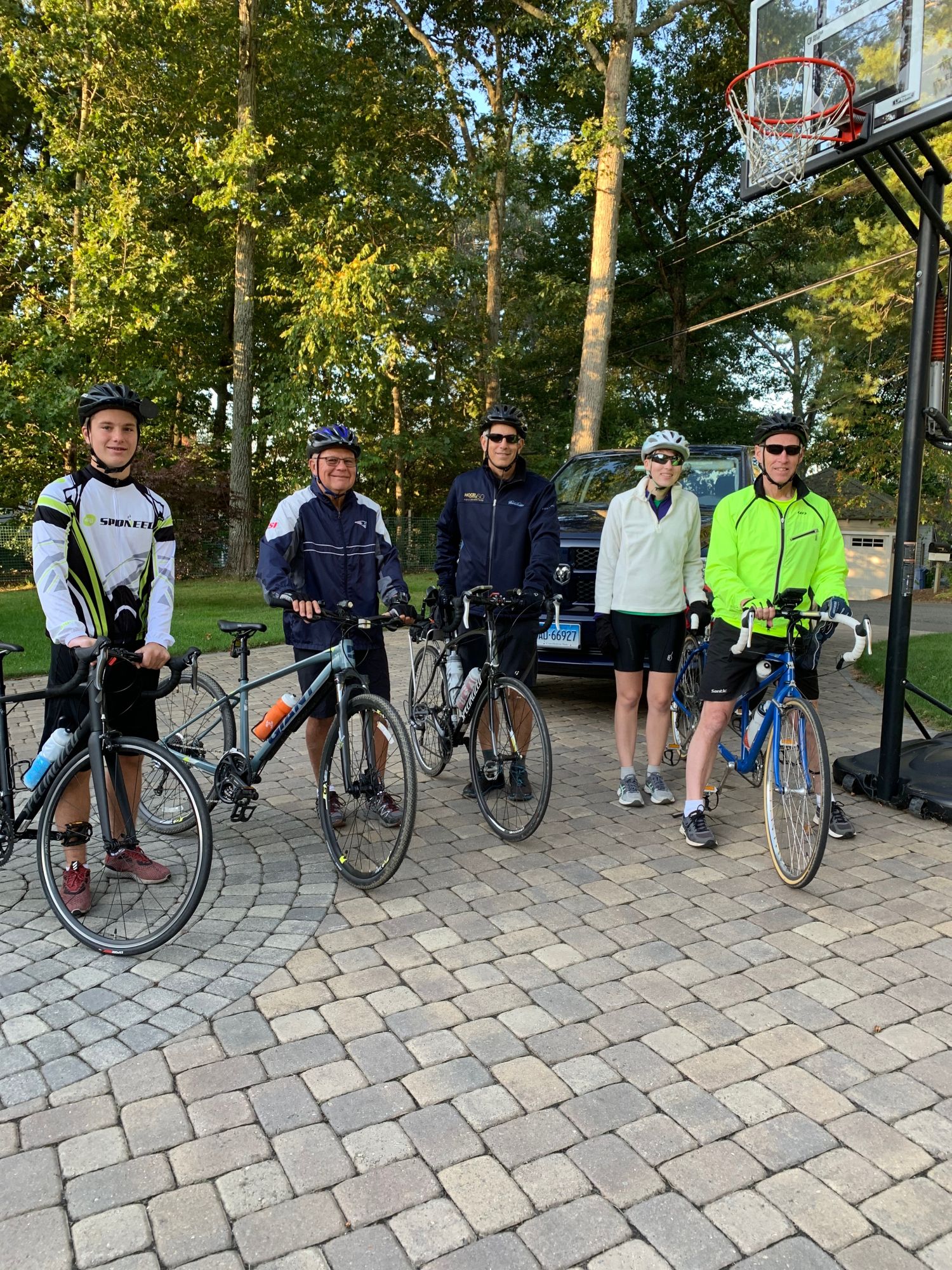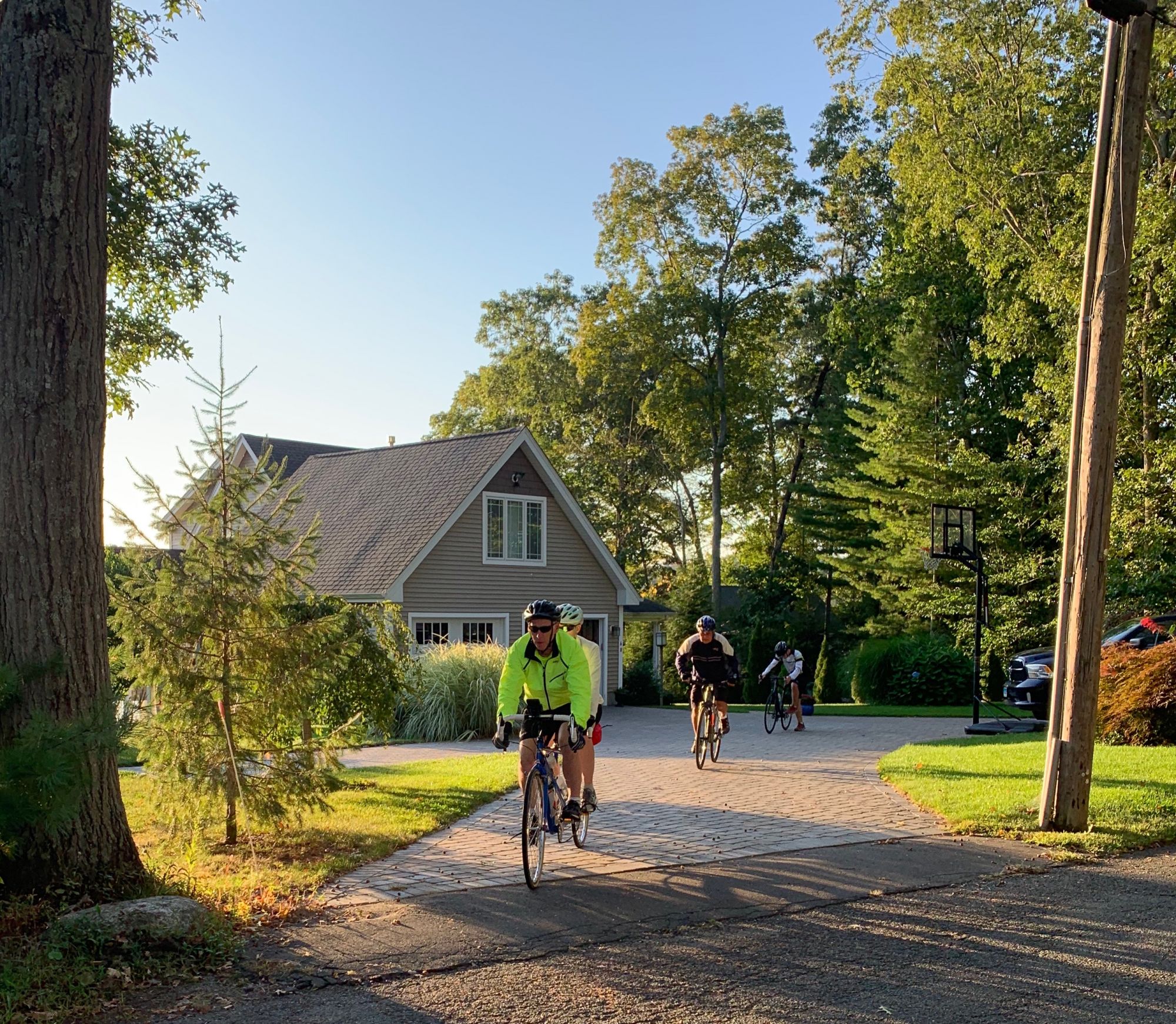 We started at 7:30 in order to make it to St. Patrick Cathedral by 10:00. After 2 miles on the road, we hopped on the Airline Trail on our way to Norwich. Though unpaved, the trail was in good shape other than a 1/2 mile portion where repairs were being made. We exited the trail at mile 10, a little cold, but on time. The road to Norwich was a little hilly, but very scenic (sorry, we didn't have time to stop for pictures!).
We made it to the Cathedral on time. There to join us was Bishop Cote and what seemed like the entire Cathedral School (grades K-8)! It was a wonderful reception - with cheers and excitement. Below is a link from the Norwich Diocese newspaper, the Four County Catholic, covering the ride and our arrival at St Patrick's Cathedral, in their new, weekly e-newsletter. They have a great story, pictures and a video.
https://www.norwichdiocese.org/Stay-Informed/All-Diocesan-Articles/articleType/ArticleView/articleId/2276?utm_campaign=Diocese+of+Norwich+Newsletter+-+Created+Aug+13-9%2f19%2f2019&utm_medium=Email&utm_source=ConnectingMembers
Here are a few pictures: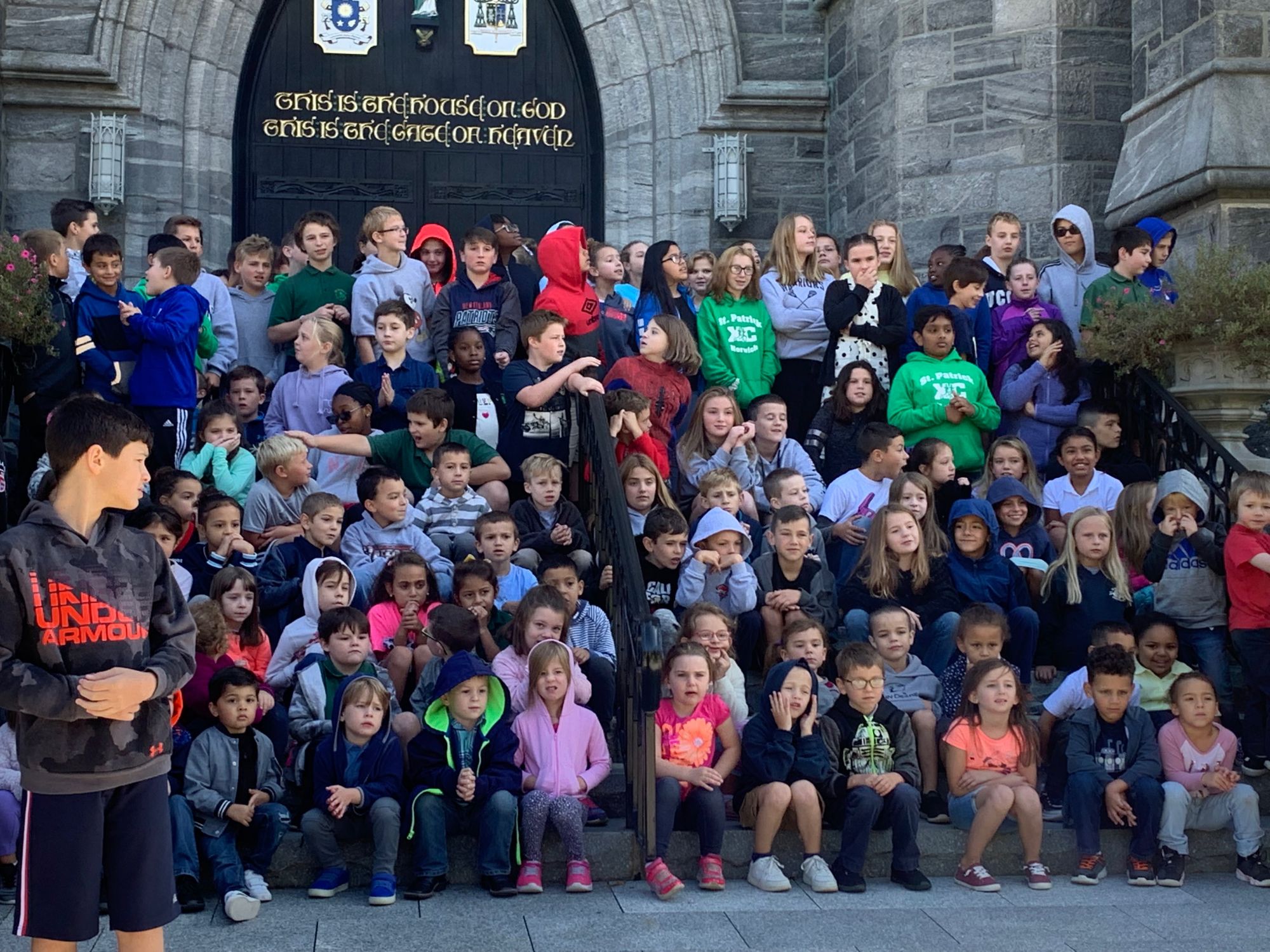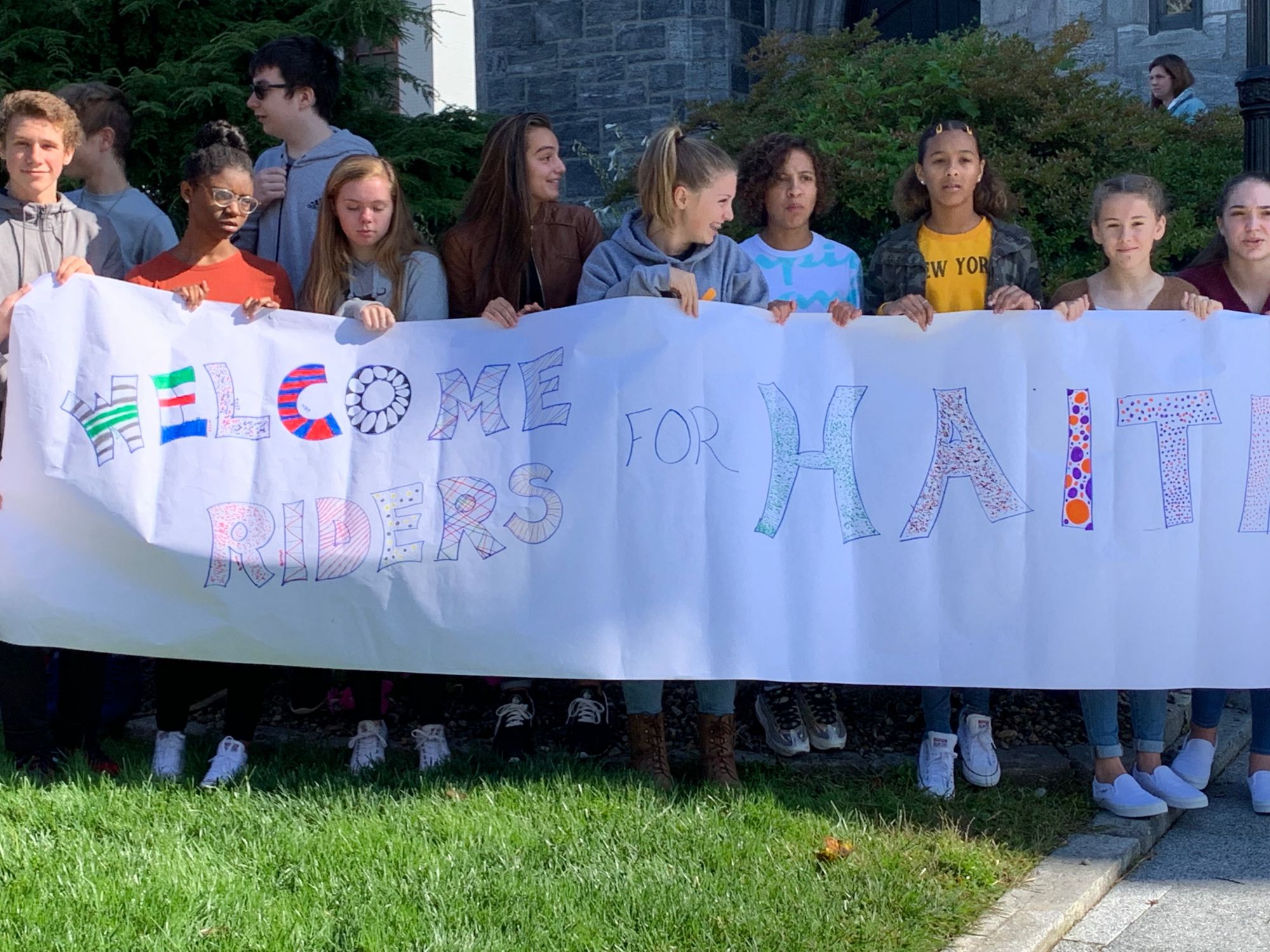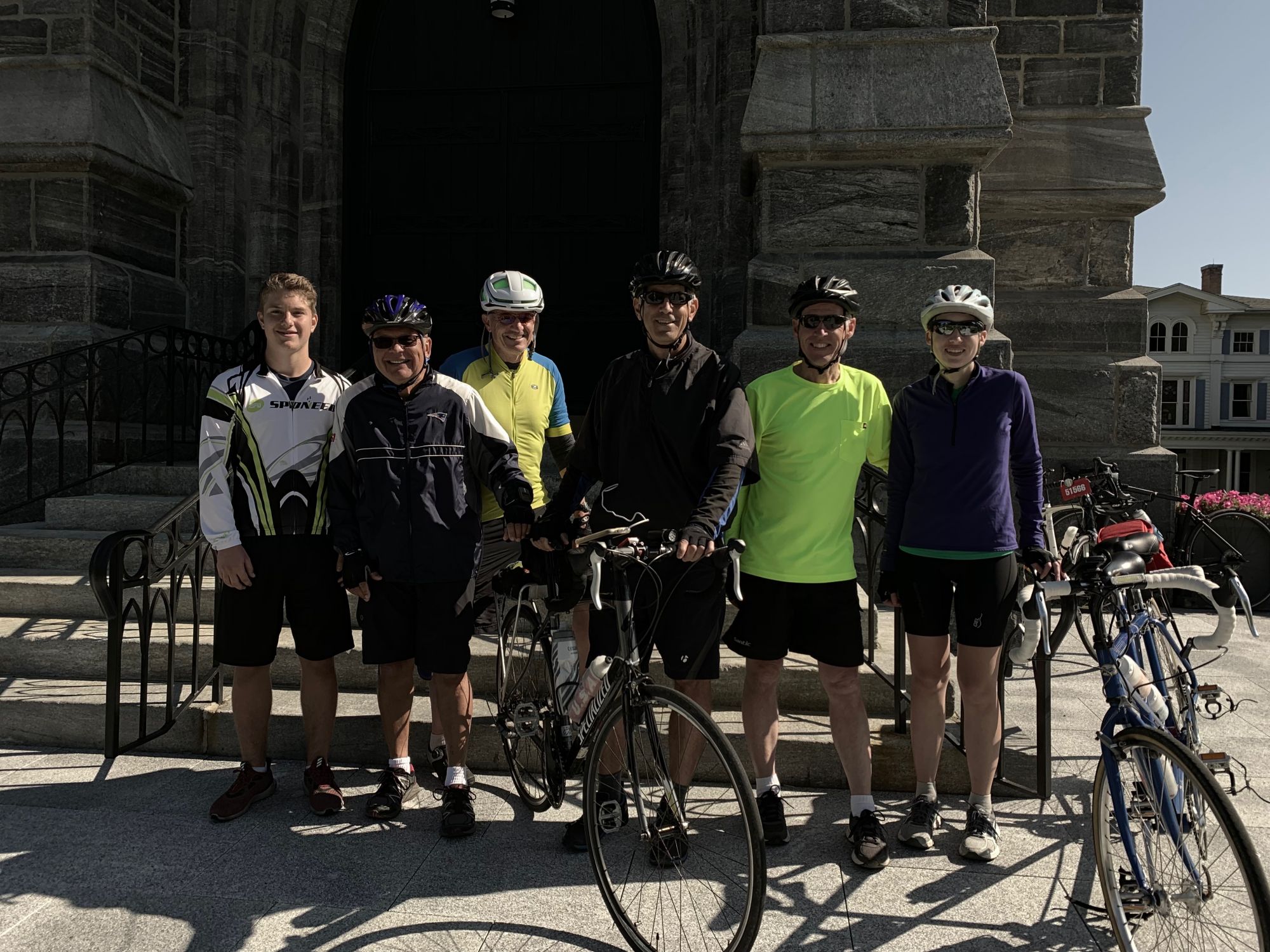 The riders (Clark is in yellow and blue) Bishop Cote and Tom (me)
We stocked up on drinks and had a few snacks (thanks Mary Ann!), and were on our way. Ron, Emily, Clark, and I headed to St. Pio's in Westbrook (about 50 miles away) and Jim and Kevin made their way back to East Hampton - they exceeded their goal of 50 miles and rode a total of 55 miles! Great job, guys!
The ride to Westbrook took us over the Gold Star Bridge to New London. The bridge is part of I-95, but don't worry - there is a dedicated bike lane walled off from the interstate traffic. We also rode over the Baldwin Bridge, also part of I-95, to Old Saybrook.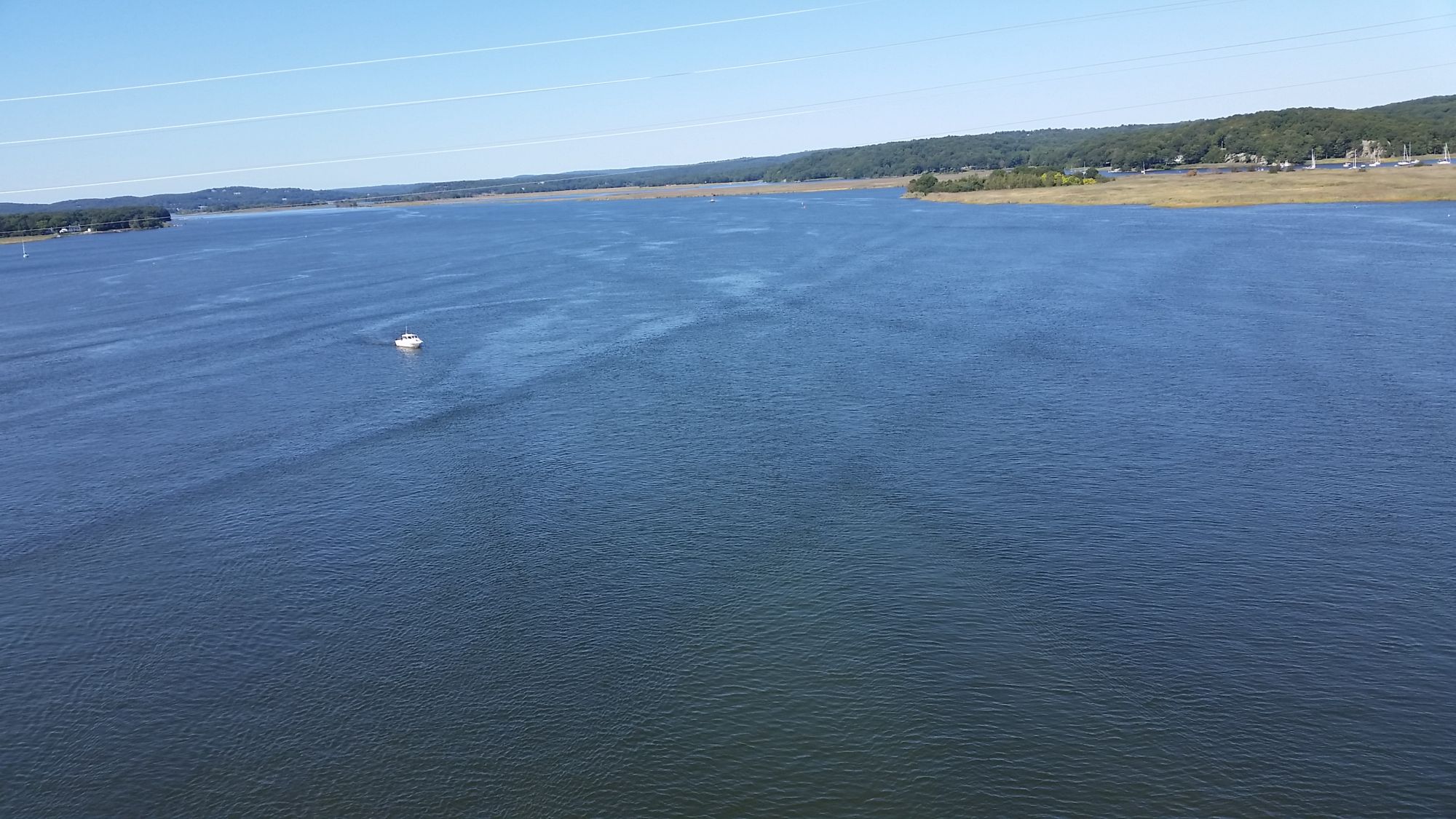 Photo from the Gold Star Bridge
In between the two bridges, we rode along southern CT - we hit a few hills (some challenging, but not as steep as Wednesday's). We also stopped and met John to reload on drinks. Soon, we were on Ron and Emily's local roads, so they helped us with the navigation.
Right around mile 63, we had our first mechanical issue - Clark got a flat tire. Two years ago, Clark was injured on one of our rides and had to abandon. Coincidentally, that occurred on mile 63! This time we were determined to keep Clark going, and so Ron and I chipped in to help change the tire. We were on our way, and a few miles later (after the Baldwin Bridge), we met John again to use a tire pump to fully inflate Clark's tire - thanks, John!
We had about 11 miles left, and we rode around Saybrook Point - a very beautiful section with a causeway, beaches, and beautiful homes. We had a bit of a headwind, which made it a bit challenging, but it was worth it.
After leaving Old Saybrook, we hit a couple of hills on our way to St. Pio's. But we made it, and what a nice reception at St. Pio's from their Walk with Haiti Committee! They greeted us with a fall snack table - coffee, donuts, cider, and apples. All fresh and all local. They also presented us with a very generous donation.
Below is a photo with members of the Walk with Haiti Committee, the riders, and Outreach to Haiti Executive Direction Susan Wallace. Susan (front, right) is accepting the check.
Below is a picture of me, Clark, Ron, and Emily after today's ride. Clark is hold his souvenir for the day - the offending tire tube!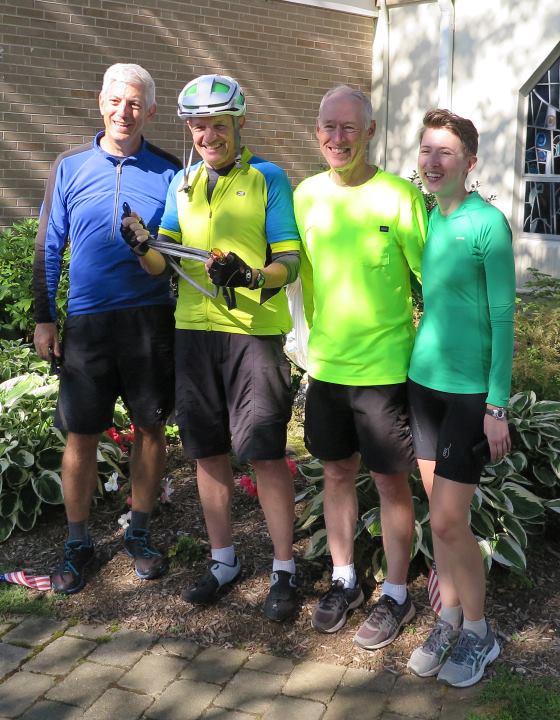 Total distance today - 79.4 miles. What a day!
Tomorrow is the final day of this year's ride. We will visit St. Peter's in Higganum, Mercy High School in Middletown, and then head to Farmington (my house) to finish the ride. Stay tuned!
Day 5
Today is the last day! This day is always filled with excitement, tempered a bit by tiredness and soreness. Similar to most of the days this week, we started around 8:50 and the weather was nice, but cool - in the middle to upper 50's. We dressed a little bit more warmly, probably because yesterday was so cold, but also in anticipation of the downhill portion of the ride. We knew we would be stopping early, so we could "shed".
We started at Killingworth Recreation Park - we shortened the route for the day by a couple of miles, since we had riden further than we had planned during the first four days.
Here we are leaving for the day: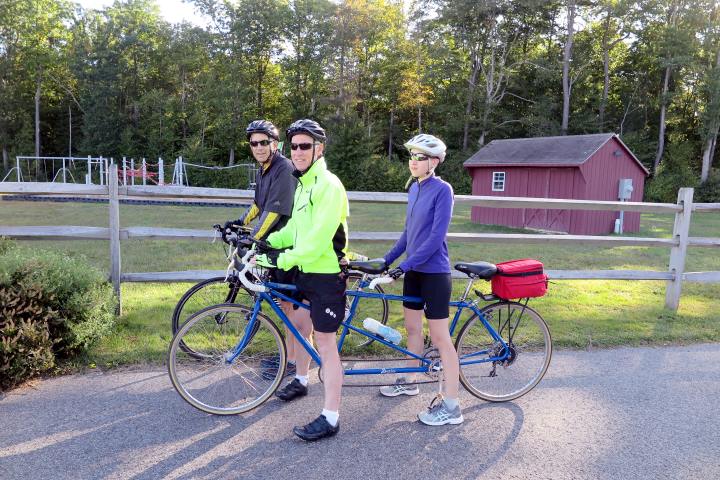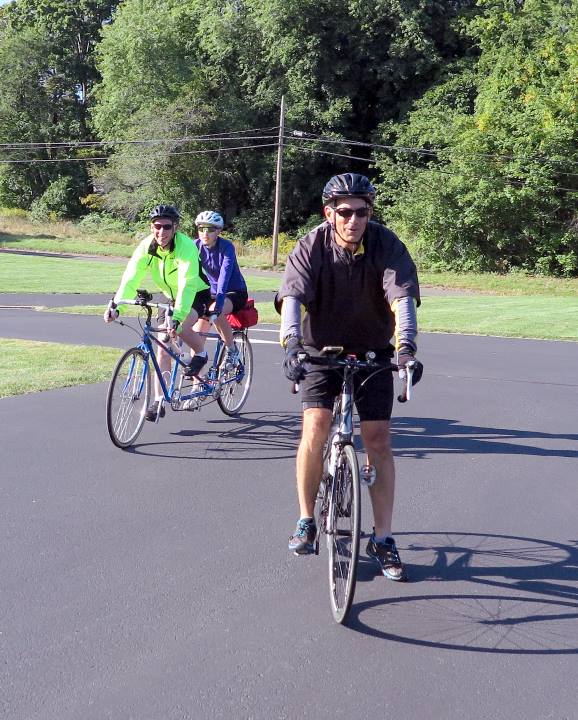 We had 7 miles to ride to reach St. Peter's Church in Higganum, and about 4.5 of those miles were a long downhill ride. We reached speeds in excess of 35 mph - a lot of fun given the hills we experienced during the week (and those we were expecting to experience later)!
We arrived at St. Peter's for a brief visit, and were greeted by members of the Knights of Columbus and Fr. Joseph De Costa, pastor of St. Peter's. John, our support driver, and Susan, Excecutive Director of Outreach to Haiti, were also there. The Knights provided us with a very generous donation.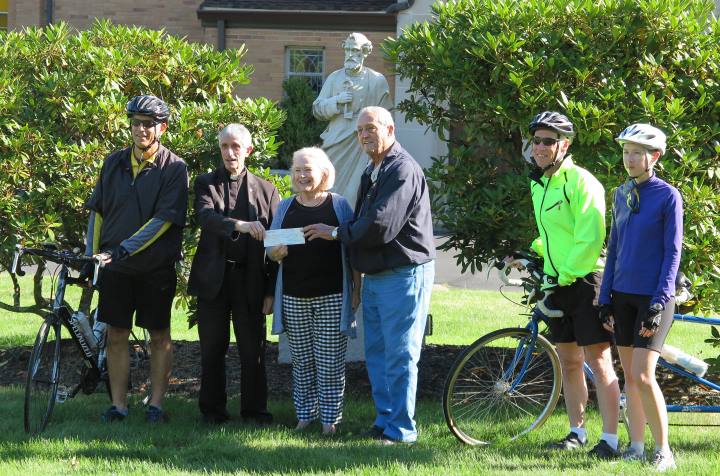 After the visit, we had about 13 miles to ride to get to Mercy High School. Now there is no way to get to Mercy HS from St. Peter's without climbing hills, and we climbed a few steep ones in those 13 miles - not quite reminiscent of Wednesday, but we could feel it given that we had already riden over 300 miles for the week. However, the anticipation of the reception at Mercy kept us going.
We waited for a couple of minutes a short distance from Mercy (we were a few minutes early) and I was pleasantly surprised to see my sister-in-law Rose, who is a teacher of nearby Vinal Tech. She and a few of her students walked over to Randolph Rd. to cheer us on. That was very nice!
We also enjoyed the reception at Mercy. All of the students were outside waiting for us, and they cheered as we drove by. Some held signs encouraging us and wishing us well.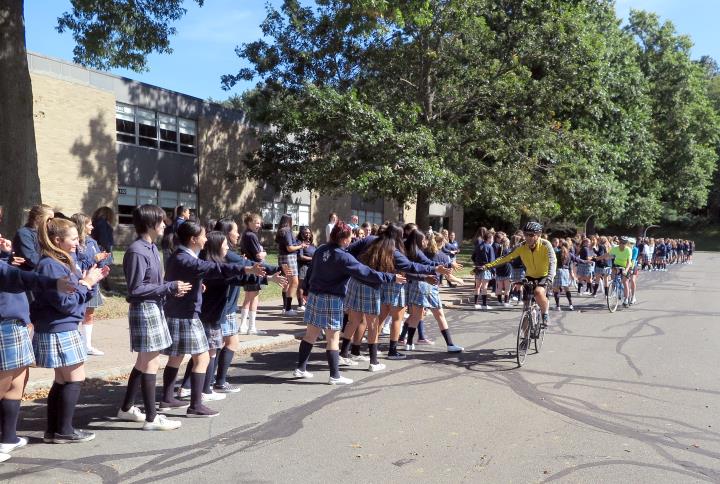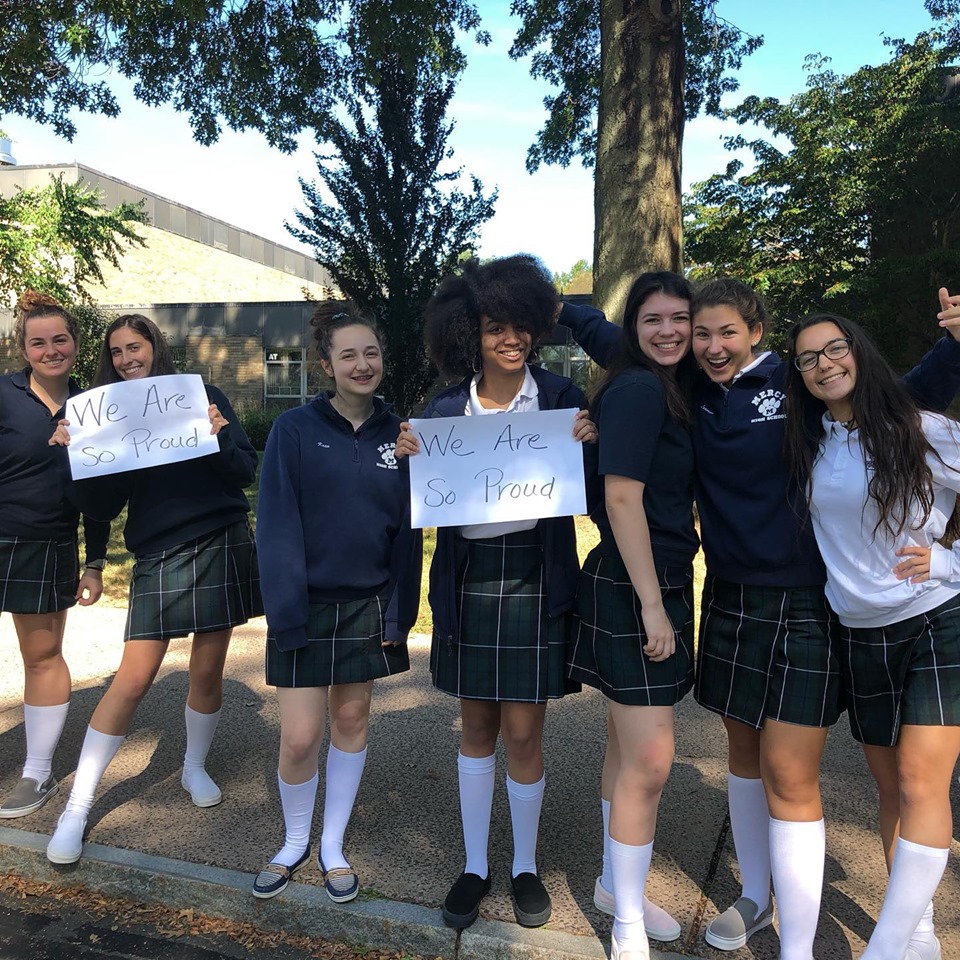 We were also greeted by Sr. Mary, President of Mercy High School, who is an incredible supporter of Outreach to Haiti, and members of the Student Council. We were invited into the school for snacks. Sr. Mary had to attend to some school business, so we spent time with the four officers of the Student Council. We discussed our ride and their plans for the future. We also told them about what we do in Haiti, and invited them to consider visiting there on an immersion trip. They were wonderful representatives of the students of Mercy.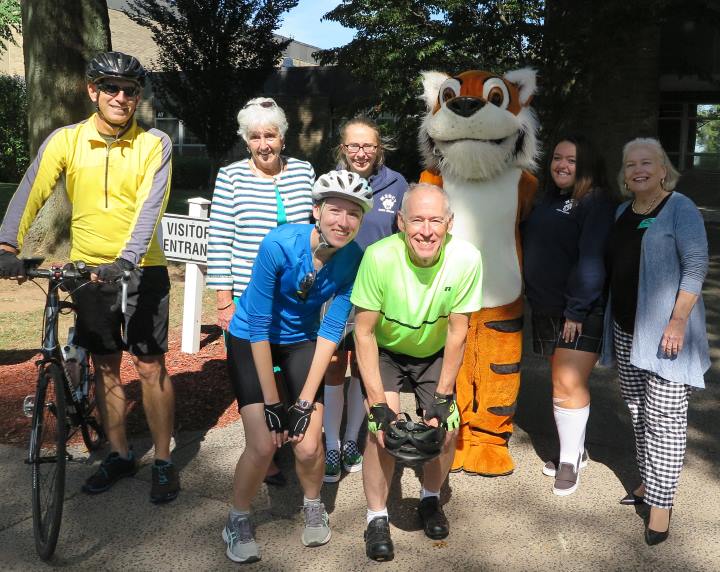 We left Mercy after spending more than an hour there. Only 24 miles to go.
The ride to Farmington takes us through Middletown, Berlin, New Britain, and Plainville on roads that are very familiar to me. There were a couple of hills, but we were in high energy mode in anticipation of completing the ride.
We were greeted in Farmington by some of the people who supported us during the week - John, Susan, Jim and Mary Ann, Dennis and Sue, and my wife Lynn. Ron's wife (and Emily's Mom) Dorothy soon joined us.
Here we are celebrating our arrival (there was more celebration on the deck shortly after!).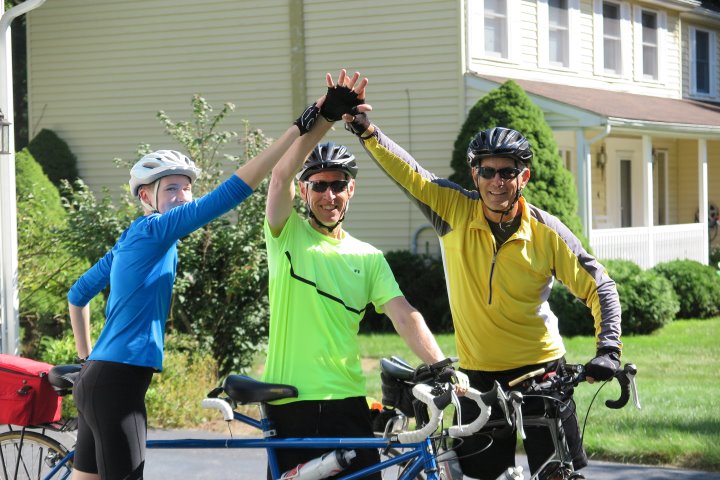 Total distance today - 44.6 miles. Total for the week - 338.9, almost 2 miles beyond our goal!
Thank you!
We have a lot to be thankful for. We thank God (and all the saints we prayed to this week) for our health to be able to do this, for our safe return home, for the weather (no rain at all), for all the drivers who gave us room on the road (and we can still ask for blessings for those that didn't).
Thanks to all who followed us, and prayed for us, and supported us in so many ways.
There are so many people to thank for the success of the ride. First, the riders - Tom, Ron, Emily, Jim, Kevin, and Clark. A great effort, and it was great spending time together, struggling together, cheering each other on, and working together to fix Clark's flat!
Thank you to the donors. Many of you are repeat donors, and there are many new ones. Spreading the word of our mission in Haiti is part of the reason for the ride, and it is great to see new donors, and even better to see repeat donors who learn about the mission, and believe in it. Thank you!
What is inspiring to me is when I thank someone who donated to the ride, and the response is "no - thank you for doing this". Responses like these keep me going!
We thank Dan - we missed having you ride we us this year, but you were there in the planning and in the support. There wouldn't be a ride for Haiti without you, we certainly couldn't have done this year's ride without you, and we look forward to your return on your bike next year!
To everyone else who who gave support during the week - Mary Ann and Jim, Sue and Dennis, John and Heidi, and John B. - thank you!
A special thank you to our wives (and Mom) - Lynn and Dorothy, who encouraged us and prayed for us during the week.
To Bishop Cote, Mercy High School, St Patrick's Cathedral School, St. Pio's, and St. Peter's - thank you for your warm welcomes!
What all of you have contributed helps move the mission in Haiti forward, and helps to improve the lives of deserving Haitians every day.
Donations are still coming in - it is not too late! As of the end of September, we have raised over $19,000!
Can't wait for next year's ride!
Description of Ride
A small team from Outreach to Haiti will again do a 5-day, 337-mile bike ride, touching five of the six New England states and climbing more than 13,000 feet. The ride starts on September 16, 2019, and its purpose is to raise awareness and funds to support the mission in Haiti.
The specific goal of this year's ride is again to raise money for the rebuilding effort. Construction is well underway - you can see pictures on our home page, and by following the link there to more information on the building, or you can click here. We have the majority of the money for the building, but increasing construction costs, as well as more robust plans to protect further against earthquakes, has increased the cost of the building, so that additional fund-raising is needed.
This is the fifth annual bike ride. =In the first four years, we have raised almost $70,000. Every dollar is extremely helpful in completing the funding of the new Norwich Outreach Center in Haiti.
For those who have not joined us for prior rides, or just want a refresher, the bike ride has been planned as a "virtual trip" across Haiti. Or, more accurately, a "geographically displaced" trip. The distance chosen for the trip is the distance from Jeremie on the West Coast of Haiti, through the capital city of Port-au-Prince (where OTH is based) to Cap-Haitien on the North Coast, as shown in the picture below.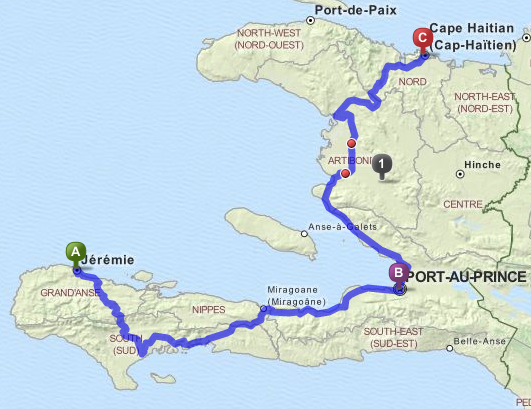 In the interest of time and money, (and for better roads and, hopefully, better weather) the actual ride is in New England.
The ride starts at Kittery, Maine, quickly makes its way down into and through New Hampshire, skirts Boston, goes into northwestern Rhode Island, and ends by winding through the eastern and central parts of Connecticut. On Thursday morning, the riders will visit St Patrick's Cathedral, and we will be greeted by Bishop Cote. The riders will also visit Mercy High School in Middletown, and St Patrick's in Farmington. All of these groups have extended very warm welcomes to the riders in prior years, but the enthusiasm of the Mercy girls is hard to beat!
This year's Ride:
The ride is from September 16 to 20th, heading up to Kittery on the 15th for the start Monday morning.
Here is the day by day info:on distance and elevation gain
2019 draft
miles
elev gain - feet
72.9
1,996
Kittery ME to Concord MA
66.7
2,014
Concord MA to Warwick RI
72.2
3,771
Warwick RI to East Hampton CT
76.4
3,134
EH to Norwich to Killingworth CT
48.9
2,387
Killingworth to Farmington CT
337.1
13,302
You can donate by using the link below, or by sending a check to Outreach to Haiti, 815 Boswell Ave., Norwich, CT 06360. Any questions, call 860-800-3601
During the ride, check back into the website each day to follow our progress!
To see a descrition of last year's ride, click here